January 14, 2021
CMU Expands Asymptomatic COVID-19 Testing with High-Volume, On-Campus Lab
Robotics systems will help process thousands of weekly tests for campus community
By Jason Maderer maderer(through)cmu.edu
Media Inquiries
Jason Maderer
Marketing and Communications
After months of planning, Carnegie Mellon University is unveiling a new testing strategy, including the opening of its own on-campus laboratory, that enhances the way CMU detects and prevents the spread of COVID-19 within its community. The Tartan COVID-19 Asymptomatic Testing Program, or Tartan Testing for short, will allow all asymptomatic Carnegie Mellon students, faculty and staff in the Pittsburgh area — as well as on-campus dining and custodial affiliates — to be tested once a week throughout the spring semester.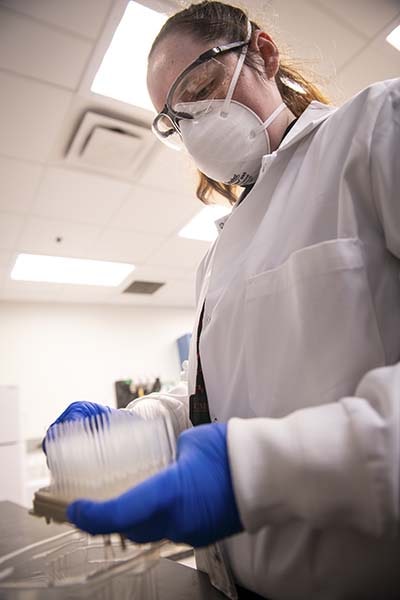 Tartan Testing includes a new facility in the Pittsburgh Technology Center (PTC), where trained and certified CMU lab personnel will quickly process and analyze thousands of tests per week with assistance from complex robotic systems. The high-volume lab will provide results within approximately 2-3 business days.
"Carnegie Mellon is one of the few universities in the nation without a medical school that has created its own lab to test its community for COVID-19 — a feat made possible by experts from across campus and from a variety of disciplines," said Carnegie Mellon President Farnam Jahanian. "Their tireless efforts and determination have provided yet another example of what CMU can achieve when we face and answer tough challenges together. I'm incredibly grateful and proud of these collective efforts to protect the health and well-being of our students, faculty and staff."

Take a look inside CMU's new COVID-19 testing facility. 
CMU biologists, chemical engineers and roboticists provided research expertise, and nearly a dozen administrative divisions also played significant roles in setting up the facility, establishing its protocols and securing required regulatory approvals. The Tartan Testing program represents an expansion of CMU's fall semester strategy, which provided asymptomatic tests to randomly selected students.

"Tartan Testing increases CMU's COVID-19 asymptomatic testing capacity by a factor of 10, expanding it to our entire Pittsburgh campus community," said J. Michael McQuade, Carnegie Mellon's vice president for research. "Using our own lab also allows the university to scale according to our needs, as well as be responsive and agile as the pandemic evolves."
An Easier, More Comfortable Sampling Method
The program includes a new testing process. Gone are the nasal swabs used during 2020 for asymptomatic testing. Instead, Tartan Testing uses a test based on the SalivaDirect open-access protocol developed by the Yale School of Public Health. Saliva samples are used to detect the presence of RNA from the SARS-CoV-2 virus, the cause of COVID-19.

"Saliva-based samples are easier to acquire, just as accurate and certainly more comfortable than the nasal swab method used during the fall semester," said Dr. Christine Andrews, CMU's chief medical officer. "Many people who are spreading the virus don't even know they have it because they aren't showing symptoms. By quickly identifying more asymptomatic carriers and isolating them, we can help slow the spread of COVID-19 in our community."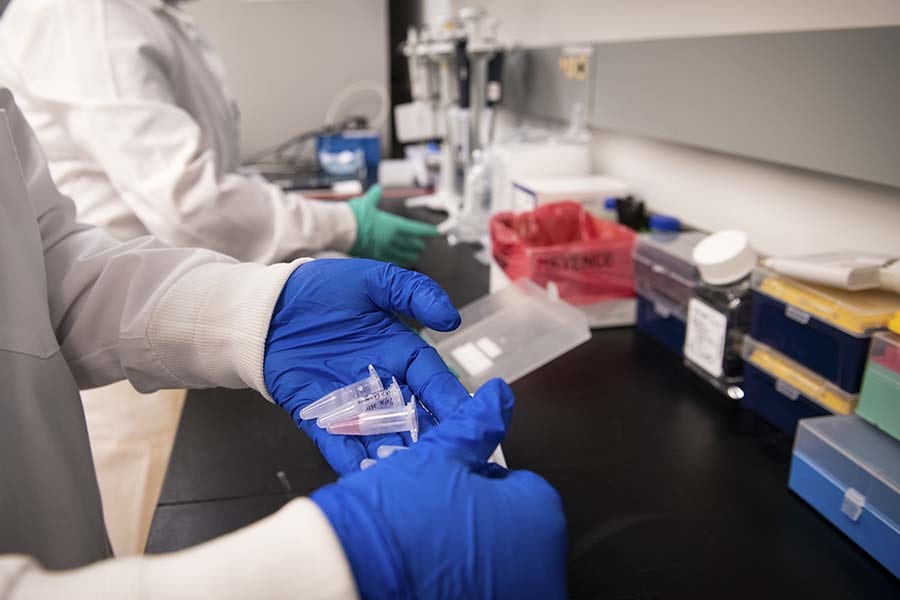 The lab team prepares samples for analysis.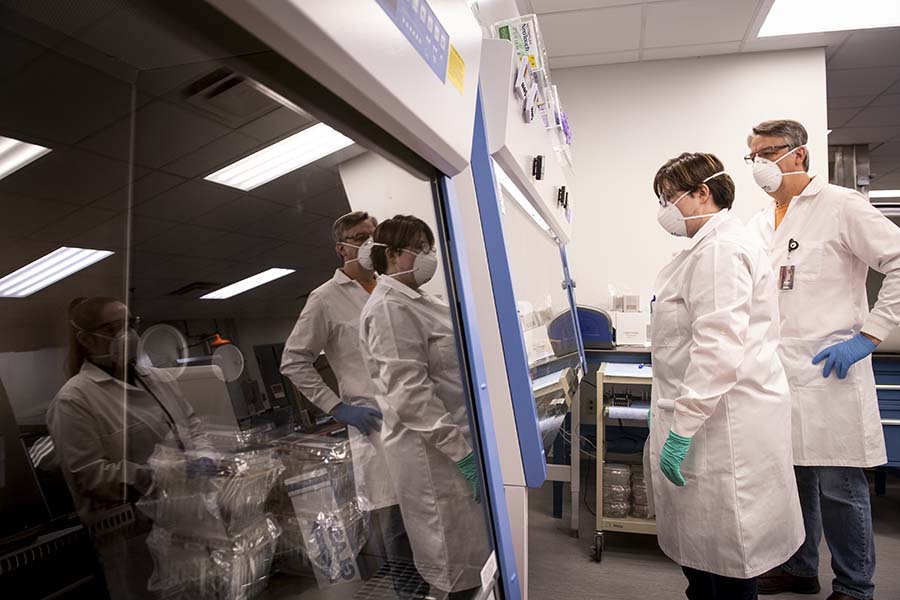 Samantha Kappel and John Kleinhample in the lab.
The Tartan Testing program is currently in a ramp-up period during these early weeks of January. An increasing number of students, faculty and staff are being selected each week to make appointments and be tested. The ramp-up will continue throughout the month.
Once Tartan Testing is at full capacity, expected in the middle of February, all CMU students, faculty and staff based in Pittsburgh will be eligible. All who intend to participate in on-campus or CMU-related activities are expected to complete one asymptomatic test each week throughout the semester. This includes in-person instruction/teaching, staff duties, research and campus life.

Tartan Testing appointments will be available using the HealthConnect portal. During the ramp up period, only those receiving invitations each week should make appointments. All testing provided through the program will be paid for by the university.

The university is also working with certain affiliated service providers on campus, such as dining and custodial vendors, to provide testing to contracted employees who provide essential support to the CMU community.

If an asymptomatic student receives a positive test result, University Health Services (UHS) will initiate a plan for care, isolation and contact tracing. If an asymptomatic faculty or staff member receives a positive test result, UHS will initiate a plan for contact tracing and isolation, and CMU's Community Health and Well-Being unit will assist with referrals to primary care providers, as needed.

Tartan Testing is not for the testing of symptomatic individuals. Students who have symptoms or have been exposed to COVID-19 will continue to receive tests through UHS. Faculty and staff should consult their healthcare provider.
New People for a New Endeavour
The program includes three different locations. Check-in for appointments will be in the Cohon University Center's Danforth Lounge. Samples will be collected in the East Campus Garage, then transported to the lab facility at PTC for analysis.

To make it all work seamlessly, the university has hired several new faces to support the program. That includes George Innocenzo, who joined CMU in October to serve as Tartan Testing operations director and directly oversee the check-in and sample collection sites. Innocenzo and his team have juggled various plans and protocols through the months in order to land on the correct path that both adheres to SalivaDirect certification requirements and provides a safe environment for both those being tested and the testing staff.

"It's beneficial to have CMU staff supervising sample collection and helping participants because it ensures the tests are viable and that enough saliva is submitted," said Innocenzo. "Having a single drop-off point also helps us coordinate how many tests will be sent to lab each day so that the facility can efficiently manage analysis and quickly provide results."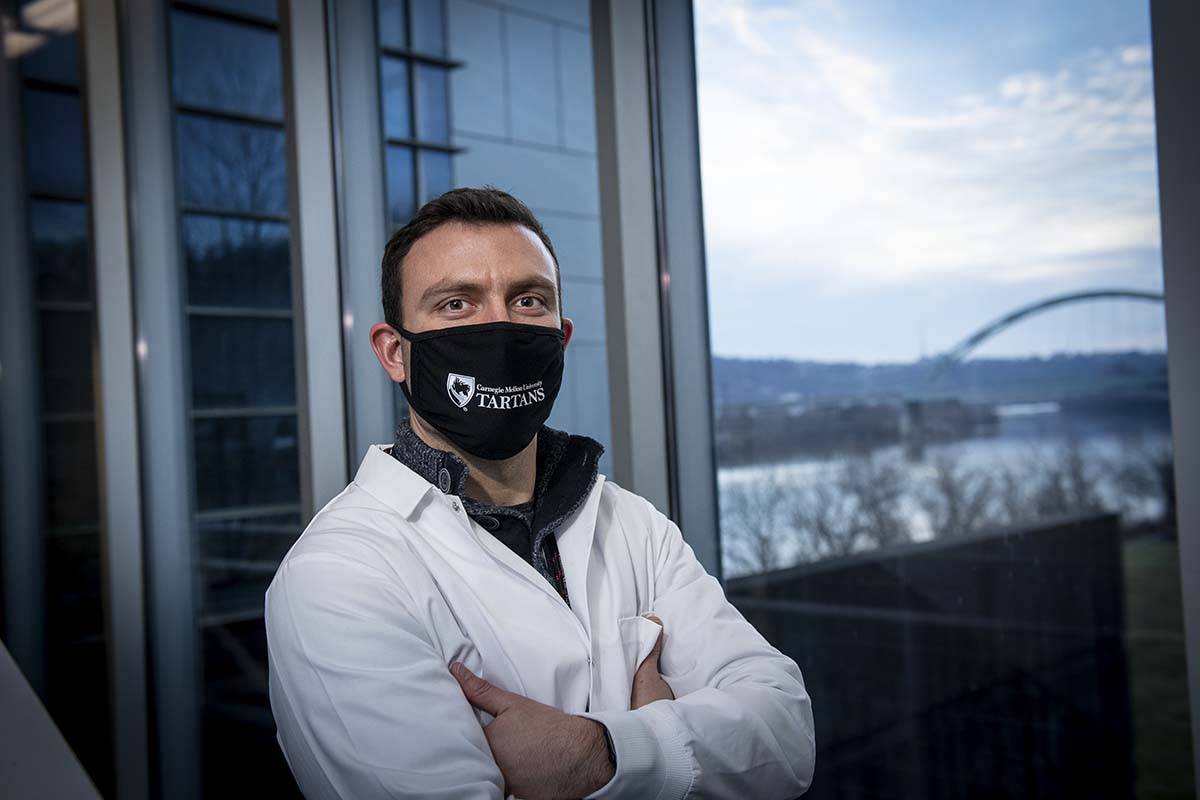 Florent Letronne, CMU's laboratory science director, poses for a portrait inside the new testing facility. 
Florent Letronne and his team of five lab operations staff are overseeing that facility at the PTC. They receive the sample tubes, manually load them into racks and line them up for Felix — a robot liquid handler. The machine, with another soon to be installed, can work with 384 samples at a time. It transfers the saliva into special trays and adds reagents that assist in identifying COVID-19. The robotic process takes about an hour.
Next, the samples are loaded into an analyzer — a qPCR machine — that is able to amplify and detect certain signals in each sample to determine if it is positive or negative for the virus.
Letronne and the team all joined CMU within the last two-and-a-half months. They've worked very closely with Jon Minden, professor in the Department of Biological Sciences, Trustee Professor and Chemical Engineering Department Head Anne Skaja Robinson and postdoctoral associate Liqing Song to get up to speed and outfit the lab.
"We built this facility from scratch. Everything, including the creation, verification, validation and certification of the test, had to come together quickly to be prepared for this semester," said Letronne, CMU's laboratory science director. "It's been an intense effort, but certainly a great adventure."
The overall team approach reminds McQuade why he decided to come to CMU as a teenage student.

"We're not a medical school, but that didn't stop us from doing this. At Carnegie Mellon, we don't ask why we can't do something. We roll up our sleeves and get it done," said McQuade, a three-time CMU graduate. "This is who we are and how we behave. As we like to say around here: 'That's so CMU.' Tartan Testing is definitely 'so CMU.'"