April 13, 2021
David Coulter To Become Chair of Carnegie Mellon's Board of Trustees
By Tricia O'Reilly teoreill(through)andrew.cmu.edu
Media Inquiries
Jason Maderer
Marketing and Communications
Trustee and alumnus David Coulter, former chair and CEO of Bank of America Corp., has been elected to succeed James E. Rohr as chair of Carnegie Mellon University's
Board of Trustees
, effective July 1. Coulter also will serve as chair of the board's Executive Committee.
Coulter first joined CMU's Board of Trustees in 1997 and has played an active role in supporting key initiatives at CMU through his leadership, service and philanthropy. He currently chairs the board's Advancement Committee, and also serves as a member of the Executive, Compensation, and Nominating and Governance committees. He is a member of the
Tepper School's Business Board of Advisors
. David also chairs CMU's
Make Possible
campaign, which seeks to raise $2 billion in support of the university's aspirations. To date, more than 51,000 donors have contributed more than half of the goal, accelerating CMU's leadership at the nexus of technology and humanity.
"As one of Carnegie Mellon's most ardent champions and a deeply committed alumnus and trustee, David Coulter is an outstanding selection for the next chair of CMU's Board of Trustees," said CMU President
Farnam Jahanian
. "I look forward to working with him in his new role and relying on his insight, counsel and leadership to chart a course for CMU's continued excellence at this pivotal moment for the Tartan community, for society and for higher education."
Originally from Ford City, Pennsylvania, Coulter finished first in his class at Ford City High School in 1965. He went on to earn his bachelor's degree in administration and management science and his master's degree in industrial management in 1971 from CMU's Graduate School of Industrial Administration, now known as the
Tepper School of Business
. In 2018,
he was honored
with the Tepper School's Alumni Lifetime Achievement Award.
"This is a very exciting time to be a part of Carnegie Mellon University, and to be elected to serve as chair of CMU's Board is an incredible honor," Coulter said. "I look forward to working closely with President Jahanian and his administration, my fellow board members, the faculty and students to advance CMU as an institution at the forefront of next-generation innovation and education."
Coulter is currently a special limited partner with Warburg Pincus LLC in New York City. Previously, he held leadership roles at several financial services organizations, including 22 years at BankAmerica Corporation and Bank of America NT & SA. His leadership covered a wide range of banking activities during a formative period for the large multinational company. He would later spend five years at J.P. Morgan Chase, retiring in 2005 as vice chair.
Coulter and his wife, Susan, have made a number of transformational commitments to the university over the years. In 2018, they made a gift to the
College of Engineering
to endow the headship for the
Department of Mechanical Engineering
and to provide support for the new
Scaife Hall
, which is currently under construction. Coulter was inspired to support the Mechanical Engineering Department after visiting a manufacturing facility near his Montana home, where he realized the need for workers with high-tech skills to operate advanced machinery. He had previously collaborated with the College of Engineering on the
NextManufacturing Center
.
The Coulters made a generous gift to establish the
David and Susan Coulter Welcome Center
in the
David A. Tepper Quadrangle
, and they are also providing support for the
CMU-Highmark Health, Wellness and Athletics facility
, slated to open in 2024.
In addition to his service at CMU, David is an emeritus board member of Lincoln Center and former chair of its capital campaign. He has also been a board member at Third Way, Northern California Asia Society, Fritz Institute, Foreign Policy Association, Intelligence Squared US, Macaulay Honors College (at CUNY) and the American Prairie Reserve. He also serves on the boards of several financial services and technology ventures, including Triton International, Varo Money and The Providence Service Corporation, and serves on the advisory board of Illuminate Ventures.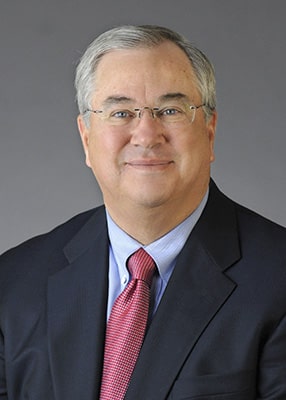 "It was one of the greatest honors of my life to have served as chair of Carnegie Mellon's Board for the last six years," said current chair Jim Rohr
(pictured at left).
"With President Jahanian's compelling vision for CMU's future and David's bottomless energy and passion for this institution, the path forward for CMU is paved with extraordinary possibilities."
Rohr, the former chairman and CEO of PNC Financial Services Group, has been chair of CMU's board and its Executive Committee since 2015. A life trustee of the university, Rohr will remain a member of the board, which he joined in 1992, and will continue to serve on the Executive Committee.
"Jim Rohr has been an extraordinary chair of the board, and his mentorship and counsel have been invaluable to me and to our entire leadership team," Jahanian said. "We are deeply grateful to him for his tireless service and remarkable generosity, which has advanced the university's research and education mission, and has enhanced the student experience in immeasurable ways. We look forward to Jim's continued leadership on CMU's Board."