February 11, 2020
Revolutionizing Education
CMU's techniques, tools, content and code are accessible to anyone wanting to improve learning outcomes in the classroom
By Kelly Saavedra ksaavedra(through)cmu.edu
Like any committed instructor who finds students struggling to grasp a difficult concept, Amy Burkert wants to do everything in her power to help.
At Carnegie Mellon University, where Burkert also serves as vice provost for education, she and her colleagues have had access to exceptional software and tools to analyze and improve how their students learn in the classroom and beyond.
These tools — which include platforms for designing and delivering open courseware, intelligent tutor authoring, data warehousing and analysis tools, and software for chat and discussion — have been developed and refined at Carnegie Mellon over nearly 40 years by some of the world's leading experts in computer science, psychology and learning technology.
Through partnerships with the National Science Foundation, the National Institutes of Health, the Institute for Education Science and many others, CMU has made the techniques, tools, content and code Burkert and her colleagues use to remove barriers to learning accessible to anyone interested in improving learning outcomes in their own classrooms.
The OpenSimon Toolkit
The OpenSimon toolkit is part of the university's Simon Initiative, which harnesses a cross-disciplinary "learning engineering" ecosystem at CMU to measurably improve student learning outcomes.
In the 1970s, Herb Simon, who was a Nobel laureate and cognitive psychologist known for his interdisciplinary nature, challenged his colleagues at CMU to make education a community-based research activity.
"In other words, we should think hard about what is happening in the classroom in the minds of the students as they're learning, how they're learning, and how we can teach them in a way that improves their learning, and making that a research activity," said Richard Scheines, dean of CMU's Dietrich College of Humanities and Social Sciences and faculty lead of the Simon Initiative.
Burkert used the Open Learning Initiative (OLI) platform, which is part of the OpenSimon toolkit, to collaborate with colleagues to build instructional modules for an introductory biology course. That course has been used at CMU and elsewhere, helping students learn difficult concepts in biology more easily and at a faster rate.
"Every discipline has its crunch points," Burkert said. "In our English department, students have had difficulty with prose style. Our approach has been to create instructional resources that target those crunch points. Then, faculty members teaching potentially different courses could provide these modules to the students to help them get through those crunch points wherever they might arise in the curriculum."
Scheines's research focuses on causal discovery, more specifically the challenge of gaining insight into underlying causes through the study of statistical evidence. Through nearly 25 years of collaboration, Scheines has worked seamlessly across disciplines at CMU to build a set of efficient algorithms unique in their searching and calculating abilities that have come to be known as the TETRAD project. Like the other tools in the OpenSimon toolkit, the TETRAD program provides sophisticated methods through a friendly interface requiring very little statistical experience on the part of the user and no programming knowledge.
Modules in the OpenSimon toolkit have even been developed to help students with such core competency skills as being able to effectively work in teams, something employers and faculty agree is necessary for both personal and professional success.
"Improvement in post-secondary education will require converting teaching from a solo sport to a community-based research activity."

— Herb Simon, Nobel laureate
"The teamwork modules can be given to the students so that they have the support they need to work effectively on team projects, and faculty are then free to focus on the subject matter," said Marsha Lovett, director of CMU's Eberly Center for Teaching Excellence and Educational Innovation and a member of the leadership team of the Simon Initiative with Burkert, Scheines, Norman Bier and Ken Koedinger.
Burkert assures educators they don't have to have programming skills to use the tools, and they don't have to create or analyze alone.
Lovett added that faculty can also expect to gain efficiencies, in that if they've been answering thousands of emails from students struggling with the same concept for the past five years. Now, they are not only going to improve the learning outcomes for students in less time, but students also are not going to be asking those same questions anymore.
"Our hope is that others would join our OpenSimon community and help us learn, too, so we can all improve student learning," Burkert said.
Educators are invited to explore the OpenSimon website and learn more about the tools available through OpenSimon as well as their supporting tutorials and webinars.
"The more people who join the OpenSimon community, and the more we can understand what people want and what they actually hope to gain from a collaboration with us, the better we will be able to lead this effort," Scheines said.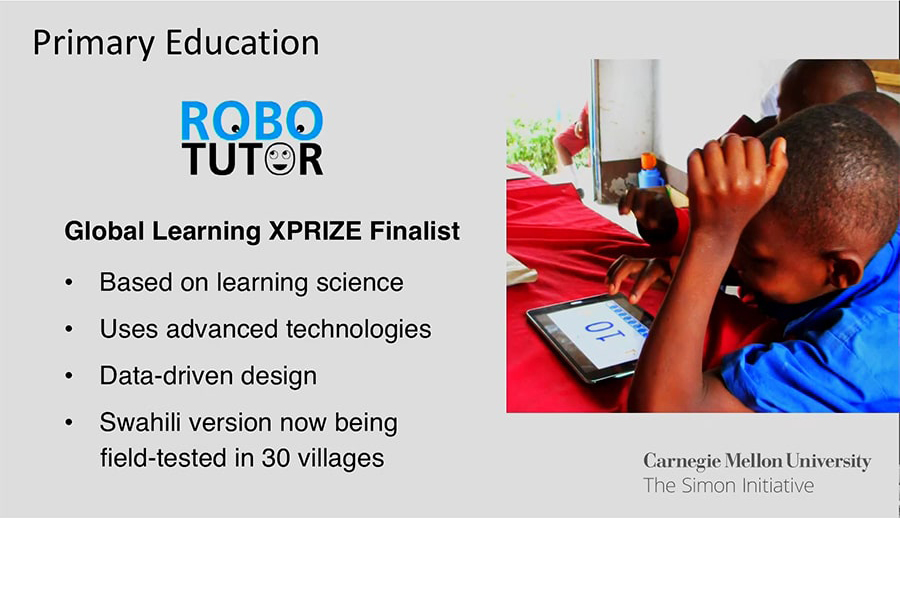 Success in Primary Education. Built on software developed by Jack Mostow to teach reading to 6- and 7-year-olds using speech recognition, the RoboTutor app was a finalist in the Global XPRIZE for Learning competition and is being tested in 30 villages in Africa to teach students Swahili, writing, reading and math.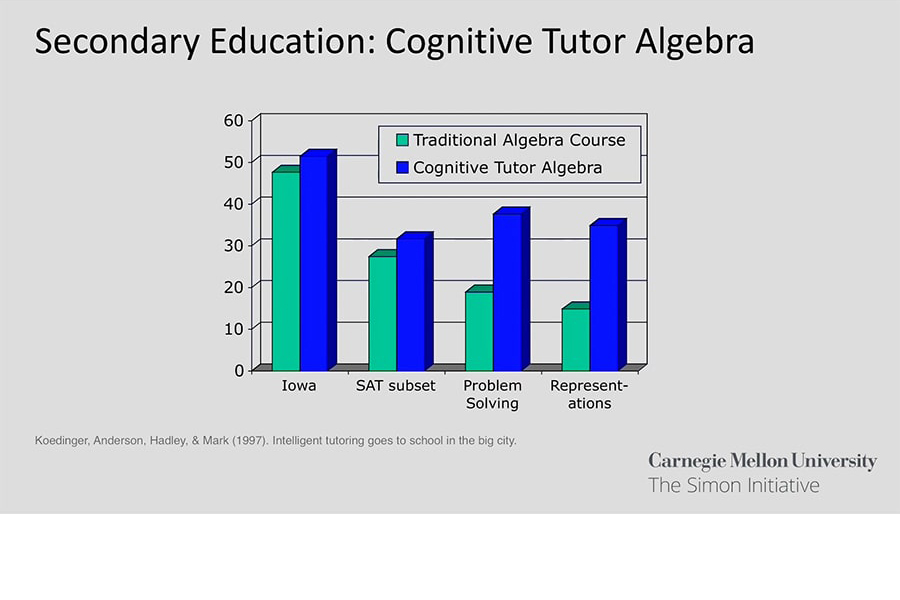 Success in Secondary Education. Rand Corporation tested the Cognitive Tutor for Algebra developed by Ken Koedinger and his colleagues and found that, on average, high school students in the cognitive tutor algebra curriculum learned almost a full year more of algebra during the trial.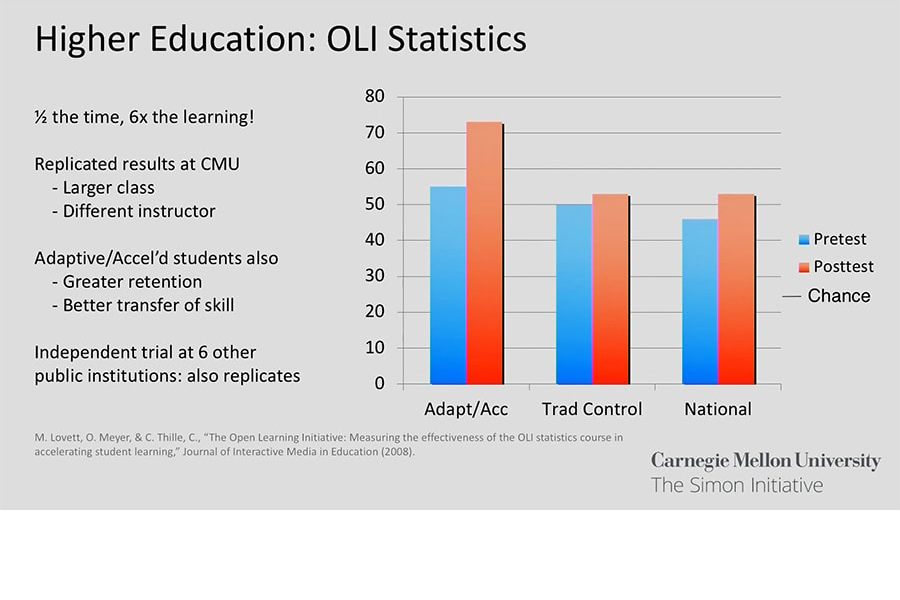 Success in Higher Education. Students using the OLI Introductory Statistics course can learn six times as much in half the time as curricula delivered in the traditional way.