May 06, 2019
A Global Lens
Global Medical Brigades students bring eye-opening change to medical clinic in Panama
By Emily Payne epayne(through)andrew.cmu.edu
Media Inquiries
Emily Payne
Mellon College of Science
Every March, two dozen students pack their bags, don scrubs and head out for a service trip as part of Carnegie Mellon University's chapter of Global Medical Brigades (GMB). Over spring break this year, the group traveled to Pueblo Nuevo, Panama, to set up a medical clinic and work with Panamanian doctors to bring medical, dental and optical care to hundreds of underserved community members.
The journey was junior chemistry major Nelly Kowalewski's third trip with the team and her first trip as the education and co-vision chair for the group.
"The reason I keep coming back to Global Medical Brigades every year is because of the interactions I have with the community there. Language and cultural barriers, governments and borders, it melts away when you're there," she said.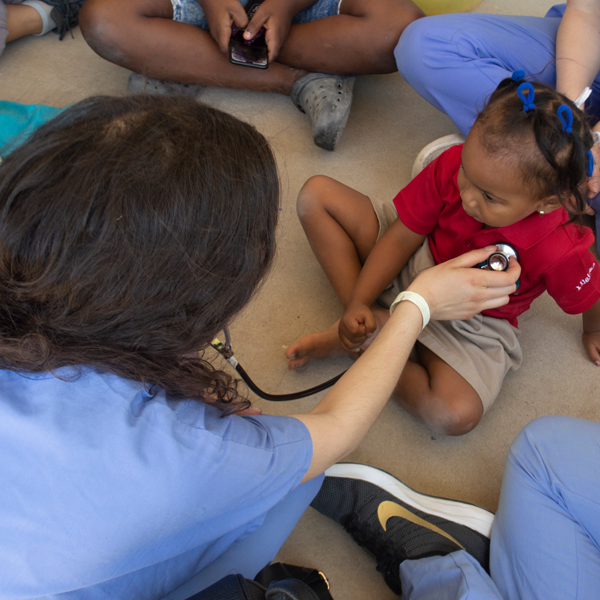 First-year MCS student 
Mira Mookerjee engages with younger children in Charla, GMB's education station for children, while their parents are in the clinic. They are using a stethoscope to listen to each other's heartbeats because the kids were curious.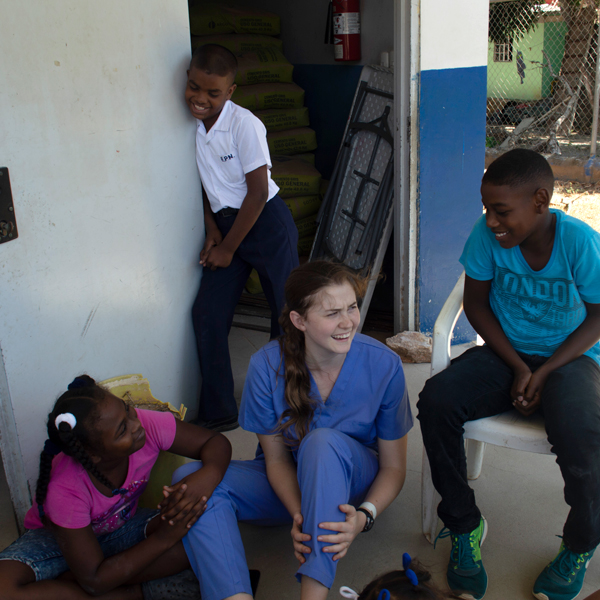 First-year engineering student Katie Parsons chats 
with some older children in the Charla station after the education session was over.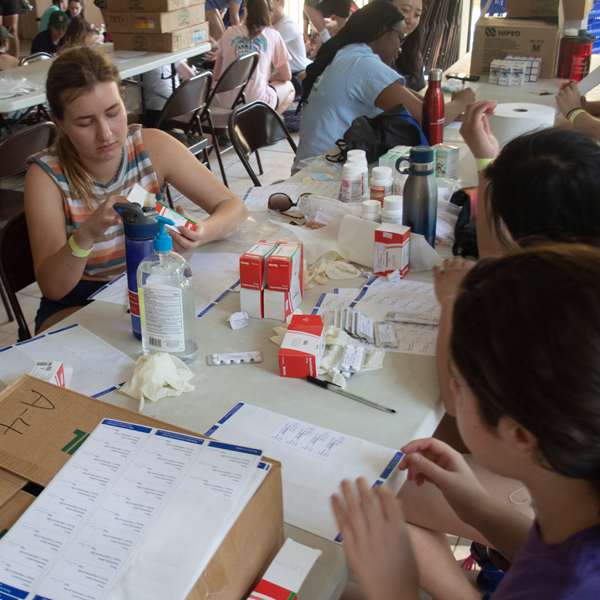 Lera Neviadomska labels, sorts and packs medications to take with the group to the clinic for their pharmacy station.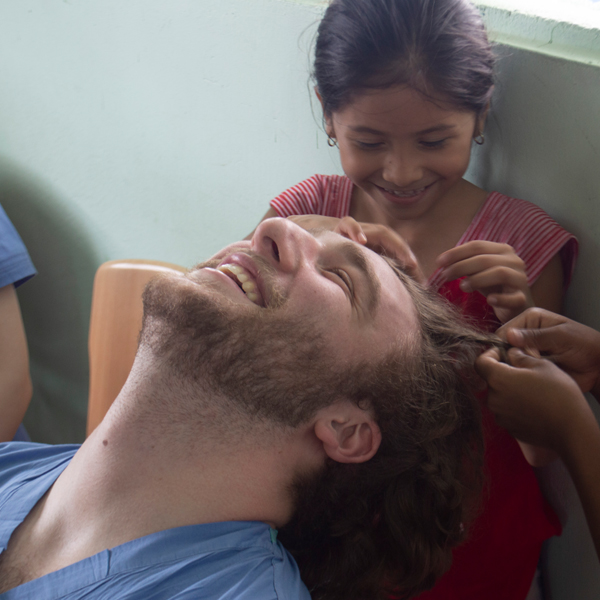 Mechanical engineering sophomore Joshua LaDuca gets his hair braided in the Charla station after the education session was over.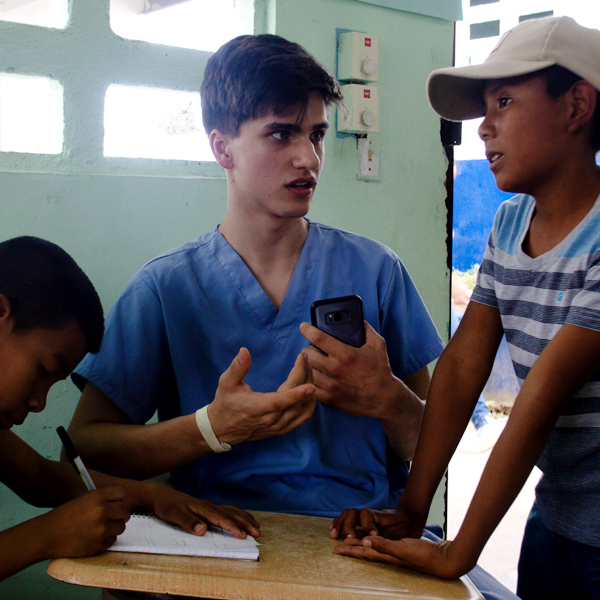 Mechanical engineering sophomore Jakub Kowalewski talks about different and harder versions of the game Tic Tac Toe before deciding which version to play.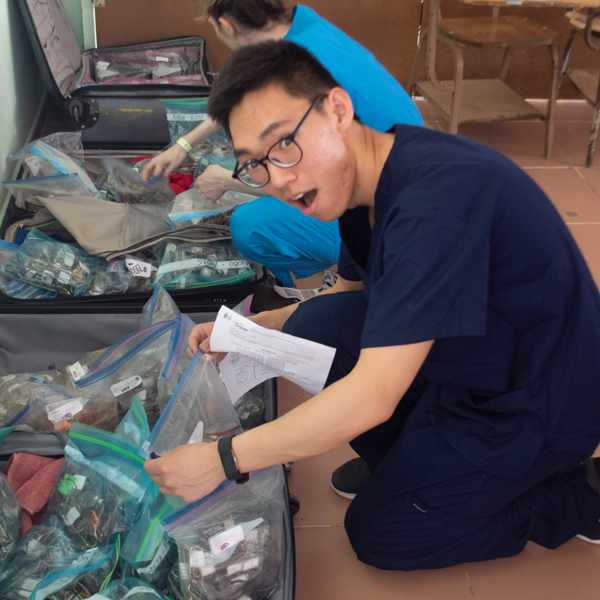 Biological Sciences junior and GMB Vice Presdient Jaehyun Lee is looking for the right prescription of glasses to give to a patient in the vision station. All glasses are collected and have their prescriptions measured by GMB members in Pittsburgh. Each year, they bring their entire inventory with them in-country.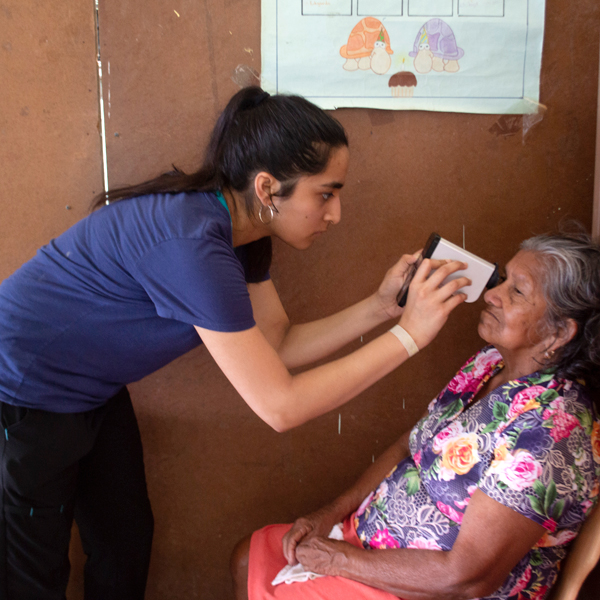 Psychology sophomore Roshni Nischal uses an autorefractor to measure a patient's prescription to be able to provide the right pair of glasses.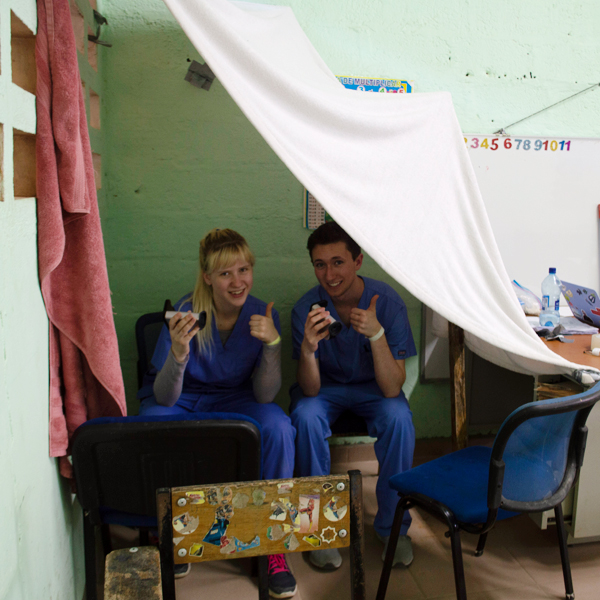 Chemistry majors Nelly Kowalewski and Nathan Walker are inside an "autorefractor tent" they built. The autorefractors work best in the dark. The tent helped them to more accurately measure the patient's prescription and provide them with the correct pair of glasses.
Melting away some of those barriers is what Kowalewski does as education chair. She teaches her fellow students necessary Spanish phrases and vocabulary, along with medical vocabulary to talk to patients about their symptoms and medical needs. She also gives the group a background lesson in the history, culture and customs of the country.
There's a lot of planning that goes into the trip in other areas, Kowalewski said. The group meets weekly from September through March to run mock clinics in Spanish, organize fundraisers and practice how to take blood pressure and use autorefractors. They also staff weekly shifts at Rite-Aid to collect medications and supplies, run a CMU Crowdfunding project to raise additional funds and catalogue hundreds of pairs of glasses annually for their in-country vision station.
The meticulous planning helps students assist as many patients as possible during the trip. At the medical clinic, the students help with initial patient intake, by recording patients' symptoms, taking vitals, referring patients for consultations, distributing medications and supplies, and using autorefractors to measure eye prescriptions. They also provide public health information - this year, they met with children in Pueblo Nuevo to practice nutrition and hygiene education.
Kowalewski said one of the most rewarding aspects is helping community members to see better. Carnegie Mellon Global Medical Brigades was one of the first chapters to pilot a vision station in 2015.
"We have an inventory of roughly 700 or 800 glasses that we bring with us every year," Kowalewski said. The group measures the prescription of the glasses they collect at University of Pittsburgh Medical Center and catalogues them in an inventory programmed by Jaehyun Lee, a junior biological sciences major and vice president of GMB. While in-country, they can input the prescription of the patient's eyes, as measured by the optometrist, into the program to find the best match and style of glasses for the patient.
"I think the vision station has one of the most immediate and sustainable impacts," Kowalewski said. After giving one community member a pair of glasses, she recalled his relief that he could see better and his excitement that he could finally play his guitar again.
Seeing this impact on previous trips gave Kowalewski another idea. She said she noticed that many in the community work outside and are unable to protect their eyes from preventable problems, such as exposure to ultra violet radiation. Kowalewski and Fundraising and Co-Vision Chair Jakub Kowalewski, a sophomore mechanical engineering major, rallied their efforts to set up a sunglasses collection. With the help of the Mellon College of Science and other colleges across Carnegie Mellon, they collected and distributed 300 pairs of sunglasses to patients who came through their clinic.
The moments outside of the clinic are equally as impactful. One of the best feelings, Kowalewski said, is being welcomed into the community and getting to know the people they are working with. The students often get to spend time playing games with the younger kids, connecting with people their own age about their hopes for the future and learning from older community members.
"GMB has been one of the most meaningful and eye-opening experiences of my life, and the interactions and connections that I have made with community members are things that I will remember for the rest of my life and carry with me wherever I go," Kowalewski said.
Carnegie Mellon University is committed to educating, empowering and aligning its community around the world to address the Sustainable Development Goals, also known as the Global Goals, which aim to create a more peaceful, prosperous planet with just and inclusive societies. Recognizing the critical contributions that universities are making through education, research and practice, CMU publicly committed to undertaking a Voluntary University Review of the Global Goals. The 17 Global Goals cover wide-ranging issues, including reducing violence, ending extreme poverty, promoting equitable education, fighting inequality and injustice, advancing economic growth and decent work, and preventing the harmful effects of climate change by 2030.

The preceding story demonstrates CMU's work toward attaining Global Goals 3 and 10.