June 05, 2019
Students Earn International Education Awards To Study Abroad
By Heidi Opdyke opdyke(through)andrew.cmu.edu
Media Inquiries
Abby Simmons
Dietrich College of Humanities and Social Sciences
Sherry Stokes
Two Carnegie Mellon University students have been recognized by the Institute of International Education Boren Awards program and have been awarded grants to study abroad.
Jacob Feldgoise, a rising junior with a double major in policy and management within Social and Decision Sciences and science, technology and public policy, and a minor in Chinese studies, was awarded one of 244 David L. Boren Scholarships. Shayak Sengupta, a Ph.D. student in the Department of Engineering and Public Policy, was awarded one of 106 David L. Boren Fellowships.
Since 1994, over 6,000 students have received Boren Awards. On behalf of the National Security Education Program (NSEP), awards provide opportunities for students to enrich their education by studying overseas in countries critical to U.S. interests.
"The National Security Education Program is helping change the U.S. higher education system and the way Americans approach the study of foreign languages and cultures," said NSEP Director Michael A. Nugent.
Former U.S. Senator David Boren was the principal author of the legislation that created the National Security Education Program and the scholarships and fellowships that bear his name.
"To continue to play a leadership role in the world, it is vital that America's future leaders have a deep understanding of the rest of the world," Boren said. "As we seek to lead through partnerships, understanding of other cultures and languages is absolutely essential."
Carnegie Mellon's Fellowships and Scholarships Office works with students applying for the awards.
"The Boren Awards provide crucial international education and language training to students who hope to work on pressing issues of national and global concern. They take a broad definition of security, including human, economic and environmental security," said Richelle Bernazzoli, assistant director of the Undergraduate Research Office. She assisted Feldgoise and Sengupta with the process.
"Jacob's and Shayak's disciplinary backgrounds and host countries represent this broad range of security issues, and we are proud to see these incredibly talented Carnegie Mellon students pursuing crucial work that encompasses technology and policy," Bernazzoli said.
"The National Security Education Program is helping change the U.S. higher education system and the way Americans approach the study of foreign languages and cultures." — NSEP Director Michael A. Nugent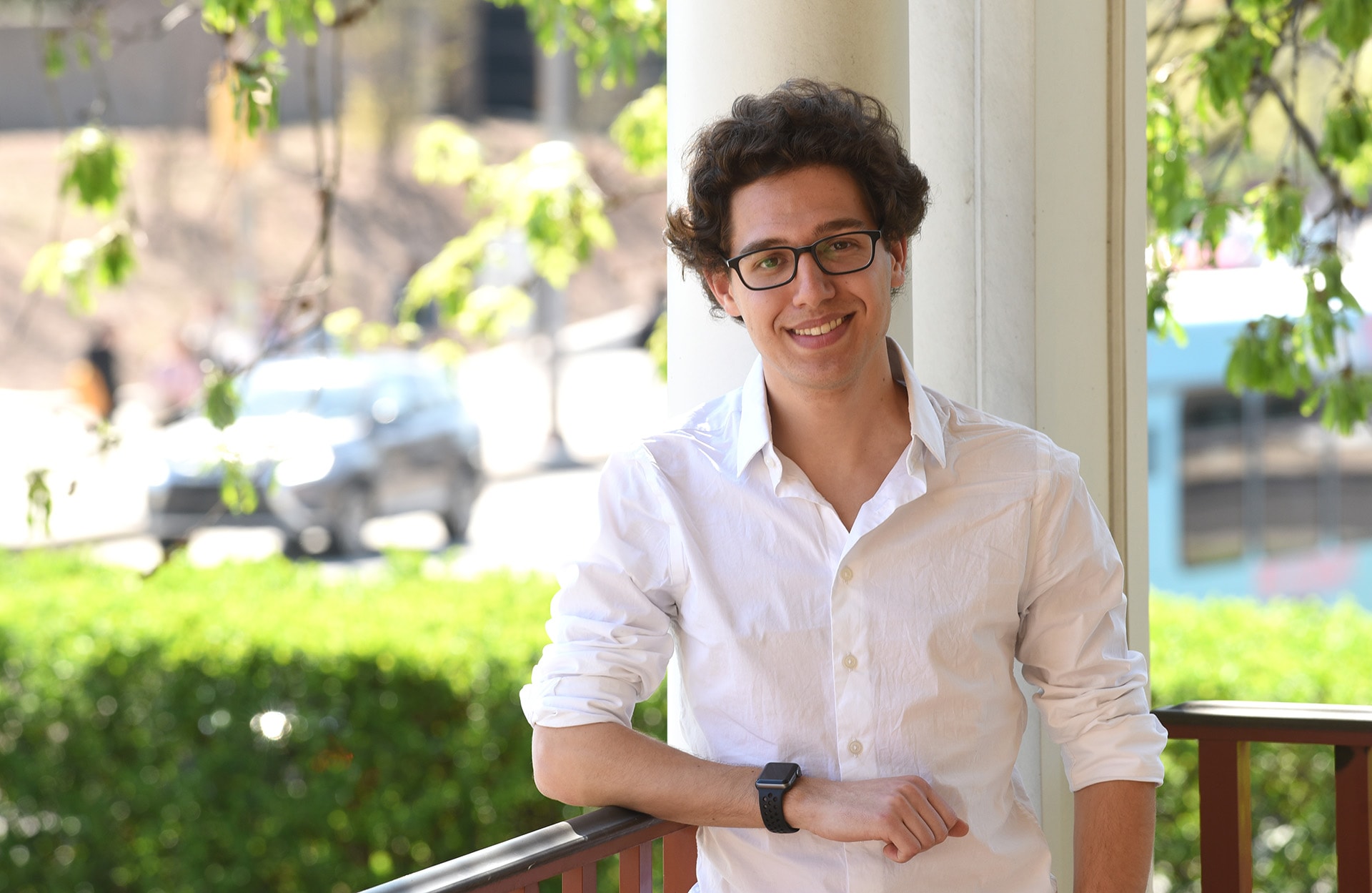 Jacob Feldgoise, a rising junior was awarded one of 244 David L. Boren Scholarships
Policy Writer in the Making
Feldgoise will study Chinese in Shanghai this summer through CMU's summer study abroad program at the Shanghai International Studies University.
Among his long-term goals, Feldgoise aims to help government agencies apply engineering methods, analytical tools and decision sciences to public policies.
"I want to understand how people operate in the actual world and apply that knowledge to writing public policies," Feldgoise said.
In some instances, he said, current policies may be written based on long-standing precedents, that might be misinformed.
In exchange for funding, Boren Award recipients agree to work in the federal government for a period of at least one year. Feldgoise said he has been considering pursuing a career as a foreign service officer on an economic career track.
"I'm hoping to bring to these national security positions a deep understanding of technological and engineering issues that have become so important in the last 10 to 20 years," he said.
This past year Feldgoise has been working with CMU's AirLab, part of the Robotics Institute, studying energy involved in the first- and last-mile package deliveries with drones.
Feldgoise has been studying Chinese since Kindergarten.
"It's really a fascinating culture and a tough, but rewarding, language," he said. "It's really cool to me how this pictographic language has evolved over centuries and you can convey so much in so few characters. A Chinese idiom may have 5 or 6 characters but have the complexity of a paragraph in English."
Along with the Boren Award, Feldgoise has received the Lena Foo Study Abroad Scholarship from the Department of Modern Languages, to help fund his summer study in China. Last year, while working in the Massachusetts Office of Attorney General, he received a Summer Internship Experience Fund grant from CMU's Career and Professional Development Center, and a Dietrich College Opportunity Grant.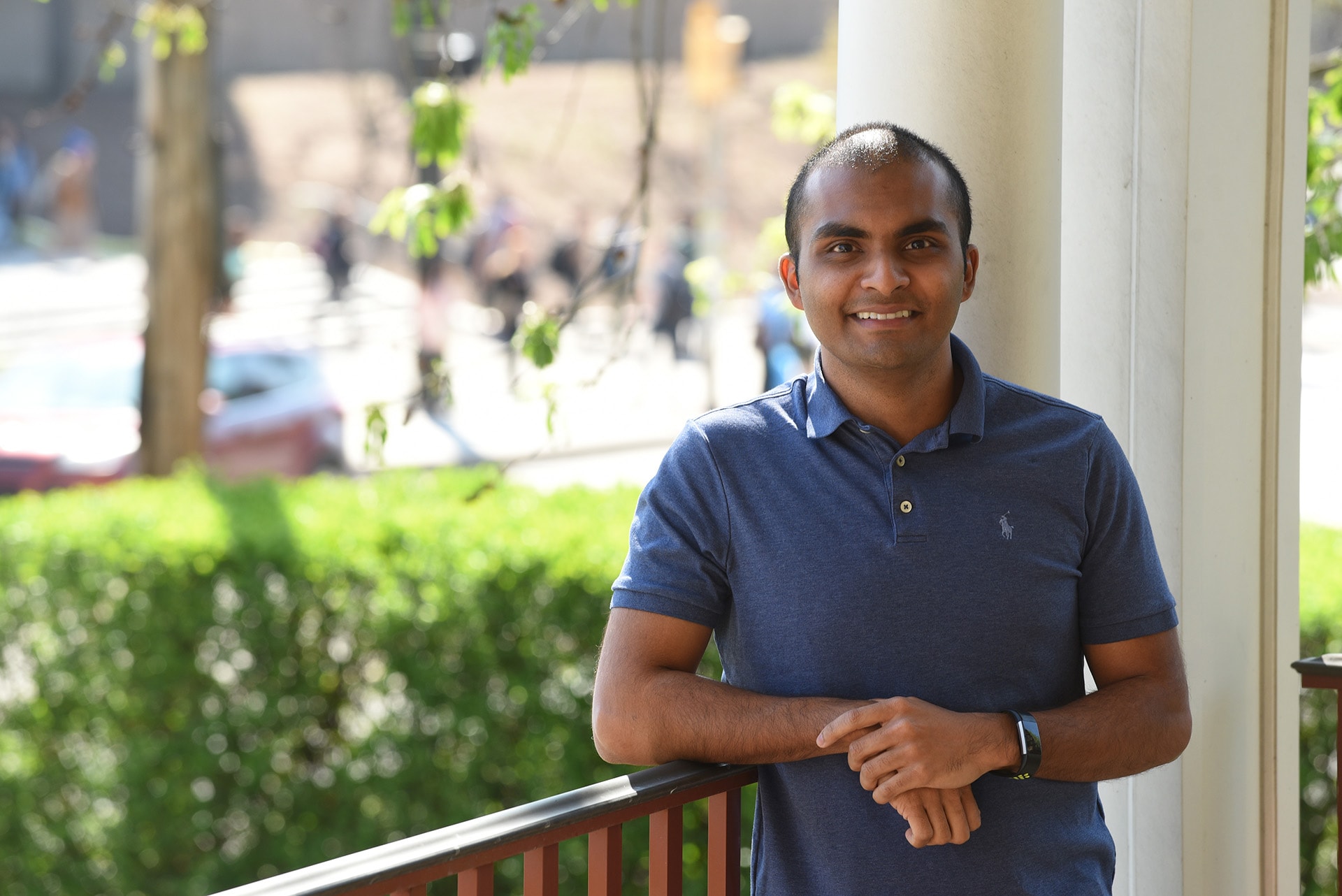 Shayak Sengupta, a Ph.D. student in the Department of Engineering and Public Policy, was awarded one of 106 David L. Boren Fellowships.
India's Power Sector
Sengupta's dissertation focuses on public policy-relevant research in energy and the environment. Working with Peter Adams and Inês Azevedo, Sengupta conducts research at the intersection of air quality, climate change and energy systems.
In 2017, ambient air pollution was associated with 2.9 million premature deaths globally, the majority of which were in India and China.
Sengupta is aiming to develop and deploy analytical tools that measure ambient air pollution, its sources and its impacts on human health in developed and developing countries.
"India needs to secure a lot of reliable energy as it grows its economy and pursues its development objectives, but this also comes with severe air pollution challenges from fossil fuel combustion throughout the country," Sengupta said. "Making decisions to tackle these challenges takes quite a lot of science and public policy."
Sengupta plans to work for the federal government on international energy or environmental policy, especially related to South Asia. He said the United States and India cooperate extensively in energy and environment issues.
"I imagine a role where I can combine the technical science skills along with the public policy analysis skills I've gained in my Ph.D. training in CMU's Department of Engineering and Public Policy and Center for Atmospheric Particle Studies," Sengupta said.
The Indian power sector is in flux. There is a demand for more electricity from millions of Indians who are being connected to the grid. Economic reforms to make power cheaper and more reliable are needed, as are more stringent air pollution regulations since power plants are a significant source of air pollution and greenhouse gases in India.
"Policymakers and researchers don't really have a way to think about all of these economic and environmental policies in a coherent framework," Sengupta said. "The model I will develop will provide a way to evaluate present and future interventions on the basis of economic costs and environmental consequences."
This will not be Sengupta's first time to India, who visited family there frequently while growing up. Prior to starting his doctorate at CMU, he also spent a year as a Fulbright-Nehru Scholar at the Indian Institute of Technology (IIT Kanpur) in Kanpur, India.
His time at IIT showed him the need for learning more Hindi.
"While English is used extensively, there were many times when I was north India when I had much more expressive conversations speaking to individuals in Hindi," he said." English is the language of commerce and science in India, but Hindi, the lingua franca of north India, is still used extensively. As India grows, I foresee Hindi's role growing, especially in policy-making."