December 06, 2019
Playing for the Home Crowd
By Felicia Lucot felicialucot(through)cmu.edu
Media Inquiries
Jason Maderer
Marketing and Communications
The Carnegie Mellon University women's soccer team traveled from Pittsburgh to Atlanta to Greensboro to play in the NCAA Division III National Championship. It was a homecoming for two Tartans.

Taylor Cammarata and Emery Noll are North Carolina natives who had the opportunity to play the most important game of their careers in front of friends and family in the crowd.

"When I saw Greensboro was the host location for the final four, I made it a goal to make it here," said Cammarata, a junior midfielder studying statistics and machine learning.

She was cheered on during the matchup against Messiah College by her mother, father, brother and cousin. As one of the local families, Cammarata's parents hosted the post-game tailgate for team.



CMU players hailing from North Carolina discuss their semifinal experience.
"My parents were so excited to do that," Cammarata said. "When we're in different locations for our games, other parents are able to give back. So now it's our turn to pay it forward."

Her father, Sal Cammarata, drove just over an hour from Cary, North Carolina, to watch on Friday. He and Taylor's mother traveled all season to watch games. This drive was the shortest — by about eight hours.

"This is the ultimate. There isn't anything better for them or for us as parents," Sal Cammarata said. "It's really special for her to be playing in this game so close to us." The game didn't end in the Tartans' favor, but Taylor's ready to make one more push for the national championship next year.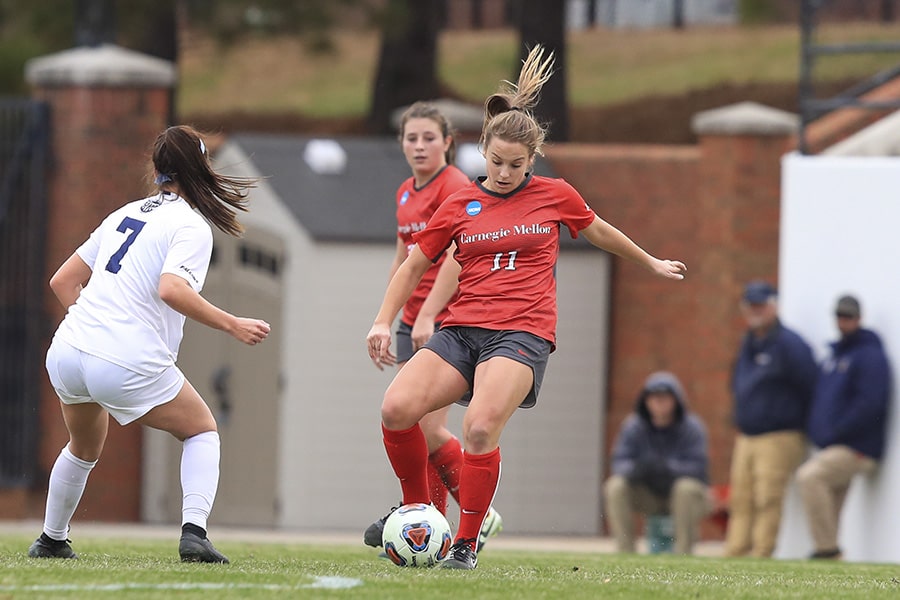 Emery Noll

As a graduating senior, Noll's soccer career ended with Friday's loss. While the result wasn't what she'd hoped for, the Charlotte, North Carolina native is thankful the road ended at home in front of her mom and friends.

"I know I have support, but to see it in person when I'm close to home means the most," said Noll, a double major in biological sciences and psychology. With her days on the soccer field over, she will take four years of memories and lifelong friendships with her.

"Yes, it ends now, but the team and the bonds will be forever," she said.

Her mother, Jenene Noll, has been watching Emery play since she was six years old. Instead of livestreaming her daughter's last soccer game, she made the hour and forty-five-minute drive from Charlotte.

"It was amazing to be able to take a short drive to get here and to see such a wonderful group of young ladies play their hearts out," Jenene Noll said. "Emery's father wasn't able to make the trip, so I wore his favorite scarf in his honor."

For Taylor, it's the end of a season and for Emery, the end of a chapter. "We made history for our school," Emery Noll said. "I wouldn't have wanted it to end any other way."