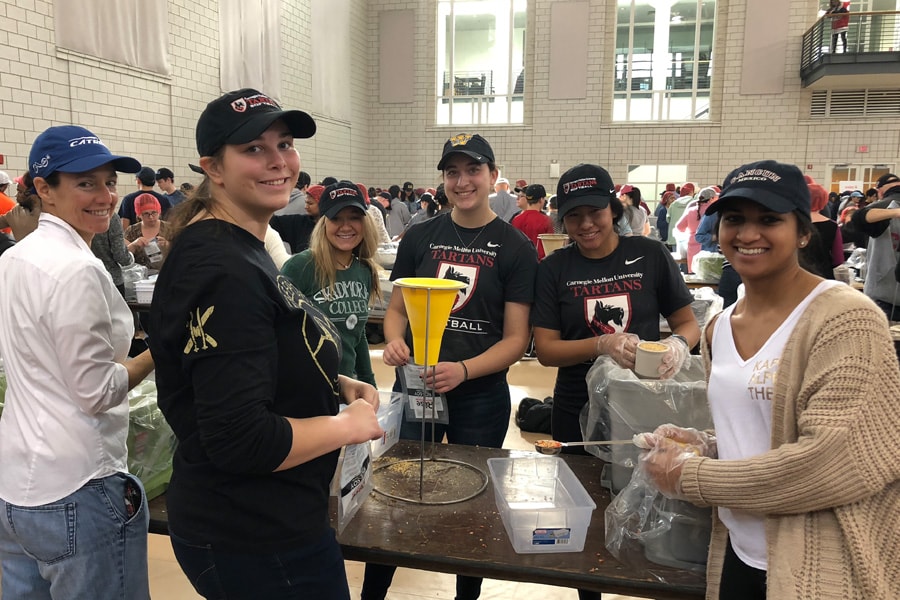 November 19, 2018
Carnegie Mellon Rises Against Hunger
By Laura Kelly laurak(through)andrew.cmu.edu
For the fourth year in a row, the Carnegie Mellon University community came together to help end global hunger by 2030. About 500 of students, faculty, staff and friends packaged approximately 200,000 dehydrated meals for distribution around the world in just two hours on Saturday, Nov. 17 in the Cohon University Center's Wiegand Gym.
"We partner with Kraft Heinz Foundation — who provides the food for the meals — along with Rise Against Hunger," said Jazmin Nixon Cartwright, project administrator for CMU's Office of Student Leadership, Involvement and Civic Engagement (SLICE). "We all work together and hold the event here at Carnegie Mellon University. This is our fourth meal-packing event, and it's really great because it exposes people to the actual disparity of hunger. You can fully see the impact of hunger during this event. It's a great opportunity to get together as a community to make that impact."
Melissa Strome, a sophomore business major, participated in Rise Against Hunger during her first year at CMU and came back again this year.
About 500 people volunteered to pack approximately 200,000 meals for distribution around the world on Saturday, Nov. 17 in the Cohon University Center's Wiegand Gym.
"I think it's so cool how many meals we're able to create so quickly with just about 500 people here right now. It's just really amazing that that's something we can do at CMU."
Rise Against Hunger, an international hunger relief nonprofit organization, holds meal packing events throughout the year in an effort to end global hunger.
"We believe it is possible to end hunger in our lifetime, specifically 2030. We run events like this with colleges, churches, Rotary clubs and corporations, where they get a team together, raise money and package a specific amount of meals that then go to our vetted program partners overseas," said Brady Smith, assistant community engagement manager for Rise Against Hunger.
"Not only is this our last event of the year, it's also our biggest of the year. Last year [CMU] did 150,000 meals. Most groups do 10,000 meal events. It's exciting to work with college students," Smith said.
James Crnkovich, a master's degree student studying advanced infrastructure systems, has been a part of the event since he was an undergraduate student at CMU.
"It's exciting to see how much it's grown since it started a few years back. It's a great way to give back to the community and to see how strong of a showing the CMU community has," Crnkovich said.
Terence Huang, a senior studying mechanical engineering, and engineering and public policy, also has been a part of the Rise Against Hunger event since it began on campus. He finds it inspirational.
"I'm here to help make a difference in the world by providing food to people who need it," Huang said. "It's really great and comforting and inspiring to see so many people here."
Smith hopes that inspiration will help end global hunger.
"There's a lot of energy, there's a lot of positivity and ambition. You do something like this, you know it's making an impact. Some people will leave this room feeling empowered to do more. If world hunger is going to end by 2030, it's going to be the people in this room who really do the legwork to get that done."
Find out more about Rise Against Hunger and follow #2030isPossible on social media to see its impact.