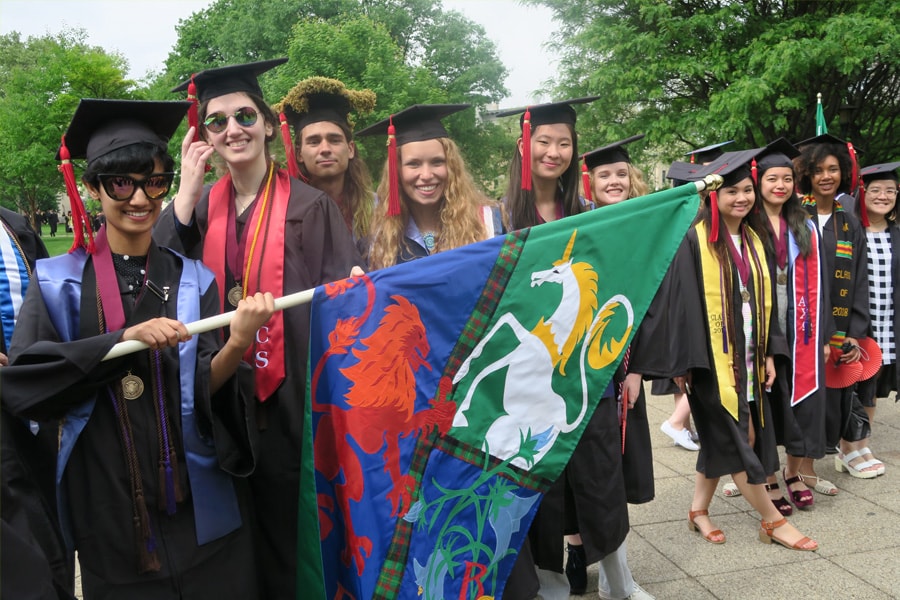 November 07, 2018
BXA Celebrates Silver Anniversary
By Emily Syes esyes(through)andrew.cmu.edu
Media Inquiries
Emily Syes
BXA Intercollege Degree Programs
The BXA Intercollege Degree Programs have been pioneering higher education with interdisciplinary undergraduate degrees for 25 years. In celebration of their milestone anniversary, BXA will host a number of events throughout the academic year.

Carnegie Mellon's Family Weekend on Oct. 12, kicked off BXA's special programming with an expanded alumni panel and workshops co-sponsored by the Career and Professional Development Center. The panel featured nine recent alumni in a variety of artistic, technical and entrepreneurial careers. BXA alumni, students, parents and friends connected to talk about how their chosen disciplines and experiences at Carnegie Mellon resulted in employment after graduation. With diverse fields ranging from a roboticist to jewelry metalsmith to democratic councilman to product manager, the common bond of interdisciplinarity led to meaningful, informal discussions between participants in the BXA community.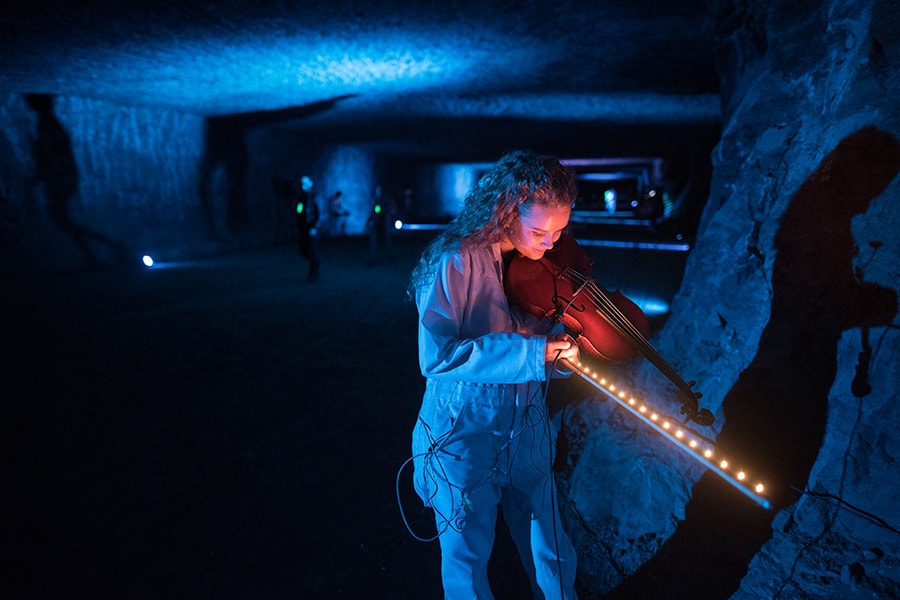 Computer Science and Music Technology graduate Sara Adkins played viola during the "SubSurface: Site Specific Sight & Sound" arts festival last year in Brady's Bend Underground Storage. Adkins is one of the many students who integrated fine arts with academic studies.
At the end of the fall semester, BXA's first-year cohort will exhibit their final seminar projects as part of the School of Art's Open Studios. Additional events slated for the spring semester include the programs' first BXA Pride Day and the annual Kaleidoscope student showcase, which will now give alumni the opportunity to participate by submitting their work digitally. BXA students also will partake in the Meeting of the Minds undergraduate research symposium, in which the senior class publicly presents its capstone projects. BXA students often come away with research awards, including 10 prizes in 2018.

The BXA programs combine coursework in both creative and academic disciplines. Students who have goals that can only be achieved by integrating their chosen interests are ideally suited to the BXA programs, which promote innovative approaches to interdisciplinary topics.

"BXA students create new knowledge and challenge definitions," said M. Stephanie Murray, director. "BXA students are also independent, motivated and well-rounded scholars and artists."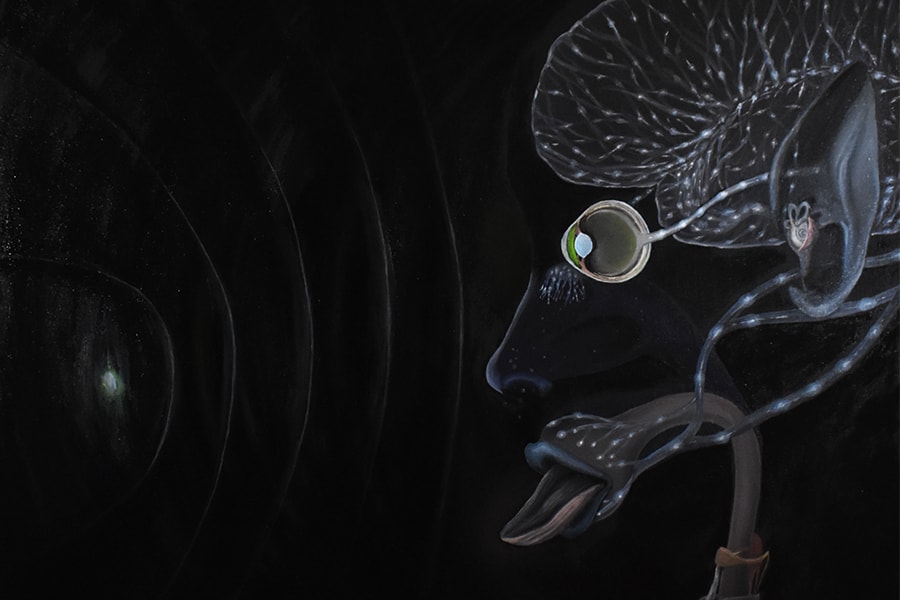 BSA senior Odelia Cheng's art explores biologicial themes. "Vision" is part of a series and was on display at Kaleidoscope XX in April.
The Bachelor of Humanities and Arts (BHA) program began in 1993 as a response to numerous requests by Carnegie Mellon students to integrate studies in the fine arts with studies in the humanities or social sciences. The deans and faculty of the College of Fine Arts and the Dietrich College of Humanities and Social Sciences designed BHA as an innovative intercollege degree-granting program that allows students the freedom to blend their interests between these two colleges.

Based on the successful BHA curricular model, the Bachelor of Science and Arts program launched in 1999 and Bachelor of Computer Science and Arts in 2008. All three programs are housed under the umbrella of BXA Intercollege Degree Programs.
The BCSA, BHA and BSA degrees are unique to Carnegie Mellon due to the strengths and partnerships between the participating colleges, along with extensive advising support. The interdisciplinary vision driving the program was a revolutionary concept in the early '90s, and it continues to be unrivaled at a singular institution at the undergraduate level. The few available competitor programs are not able to provide the same level of balance between disciplines, as coursework and time typically has to be divided among sister institutions, according to Murray.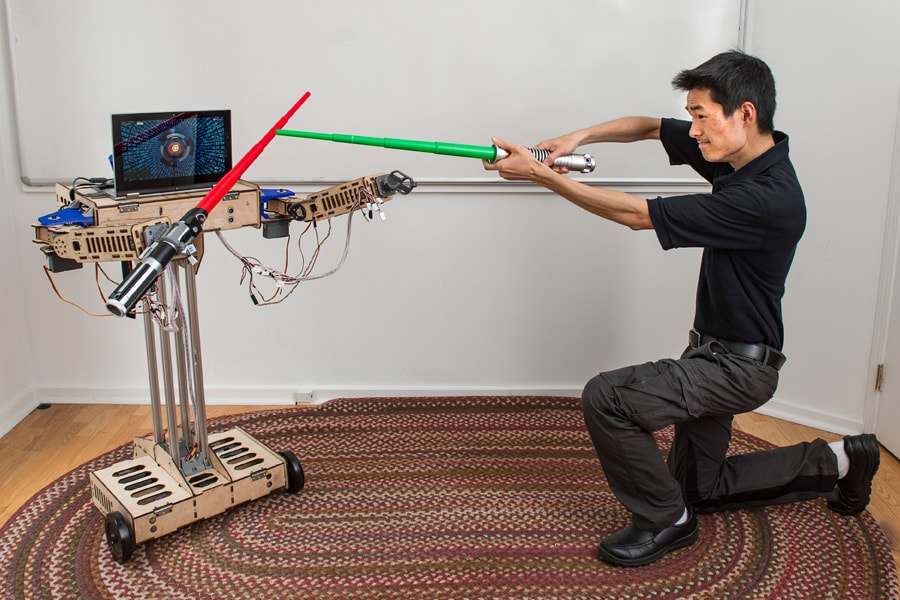 John Choi, who graduated with a degree in CMU's Bachelor of Computer Science and Arts program said CMU's program gave him "the flexibility to learn everything I need at a pace that is personalized for me." Choi now runs Choitek, which creates robots to teach and inspire. As a senior he participated in the National Maker Faire in Washington, D.C.
Christina Isaly Liceaga was one of the first students to enroll and graduate with a BHA degree in Literary, Cultural and Social Studies, and Studio Art. Liceaga, who entered Carnegie Mellon as a humanities student, became frustrated by the limitations of not being able to take courses within CFA. Upon reading an article in the school newspaper announcing the new BHA program, Liceaga transferred internally beginning her junior year.
"I have a lot of left and right brain skills and aesthetic. It was essential to me to be able to tap into both realms in a more profound way," Liceaga said.

After graduating in 1995, Liceaga worked in the New York fashion industry. Several years later, she moved to Mexico to teach English, study Spanish and play soccer with the women's national team feeder club. Returning to New York after two years, she began a job in architecture, real estate and finance.

Liceaga currently runs her own business, Fractal Management, investing in real estate and managing the portfolio's properties.

"Having an interdisciplinary mindset allows for fluid problem solving. I was able to hone this essential skill during my time at CMU and in the BHA program, and I continue to rely on it in my day to day activities," she said. Liceaga is also an active member of Carnegie Mellon's Tartan Athletics Club board of directors as the president-elect.
The BXA Intercollege Degree Programs have graduated nearly 600 students who have gone on to careers in education, industry, government and cultural institutions. BXA boasts a Rhodes and a Luce scholar, multiple German Chancellor and Fulbright Scholars, Teach for America and AmeriCorps members, and leaders in countless community organizations. A BXA degree prepares students for graduate study or additional training in the arts and other academic areas. Recent graduates have pursued medical, dental, law, professional, MFA and Ph.D. programs at top-ranking institutions. BXA alumni produce documentaries, put on solo exhibitions and performances, publish books, release albums, start companies and chart new paths into entirely new disciplines and fields.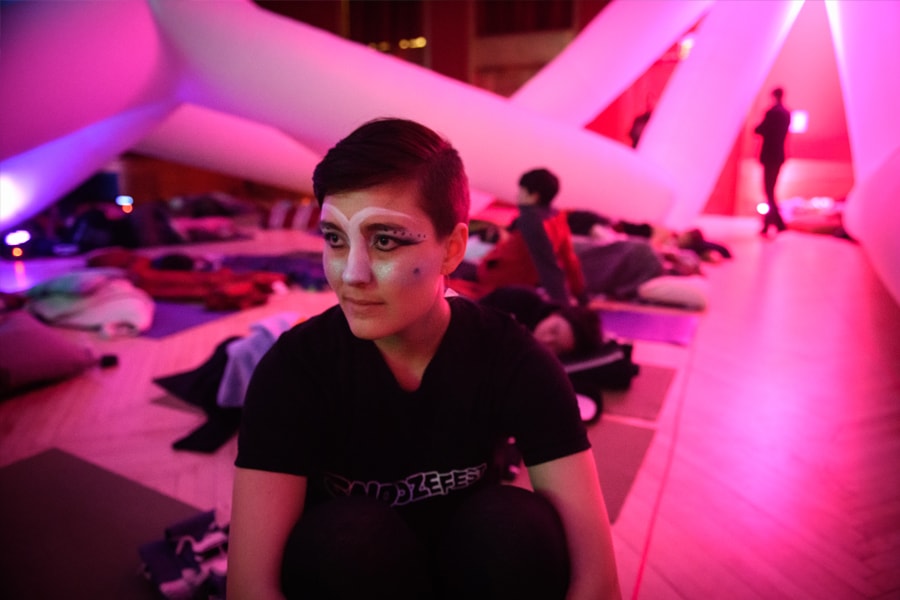 Valerie Senavsky, who studied chemistry and music performance through CMU's BSA program, took a break at Snoozefest in May. The concert lasted from 11:59 p.m. to dawn.

This is true of 2004 graduate Chris Barley. Ten years after receiving a BHA degree in Architecture, Anthropology and Psychology, Barley started a strategic design office, Consortia. He has worked with a range of brands and institutions including, Audi, Microsoft, Apple, Louis Vuitton, Harvard and Columbia University to develop new frameworks for innovation and communication around design, technology and culture.

Most recently Barley joined Are.na as a co-founder. He is working to build an online platform for creative and collaborative research.

"Are.na's membership is incredibly interdisciplinary, proof that thinking across disciplines, industries, specialties is becoming increasingly necessary," Barley said. Their mission is building an online social network that values intelligence more than likes. Barley's interdisciplinary degree has translated directly to his career and projects by giving him, "a strong perspective on how to create links between ideas and connections between people to develop new ways of thinking and designing."
Are.na has recently been named No. 1 in Fast Company's 2018 Innovation by Design Awards General Excellence category.

BXA alumni and students are determinedly forward-looking, and this 25th anniversary is an opportunity to reflect on how the programs grew through the dedicated work of faculty, staff and students into a truly remarkable and unique undergraduate program.

BXA Director Murray is enjoying every minute of the year-long celebration.

"BXA students recognize the truly special resources of Carnegie Mellon — the people, the place, the heart — and use them to produce truly special results," she said. "We celebrate BXA students every day, but this year, we're a little bit louder and a little bit prouder."