March 16, 2016
CMU Senior Receives Luce Scholarship
By Emily Stimmel /
estimmel@andrew.cmu.edu
/ 412-268-1788
Carnegie Mellon University senior Kaytie Nielsen has won a nationally competitive fellowship from the Henry Luce Foundation. A Bachelor of Humanities and Arts (BHA) student with concentrations in creative writing and directing, Nielsen is one of 18 students and young professionals selected to participate in the prestigious Luce Scholars Program. The award provides stipends, language training and individualized professional placement in Asia for individuals from various fields and backgrounds who have limited exposure to Asian culture.
According to Stephanie Wallach, assistant vice provost for undergraduate education, Nielsen always has embraced opportunities for travel and new learning experiences.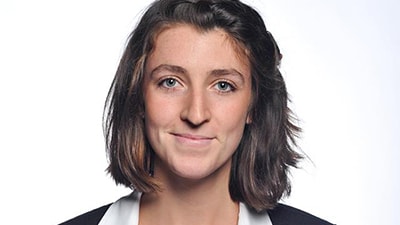 Kaytie Nielsen
"Kaytie is an adventurer, an intellectual seeker and a relationship builder. At every turn, she has sought out unique experiences and personal connections to make her a better, more skillful and deeply thoughtful documentary filmmaker," Wallach said. "The Luce Scholars Program allows Kaytie to use these very same qualities in Asia as she sets out on her post-graduate journey that will reshape her personal narrative and her professional contributions in the future."

Timothy J. Haggerty has worked closely with Nielsen as director of the Dietrich College of Humanities and Social Sciences' Humanities Scholars Program, which Nielsen has been a part of since her first year at CMU. Haggerty also helped prepare Nielsen for the Luce Scholars interview process. He believes that the Luce Scholarship is a natural extension of Nielsen's accomplishments at CMU, including a Fulbright Award she received as a freshman.

"Kaytie has always been a phenomenal student and is in the BHA program as well as being a humanities scholar. She is terrifically self-motivated, and the Luce Scholarship — along with the student Fulbright Award she won after her first year — are rewards for her hard work, keen insights and creative abilities," Haggerty said.
According to Sharon Dilworth, associate professor of English, the Luce Scholars Program is a powerful experience with lasting impact on fellows' lives.  

"Kaytie's zeal for discovering the new and different will serve her well," Dilworth said. "I know Kaytie will be impacted profoundly as she moves from listening to others tell their stories to making their stories an integral part of their own life."
Dilworth is certain that Nielsen's independence, passion for travel and storytelling abilities will make her year in Asia a rewarding experience.

"She has a fearless energy that allows her to find people and stories that others might not," she said.

This will not be Nielsen's first cross-cultural film project. She has spent the past year participating in the Dietrich Honors Fellowship Program, which is designed to give students a head start on their senior thesis development. Her documentary combines her concentrations in creative writing and directing with her minor in French and Francophone Studies and explores Afro-French female identity through the narratives of seven black women from the Paris area.
Currently, Nielsen is determining the country and type of organization that best suits her goals and talents. She hopes to work hands-on with filmmakers who promote social change through their craft, or as part of an educational initiative that makes filmmaking more accessible to underprivileged populations.
"I was attracted to the Luce [program] because it was very much grounded in experiential learning, which is how I gained skills as a filmmaker in the first place — I learned by hands-on doing and making," Nielsen said. 

She is looking forward to the challenges and possibilities of living and working abroad, learning a new language and making lasting connections with international filmmakers.
Related Articles:
Six Recent Carnegie Mellon Graduates, Rising Sophomore Earn Fulbright Awards to Asia, Europe and South America