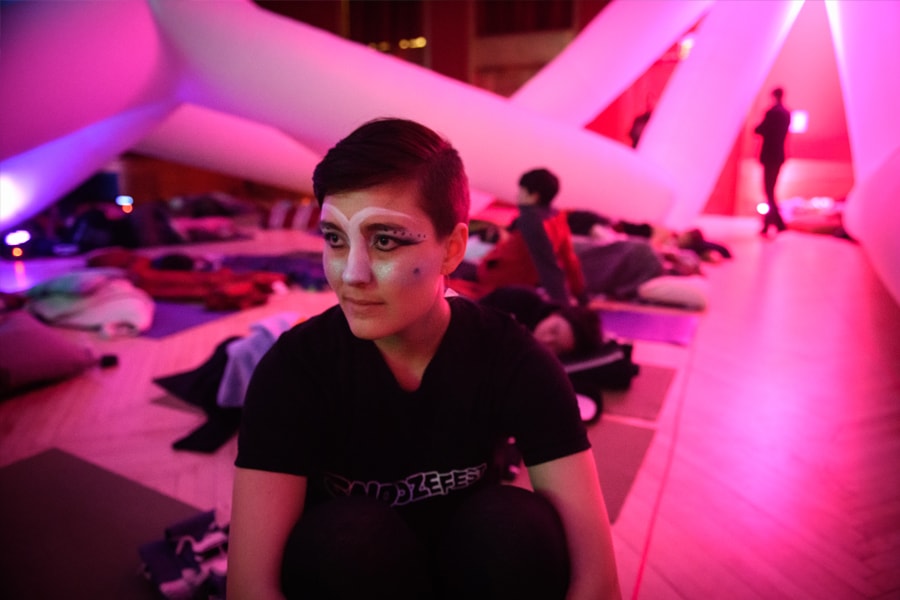 May 10, 2018
Snoozefest Creators Dream Up Musical Experience
By Kanika Bhandari kanika(through)cmu.edu
Carnegie Mellon University students and faculty recently hosted an overnight musical experience that put many to sleep.
Snoozefest, the first overnight musical performance at CMU and in the Pittsburgh area, took place in the College of Fine Arts' Alumni Concert Hall, filled with sleeping bags, blankets and pillows. About 50 attendees had reserved sleeping spaces for the performance at 11.59 p.m., and about a hundred more spectators filled up the standing room to get in on the experience.
Snoozefest was the brainchild of Golan Levin, associate professor of Art and director of the Frank-Ratchye Studio for Creative Inquiry, who approached Lance LaDuke and Jesse Stiles, directors of the Exploded Ensemble course, with the idea of hosting an overnight concert that embraced the idea of the audience falling asleep. In collaboration with Olivia Robinson, instructor of CMU's Inflatables & Soft Sculptures course, they embarked on Snoozefest and the creation of a three-dimensional experience. Both the Exploded Ensemble and Inflatables courses are part of CMU's Integrative Design, Arts and Technology network, also known as IDeATe.
Stiles, an assistant professor of music, recalls studying classical music in India and listening to performances in temple courtyards at night, where it would be commonplace to bring pillows and relax.
"It was a dreamlike and immersive experience," Stiles said, "where people would wake up intermittently and see the stars."
The event kicked off with hour-long sets by guest artists Lesley Flanigan and R. Luke DuBois, after which 11 student musicians and composers from CMU's Exploded Ensemble, a hybrid group that fuses traditional orchestral music with experimental, electronic, multimedia and non-Western approaches to live music took the stage. Each set transitioned slowly into the next, ensuring the continuous experience of sound throughout the night.
"We wanted to focus more on textures and soundscapes," Stiles said, "creating something of an ambience for them to be inside of."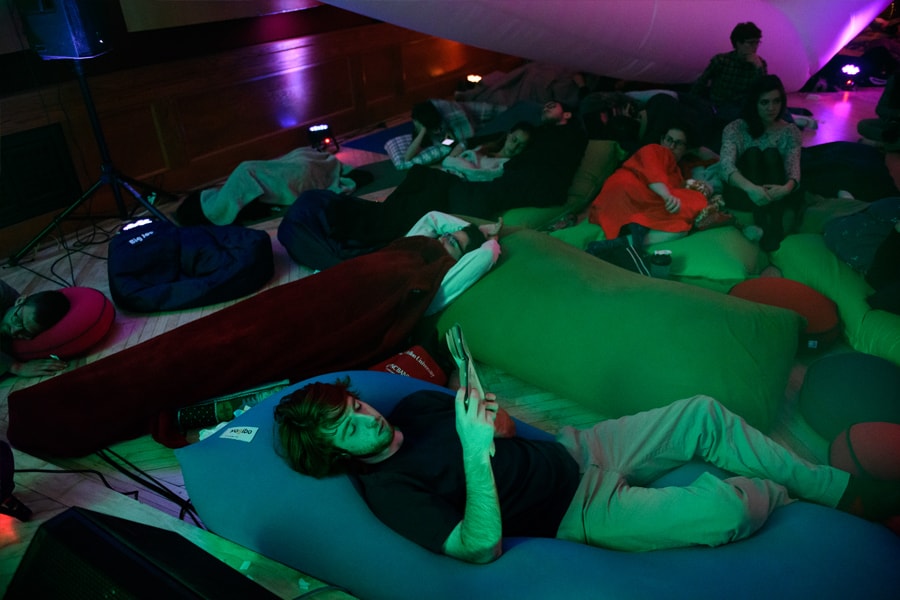 Snoozefest invited audience members to relax and rest during the overnight musical performance.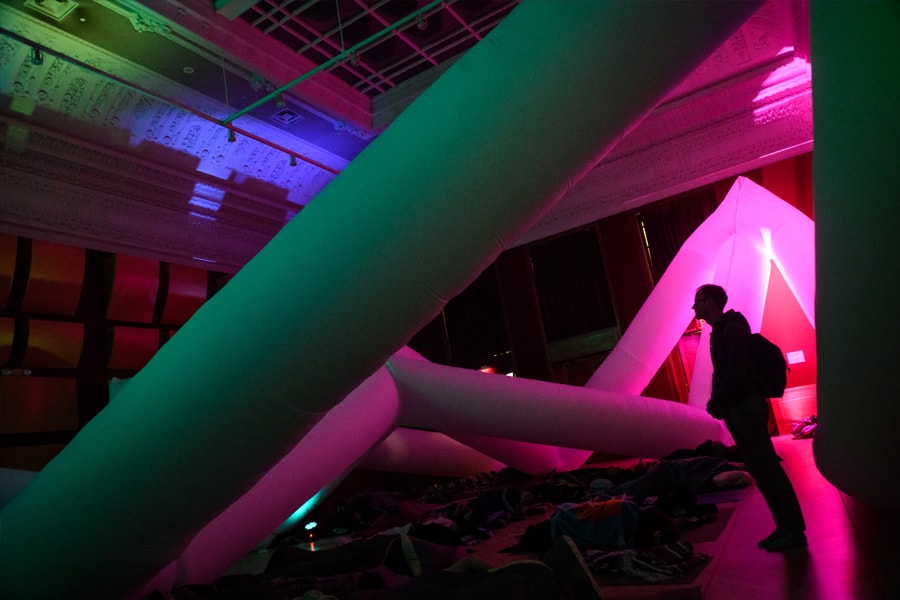 The Inflatables & Soft Sculptures course transformed the College of Fine Arts' Alumni Concert Hall with a 150-yard-old tube.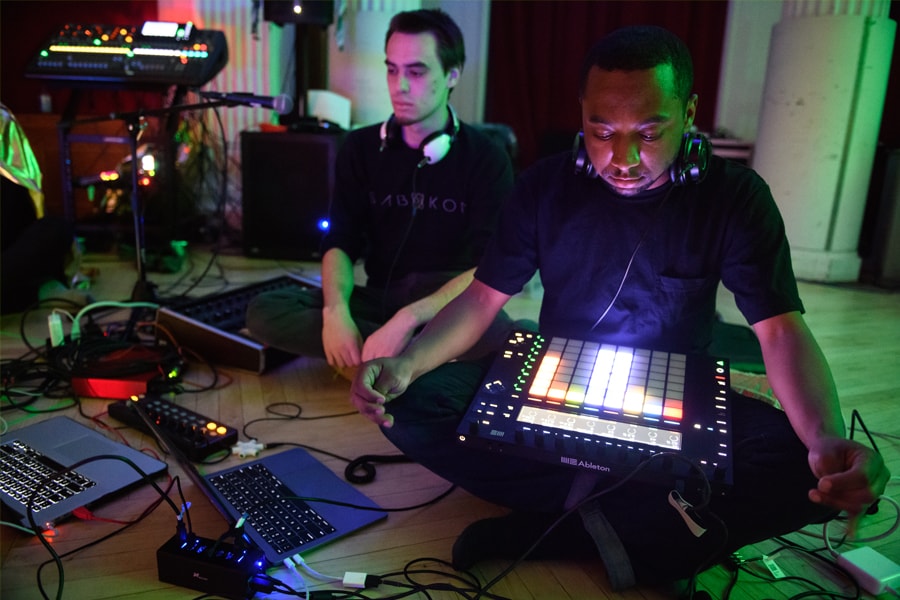 College of fine arts seniors Alexander Panos (left) and Gladstone Butler, a.k.a. "Gladstone Deluxe," work behind the scenes at Snoozefest. 
Snoozefest was the brainchild of Golan Levin, associate professor of Art and director of the Frank-Ratchye Studio for Creative Inquiry.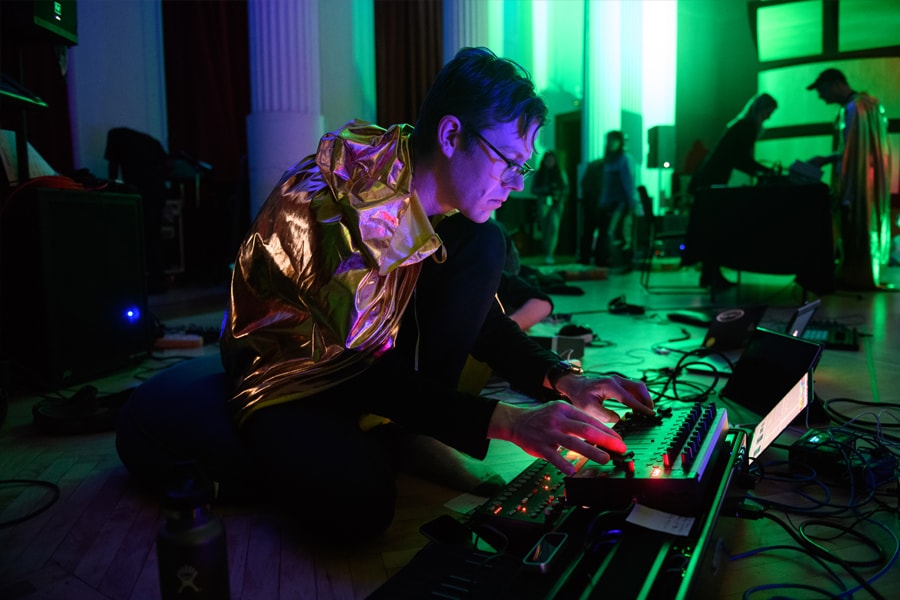 Assistant teaching professor of music Jesse Stiles is co-director of CMU's Exploding Ensemble.
Sara Adkins, a senior pursuing computer science and music technology through CMU's BXA intercollege degree programs, and a member of the Exploded Ensemble, performed a set that used machine learning to produce chord progressions.
"The purpose of that composition was to create a creepy dream landscape that gradually resolved into calming and relaxing sounds towards the end of the piece," Adkins said.
Starting her set at 2:30 a.m. meant that most audience members were asleep or groggy.
"We wanted to make music that wouldn't wake someone up, but also wouldn't be boring if you were awake during it," she said. "Many people would wake up and listen for a while before going back to sleep."
To add CMU flavor, one set featured bagpipes, performed and composed by Steven MacDonald, a junior in the School of Music. He played in a separate room where the music was processed electronically into the concert hall.
The visual counterpart to this dreamlike experience was the inflatable structure made by Robinson and her students.
"We wanted it to be a spatial experience that would be other-worldly and pique curiosity," Robinson said.
The inflatable, shaped out of a 150-yard-long and 5-feet-wide tube, was conceptualized jointly by the students and took a month to construct.
David Perry, a first-year physics major, said the class took into consideration how the musicians would be playing within the space and how the audience would interact with the space.
"The inflatable formed matched with the goal of the project to explore sleep and dreams, and we were able to create a surreal unique space that really matched with the event," Perry said.
As the event drew to a close, the skylight in the concert venue began to fill the room with light, and a brass ensemble outside played with increasing intensity, rousing the participants out of their slumber and signaling the concert's end.