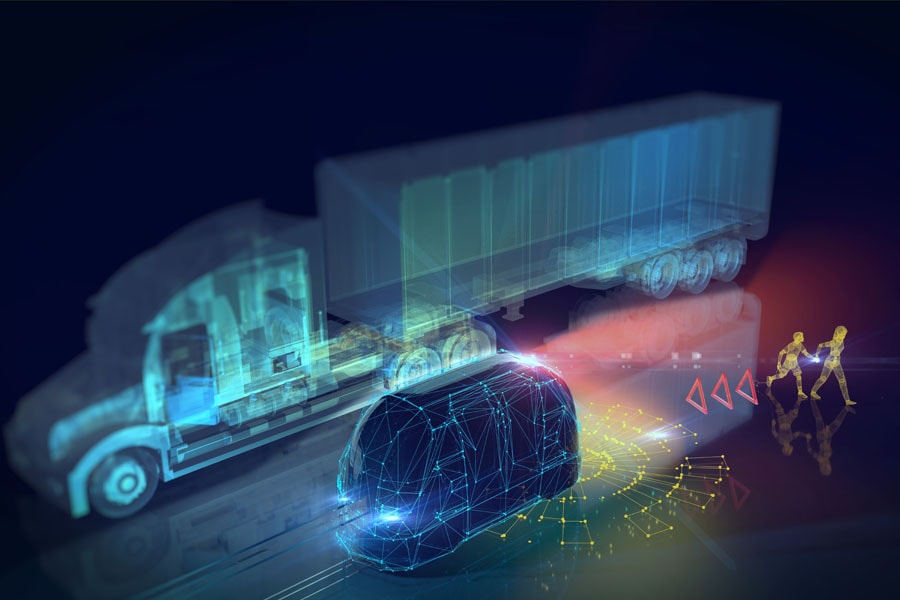 July 09, 2018
Faculty, Students Aim To Drive Autonomous Vehicle Policies for Pittsburgh
By Scottie Barsotti sbarsotti(through)cmu.edu
Media Inquiries
Shryansh Mehta
Heinz College of Information Systems and Public Policy
Carnegie Mellon University students and faculty recently met with Pittsburgh civic leaders to discuss new policy recommendations for autonomous vehicles.
Driverless cars are a fact of life. The ride-sharing service Uber has been testing self-driving cars in cities across the country, including Pittsburgh. Argo AI — Ford's autonomous division — has deployed its cars in Pittsburgh as well, and numerous other companies and startups have set up shop to develop their technologies.
The testing and roll-out of self-driving vehicles has huge implications for the city. But the actual civic policy on this issue is under-developed. CMU students — studying at the birthplace of autonomous vehicles — want to change that.
A weekend course in February hosted by the Heinz College of Information Systems and Public Policy, assembled students and faculty from Heinz College, the College of Engineering, College of Fine Arts and Dietrich College of Humanities and Social Sciences and expert guests with the goal of creating collaborative and comprehensive policy recommendations.
Carnegie Mellon faculty and staff presented top policy recommendations from the weekend to Pittsburgh Mayor Bill Peduto's staff, key city departments and leaders from state and local transportation and development agencies in April. The recommendations, which are designed to be realistically implemented in the next five years, include:
Introduction of a vehicle miles traveled tax to replace revenue lost from gas taxes and parking;
Repurpose parking facilities and plan new facilities for new uses and new revenue sources;
Explore the use of electronic autonomous shuttles;
Require transportation networking companies to share data, at least in part; and
Utilize visualization technology for planning and to increase public engagement.
During the course, the groups focused on the effect of autonomous vehicle traffic on Pittsburgh's Central Business District (CBD), an area of Pittsburgh's downtown between the Allegheny and Monongahela rivers, sometimes called the "Golden Triangle." Sean Luther, executive director of InnovatePGH and Envision Downtown, was one of the leaders in the discussion.
"We're already seeing a battle between parking, loading, accessibility, freight, and transit in downtown and the CBD," Luther said.
"Transportation itself is changing. ... It's focusing on mobility and moving people, not just vehicles." — Alex Pazuchanics
The presence of city and county officials gave the students insight into their agencies' capabilities and processes as they discussed ideas. In addition to autonomous vehicles, the discussions touched on the effects of transportation networking companies, like Uber and Lyft, the electrification of vehicles, and advanced wireless technology and how it impacts the transportation sector.
"We got a real sense of the patchwork of entities that have to interact for any of these projects to get off the ground," said Chase Klingensmith, a 2016 graduate of Heinz College who earned a master's degree in public management. Klingensmith said the experience helped to make an abstract idea concrete and allowed for a deep dive into a new policy area.
"Transportation itself is changing. It's not just a question of building bridges and repaving roads. It's focusing on mobility and moving people, not just vehicles," said Alex Pazuchanics, a 2017 Heinz College alumnus who is assistant director of Planning, Policy, and Permitting for the City of Pittsburgh's Department of Mobility and Infrastructure.
Heinz College Professor Rick Stafford, who led the course, said the societal consequences of autonomous vehicles is a major point of interest at CMU.
"This was a futuring exercise, essentially asking 'what does this tech mean?'" Stafford said. "There's a real need for this kind of convening, but there's no official mechanism in place. We can take the lead on these discussions."
"This is the biggest disruption in transportation in over 100 years since the advent of the motorized vehicle," said Stan Caldwell, executive director of CMU's Traffic21 Research Institute. "You have the ability to impact the mayor's thinking on an important policy issue. Elected officials don't have the kind of time we have this weekend."
Caldwell and Traffic21 are part of CMU's Metro21: Smart Cities Institute, a university-wide effort for research, development and deployment of solutions to improve the quality of life in communities. The institute addresses issues such as traffic congestion, pedestrian safety, road infrastructure, energy efficiency, law enforcement, health care, fire prevention, and air and water quality. Through its strengths at the nexus of technology and humanity, CMU is generating real-world solutions for the evolving needs of cities.