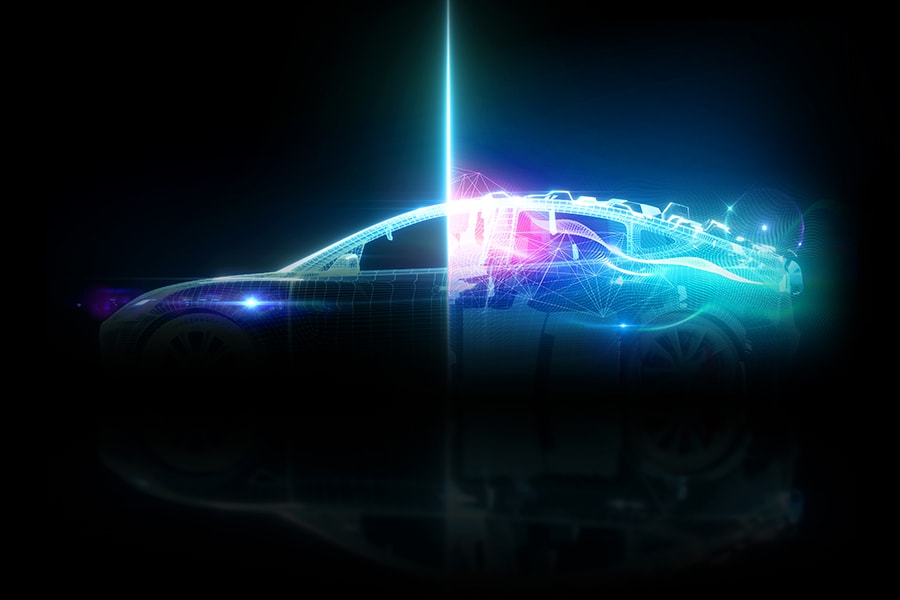 July 05, 2018
Smarter Cars = Smarter Cities
Heinz College projects stress cities' future transportation needs
By Scottie Barsotti sbarsotti(through)cmu.edu
Media Inquiries
Shryansh Mehta
Heinz College of Information Systems and Public Policy
Realizing the importance of transportation in the development of smart cities, students and faculty in Carnegie Mellon University's Heinz College of Information Systems and Public Policy are using technology and analytics to create better access to cars and car services.
By 2050, over two-thirds of the global population will live in urban areas, according to the United Nations, and cities are looking for ways to use technology and data analytics to better serve their residents. Nowhere is that more evident than in society's evolving relationship with both human-driven and autonomous vehicles.
Cars for Work
Getting people to and from their place of employment is one of the primary functions of personal vehicles, but not everyone can afford to have their own car. Public transit aims to be a great equalizer, but many Americans run into a "last mile" problem, unable to easily access their closest transit hub from their homes. Additionally, the job opportunities that best match their education and skill level may be in a different part of the city.
The answer, according to Professor Lee Branstetter, could be ridesharing.
To assess how citizens might respond to a public ridesharing program, Branstetter and the Future of Work initiative of Carnegie Mellon's Block Center for Technology and Society have been conducting an experiment. The researchers are providing free or heavily discounted rideshare coupons to a random group of citizens with special transportation needs, and comparing their behaviors and outcomes to groups without those same options.
Heinz College students in the Master of Science of Public Policy & Management (MSPPM) program provided the preliminary analysis and experiment design as part of a capstone project with the Pennsylvania Department of Transportation. The project team included MSPPM students Momin Abrar Ghalib , Michael Arthur, Wenhao Lu, Shelby Riggle and Lingyi Xu.
But ridesharing innovations can do more than get people to work — they can even help people stay healthier.
Cars for Health
Ridesharing giants Uber and Lyft recently launched non-emergency medical transport (NEMT) services allowing patients to hail rides to their health care provider, and allowing providers to schedule and pay for rides as a courtesy to their patients.
A group of Heinz College students was ahead of the curve on this development. Working in Professor Rema Padman's "Healthcare Informatics" course, a student team identified a big problem in the health care system that cars could solve in a smart way.
Millions of senior citizens who need medical care cannot easily get to a doctor or hospital. In fact, approximately 3.6 million Americans miss or delay medical care due to transportation issues; the problem is especially acute among senior citizens, who account for over 30 percent of U.S. health care spending and face many mobility challenges.
Students in Heinz College's information systems management and health care policy and management programs — Aderin Falana, Danielle Martin, Tanmaya Tripathi and Priya Venkatesan — created a prototype decision support system (DSS) that providers could use to determine when to schedule rides for their patients. The tool uses predictive analytics to calculate ideal ride times based on factors like time of day, day of the week, the patient's distance from the provider and delays at the clinic.
"This kind of real-time dynamic updating would be a fantastic convenience for patients and providers," Padman said. She added that a system like this could make existing NEMT services on ridesharing platforms like Uber, Lyft and Veyo smarter and more responsive.
Missed appointments can be detrimental to patients' health, especially among senior citizens, and the total cost of missed health care appointments in the U.S. is at an estimated eye-popping $150 billion. In many cases, it can be more cost effective for providers to pay for the patient's ride to get them into the clinic, rather than have the patient cancel.
"Mobility is a big constraint [for patients and care providers]. Having cities that are sensitive to the constraints of seniors to get to their appointments and the services they need on time and have this managed in a smart manner is good for the city, good for residents, and good for the health of patients," Padman said. "It's all interconnected. There is very close interaction between smart cities and smart health."
Of course, ridesharing is a relatively new concept. And while more futuristic technologies like autonomous vehicles are sure to play a huge part in the movement toward smart cities, legacy systems, like rental cars, can be made smarter as well.
Cars for Play
A big promise of smart cities is that interactions between citizens, businesses and the government will be seamless, convenient, personalized and efficient. For businesses in particular, to provide smarter services they need to keep up with their customers and have a sense of what's happening in their lives.
An interdisciplinary group of Heinz College students in Professor Ari Lightman's "Measuring Social" course recently completed a project for rental car company Hertz that provided the company with a smart model that will predict spikes in car rental demand based on social media chatter. The model will help Hertz from stocking out of cars due to an isolated event or phenomenon.
"If I'm managing a Hertz location, social data can give me insight into another demand that's coming in that I hadn't taken into consideration, like a concert, festival, or conference. That should inform my supply," Lightman said.
Students in Heinz College's arts management and information systems management programs — Laurel Beatty, Rajeev Bhatia, Mohit Gattani, Sanchit Suman and Fan Zhang — applied machine learning principles to develop a predictive model that Hertz intends to implement and continue to refine.
Through policy, technology and management solutions, Heinz College students and faculty are working to make sure everyone gets a ride.