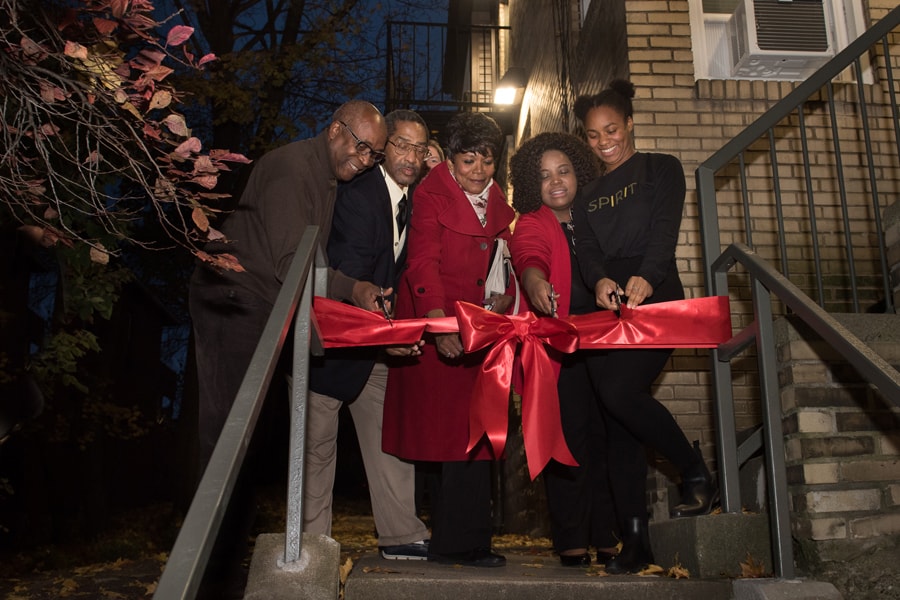 November 15, 2017
SPIRIT House Returns in "New Splendor"
By Mandi Semple msemple(through)andrew.cmu.edu
Media Inquiries
As part of the 50th Anniversary Celebration at Homecoming, Carnegie Mellon University celebrated one of its long-standing student organizations by rededicating SPIRIT House on Saturday, Nov. 11.
SPIRIT, CMU's black student organization, was officially established in 1973, and SPIRIT House opened on Margaret Morrison Street with its founding members and residents Tanya Allmond, Eddie Bullock, Alease Carrington, R. Franklin Duck, Jr., Pearl Fletcher, Harry Gateway, Dambe Gordon, Fela Neely, Agatha Marshall, Toni McKay and Rita V. Robinson.
Duck, who earned a bachelor's degree from the Dietrich College of Humanities and Social Sciences in 1974 and a master's degree in television and film from the College of Fine Arts in 1976, spoke at the event about how he applied for SPIRIT House at a time when the university was expanding its housing options.
"Thank you to those now and all of those who walked the hall of SPIRIT House," Duck said. "Everything I came up with and thought about happened at SPIRIT House."
In 2008, SPIRIT House closed due to disrepair. After years of being vacant, the house was renovated last summer.
The more than $800,000 Housing Services project included a full renovation of the building's infrastructure, including new heating, plumbing and electrical systems. Improvements to the kitchen, living room and study space were made, and three new bathrooms were added for the 13 residents. The building also received new windows and a new roof.
"In Greek mythology, we like to talk about the theme of the phoenix bird, that when it seemed that it had fallen into the ashes and it was completely gone it rose in a new splendor, it rose to spread its wings," said Bill James, president of the CMU Black Alumni Association and a 1978 graduate of the Tepper School of Business.
Current members of SPIRIT officially moved back into the building at the start of the 2017-2018 academic year. SPIRIT President Catherine Mondoa said the rededication and ribbon cutting was a time to celebrate the past and future.
"We are learners, we are dreamers, we are institutional minorities, and we are together," said Mondoa, a junior studying materials science and engineering and biomedical engineering. "And this house ... is our anchor on this campus and beyond — even when we're apart."
At the ceremony, alumni reminisced with one another reliving the days reflected in the archival photos on display. Additional remarks were given by M. Shernell Smith, assistant director in the Office of the Dean of Student Affairs and the Center for Student Diversity and Inclusion; John Hannon, associate vice president of Student Affairs for Community Life; and Peter Rezk, a sophomore in the Mellon College of Science.