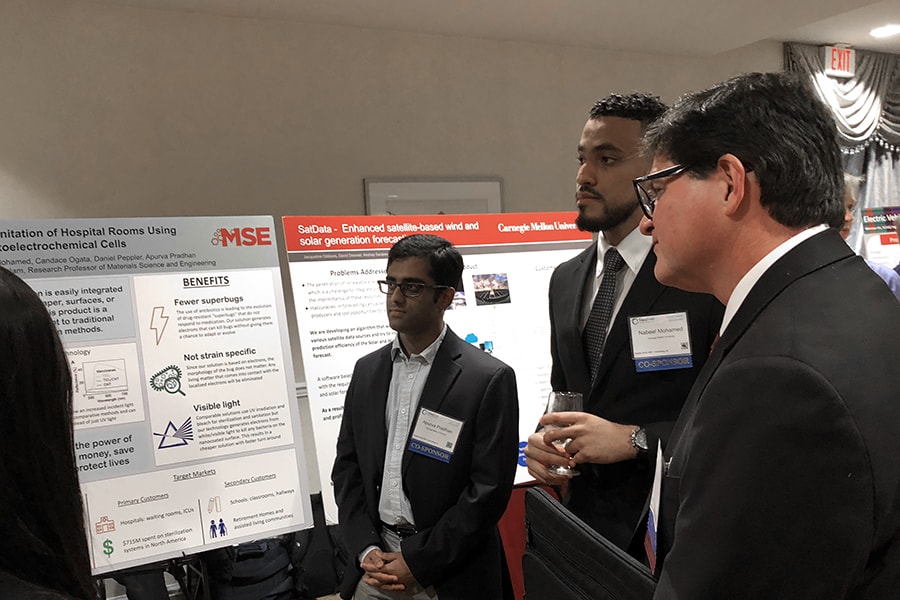 November 02, 2017
Faculty, Students Pitch Research Innovations at Regional Energy Conference
By Amanda King alking(through)andrew.cmu.edu
Media Inquiries
Amanda King
Wilton E. Scott Institute for Energy Innovation
Carnegie Mellon University alumna Matineh Eybpoosh and co-founder Matthew Maroon won $10,000 for their innovative company, Watt-Learn, at the sixth TransTech Energy Business Development Conference in Canonsburg, Pensylvania, Oct. 24-25.
The company offers a battery control software platform to help create a smarter electric grid.
"Intermittent renewable energy raises grid resiliency concerns. The technical solution available is energy storage — mostly batteries," said Eybpoosh who graduated from the Department of Civil and Environmental Engineering's doctoral program in 2015. "However, battery projects aren't economical, which is a large barrier for meeting the ambitious battery installation goals worldwide. This is the problem that Watt-Learn solves. By adding artificial intelligence to batteries, they become self-driving profitable investments."
The conference, co-sponsored by Carnegie Mellon's Wilton E. Scott Institute for Energy Innovation, provides a forum for investors to meet new companies whose innovations can solve energy, environmental and economic development issues.
Watt-Learn was one of several teams that included CMU community members who presented their research and innovations. CMU was recognized earlier this year as one of the best universities for technology transfer, ranking 10th out of more than 200 universities, according to a report from the Milken Institute.
At the conference, Scott Institute Director Jay Whitacre, joined leaders from the University of Pittsburgh's Center for Energy, Case Western Reserve University's Great Lakes Energy Institute and The West Virginia University Energy Institute for a discussion on how regional universities commercialize technologies.
"CMU's Center for Technology Transfer and Enterprise Creation, the Swartz Center for Entrepreneurship and the Scott Institute provide critical services to student and faculty entrepreneurs for building innovations and new ventures. Through courses, pitch competitions, lectures and funding, we are mentoring the next generation of successful entrepreneurs," Whitacre said.
Four CMU student teams presented technology innovation posters developed in an "Energy Innovation and Entrepreneurship" course taught by Deborah Stine, professor of the practice in the Department of Engineering and Public Policy and associate director for policy outreach at the Scott Institute.
The students received feedback on their posters from investors and leaders in the energy sector including Randall Gentry, chief technology officer and deputy director of science and technology for The National Energy Technology Laboratory. They also learned about entrepreneurship at an evening keynote session.
"We heard from different business angels regarding the innovation ecosystem in Western Pennsylvania and what they look for in a company," said Pedro Benedicto Martínez, a master's degree student in CMU's Energy Science, Technology and Policy Program who aims to make better weather forecasts for solar and wind generation facilities using satellite data. "The feedback we received combined with the information we learned at the panel will help us improve our project and address the aspects that turn a project into a successful company."
Matthew DeNardo, a postdoctoral researcher at CMU's Institute for Green Science, presented work conducted by the institute and the University of Missouri on the treatment of hydraulic fracturing flowback water using new tetra-amido macrocyclic ligand catalysts and hydrogen peroxide.
Among the companies with CMU connections that competed with Watt-Learn for monetary prizes were:
BuildSim, whose co-founder and chief product officer Weili Xu graduated from CMU's school of Architecture in 2017;
SenSevere, whose co-founder and chief executive officer Jason Gu graduated with a degree in materials science and engineering in 2010; and
Teratonix, whose founder Yi Luo is an assistant professor in CMU's Department of Electrical and Computer Engineering.
Learn more about the Scott Institute's energy innovation initiatives.