March 17, 2016
From Teacher to Leader: One Alumna is Leading CS Efforts in NYC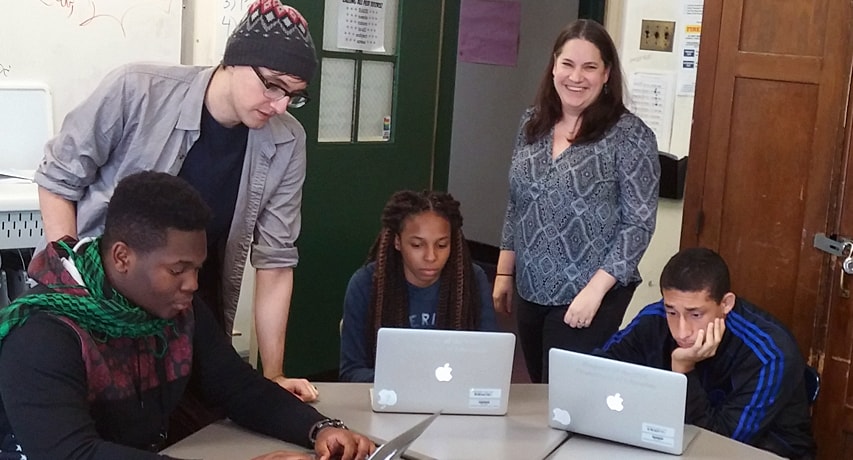 Leigh Ann DeLyser with teacher Brian Schott and students at the Bronx Academy for Software Engineering.
An alumna's passion and research in computer science education is making an impact.
Computer science needs K-12 educators, especially ones like Leigh Ann DeLyser (CS 2010, 2014), a former high school teacher and now director of education and research for CSNYC - NYC Foundation for Computer Science Education.
In an announcement this past fall, Mayor Bill de Blasio said the city's public schools would offer computer science to all students. DeLyser helps coordinate with funded programs to ensure strong implementation within the city, which has reached more than 20,000 students in the past three years and plans to reach all 1.1 million students in the next 10 years.
DeLyser has spent most of her career focused on how to teach computer science in K-12 schools. Currently, without teacher certification requirements in place, a large hurdle is getting a pipeline of instructors prepared to teach the subject.
New York City, Chicago and San Francisco are among the few American cities that have taken steps to mandate computer science education, but they may be at the start of a trend. The White House requested $4 billion for states to expand computer science education in its February 2016 budget request and directed the National Science Foundation to spend $125 million to advance research in computer science education and train teachers.
"In New York City, we are riding the forefront of a tidal wave," DeLyser said.
For the job ahead of her, DeLyser gained unique preparation in an interdisciplinary self-directed doctoral degree from 2008-2014 she pursued with a fellowship through Carnegie Mellon's Program in Interdisciplinary Education Research (PIER) that was funded by a $5 million grant from the U.S Department of Education. She explored topics in psychology, computer science, human computer interaction, statistics, physics, economics, public policy, and applied them to education research. PIER requires dissertation research to have clear implications for educational practice. It is an affiliated project of the university's Simon Initiative, which harnesses a cross-disciplinary learning ecosystem to improve learning outcomes.
"PIER provides students with an intense exposure to the opportunities, challenges, and research topics that are at the intersection between their basic discipline and educational practice in the real world," said David Klahr, the Walter van Dyke Bingham Professor of Cognitive Development and Education Sciences and PIER director.
DeLyser was the first PIER student to bridge the two disciplines of computer science and psychology.
"Leigh Ann's psychology focus was broadly in the learning sciences, and she incorporated multiple levels of analysis," said Sharon Carver, associate training director in PIER and a teaching professor in the Department of Psychology.
Associate Dean for Outreach in the School of Computer Science Mark Stehlik first became acquainted with DeLyser in 2000 when she was a teacher for an advanced placement program in computer science for high school students.
"Through our communications, Leigh Ann stood out immediately as someone with a learned and passionate voice, especially about teaching computer science at the high school level," said Stehlik, who was one of her faculty advisors.
These days, DeLyser meets face to face with school leaders, teachers, policymakers and practitioners in technology fields. She consults on curriculum direction and development, professional development for teachers, and arranges collaborations with industry to bring real-world needs into the classroom and give students industry experiences.
We want every child to have a meaningful experience in computer science," she said.
At CSNYC, she leads with a strong belief that the implementation of computer science education in schools must be grounded in theory.
She was definitely one of those people who had a vision of what she wanted to do, and CMU enabled it to become a reality," Stehlik said. "We are extremely proud of her as an alumna."

Related Links: