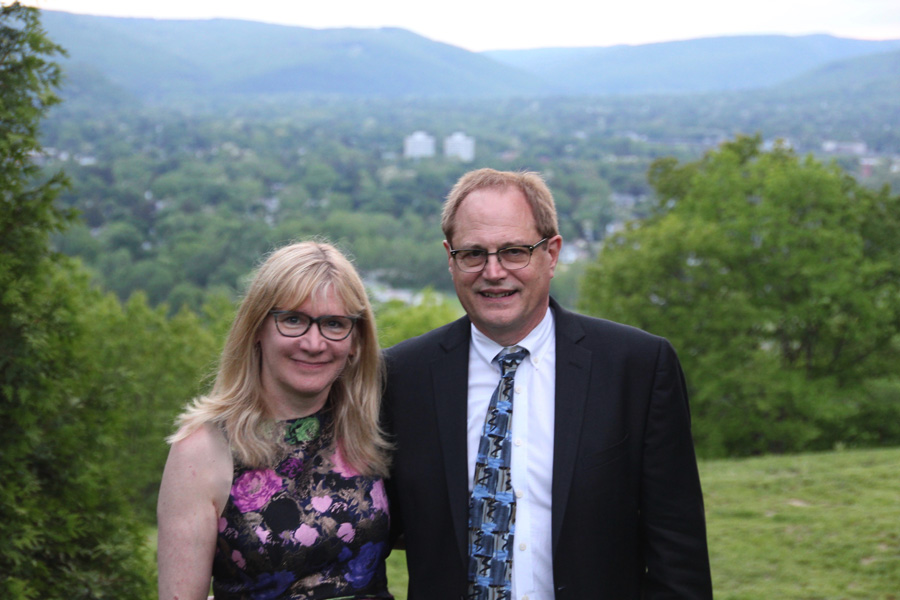 February 13, 2020
Crossing Orbits
CMU couple shares their journey from math class to NASA
By Emily Payne epayne(through)andrew.cmu.edu
Media Inquiries
Jocelyn Duffy
Associate Dean of Communication, MCS
It all started in math studies. Kathy and Jim Carr first met in the Department of Mathematical Sciences' three-year program, which led a cohort of students through an accelerated curriculum from undergraduate to graduate-level math courses.
During those years, Kathy, Jim and their seven classmates spent nine hours a week with their math studies professors, Juan Schäffer and Walter Noll, which was a transformative experience for them academically and personally.  
"Those two professors shaped my life and how I think about things. They taught us skills that would transfer anywhere," said Kathy.
"Math studies taught me how to be deductive and focused," Jim added. "They wanted us to be problem solvers and not just memorize things.
"And it was a great place to meet women," he joked.
An Engineer and a Physicist Walk into NASA…
Kathy and Jim started dating in their junior and sophomore years, respectively, but followed different professional paths after leaving CMU — Kathy pursued a rewarding career as a software and systems engineer and Jim founded his own company. While their careers are very different, their professional orbits cross at NASA.
In the early days of her career, Kathy worked as a software engineer by day while earning her J.D. from Georgetown Law School at night. After passing the D.C. bar, she decided to stay in the technology industry, taking on engineering roles at the World Bank, Computer Corporation of America (a joint database software company), Xerox and Raytheon. Kathy spent 23 years with Raytheon, an international defense and cybersecurity company, where she managed a group of 45 people who oversee the search engines and metadata repositories for NASA's earth science data. She happily retired at the beginning of this year.
An entrepreneur at heart, Jim knew he wanted to run his own company since he began doing contract work for NASA during his doctoral studies at the University of Maryland. The chance to do so eventually came in an unexpected way.
While presenting at a conference in Virginia, Jim was recruited by French aerospace company Aérospatiale to move to France and help them win a proposal from the European Space Agency. With legal assistance from Kathy, Jim set up Carr Astronautics in 1991, and the Carrs moved to Europe with their two young children in tow. A one-year contract turned into five and Jim returned to the United States with great momentum to grow his company.
The company, of which Jim is the CEO, now specializes in helping agencies, such as NASA and NOAA, and aerospace companies build weather satellites. 
"That experience really kickstarted my business," Jim said. Over the years, he has worked hard to expand his company's space technology expertise. Jim is proud to call himself a "practicing scientist." He is heavily involved in the scientific research on the programs his company handles.
"He is very passionate about doing scientific work," noted Kathy. "And the innovation and creativity that comes with that work." 
Now that their children are grown and they have established their own successful careers (their son is a lawyer and their daughter a French professor), the couple are reaching new milestones. The pair keep busy year-round — during baseball season, they cheer on the Washington Nationals. The other half of the year, you can find them skiing on the slopes or curling on the ice.
Jim is a two-time men's curling league champion. And when he and Kathy curl in their mixed league, she sports a tartan kilt, courtesy of Jim.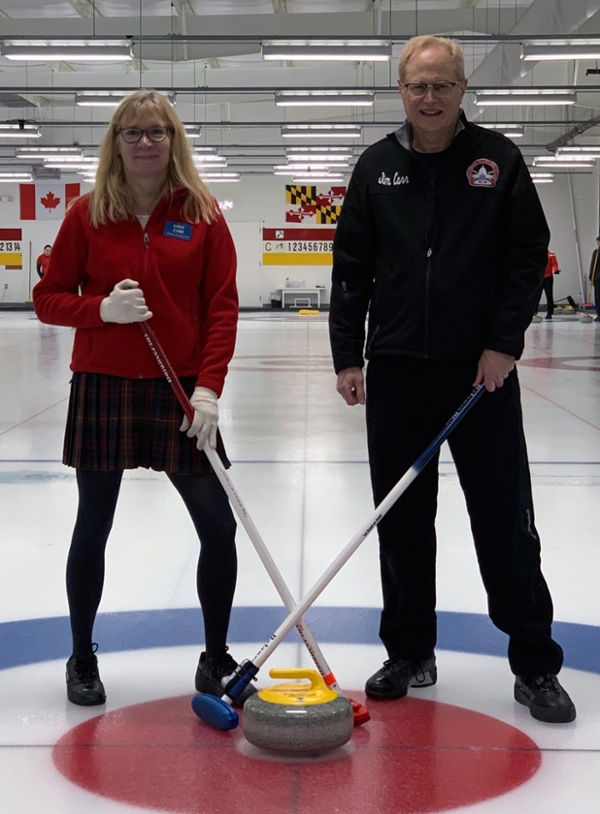 Jim and Kathy are winter sports aficionados. Kathy learned to ski so she could hit the slopes with her husband. And the couple curl in a mixed league in Washington, D.C. 
Paying it Forward
Kathy and Jim's CMU pride certainly runs deep. They support undergraduate research in the Physics Department in memory of Jim's father. Jim's family has a long history with Carnegie Mellon: his father, Walter J. Carr, Jr., a physicist and Westinghouse research lab scientist, and his mother, Winifred Schultz Carr, a peer of Andy Warhol, were both graduates of Carnegie Tech; and his grandfather, Lawrence Schultz, was a chemistry professor at Margaret Morrison.
For Kathy, it's a way to pay her CMU experience forward. She enjoys receiving thank you notes from the students they have supported because, she says, they bring her full circle. "I remember when I was at CMU getting a $50 and $100 grant from some alumni and writing those thank you notes."
Jim agrees: "It's meaningful to students to see that there is interest in their futures by people that they don't necessarily know."