University News Briefs
Collaborative Innovation Center Gets Under Way


At press time, construction was scheduled to begin within days for Carnegie Mellon's Collaborative Innovation Center just west of Hamburg Hall and adjacent to the Facilities Management Services Building. The four-story, 128,000 square-foot dry lab research facility will provide office and lab space for technology companies wishing to collaborate with university researchers. For more on the new center visit www.cmu.edu/cmnews/extra/030117_phollow.html
Biomedical Engineer Wins Prestigious Dickson Prize in Science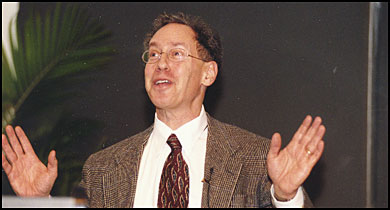 Carnegie Mellon awarded its prestigious Dickson Prize in Science to Robert S. Langer, a pioneering biomedical engineer. Langer, the Kenneth J. Germeshausen Professor of Chemical and Biomedical Engineering at the Massachusetts Institute of Technology, has invented medical technologies that prolong lives and ease suffering for millions every year. His creative engineering of polymer plastics is now allowing delivery of medicine to difficult locations within the human body. One of his inventions broke a 20-year drought in FDA-approved brain cancer treatments. This year's Dickson Prize carried a cash award of $38,000. For more on Langer, visit http://web.mit.edu/cheme/langerlab/
Physics Honors Local Students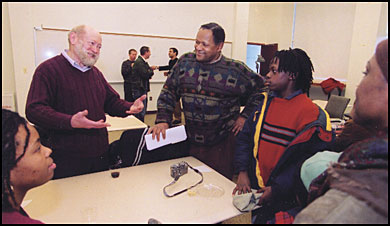 The Physics Department recently held a reception to honor the achievements of area middle schoolers in the Carnegie Mellon/Milliones Physics Concepts Program. For five months, students from Milliones Technological Academy, a middle school in the Hill District, worked one on one with Carnegie Mellon student mentors. Each student studied physics concepts and developed an experiment to test a related hypothesis. Two of the 15 students who completed projects won first place at the Jr. Academy of Science Fair in the Pittsburgh region this year. Physics Professor Leonard Kisslinger (above, left) has led the program since 1998.
Panel Debates Computer Surveillance, Privacy Issues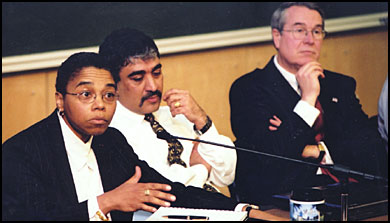 A panel recently debated the government's desire to comb computer records looking for evidence of illegal activity among the citizenry. Latanya Sweeney (far left), assistant professor of computer science, technology and policy at the School of Computer Science, said the key to maintaining privacy is demanding that federal agencies be precise in specifying what they're looking for and why. Joining Sweeney on the panel were Carnegie Mellon's Peter Shane, Peter Madsen, Pradeep Khosla (middle) and David Farber and KDKA-TV's Jon Delano (right). The discussion was sponsored by the Institute for the Study of Information Technology and Society.
Bioforum 2003 Highlights Business Behind Biotech
"The Future of Biotechnology and Drug Discovery" was the theme at Bioforum 2003, the third annual biotechnology business conference organized by the Biotech Club at the Graduate School of Industrial Administration.
The conference, held in early February, included a technology showcase that featured eight early-stage biotech companies pitching venture capitalists; a biotech and pharmaceutical workshop series targeted to the non-technical professional; a tradeshow displaying local and regional companies and products; and a speakers panel featuring Mike Hathaway, general manager, Worldwide Global Services, IBM Life Sciences; Tim Opler, director, Healthcare Banking CSFB; and Dan Adams, CEO, Protein Sciences and co-founder of Biogen.
Workshop leaders focused on "teaching non-technical people how to get involved," explained Peter Leonardi, a lead Bioforum organizer and co-president of the Biotech Club. "Everyone should have a base-level knowledge [of the industry] to be able to work with clients. The target of the forum is a general audience, not necessarily just technical people," Leonardi said.
Leonardi, a second-year MBA student, said that the "common thread [in the regional discussion] has been the lack of managers who can effectively lead biotech companies." He explained that part of the mission of both the club and the forum is to "develop managers and to interact with others to fill that need."
New Tuition, Board Costs for Students
Carnegie Mellon has announced an 8.5 percent increase in undergraduate tuition for its incoming freshman class and an increase of 6.9 percent in tuition for students who are now sophomores, juniors and seniors. Tuition will be $29,190 for students who will enter the university in fall 2003, increased from last fall's tuition of $26,910. Undergraduate tuition increases from $26,910 to $28,765 for those who entered the university over the past three years. Dual undergraduate tuition was introduced at Carnegie Mellon in fall 2000.
The university also announced that average room and board costs for all students will be $4,705 and $3,450, respectively. Overall costs of attending Carnegie Mellon will increase 6.2 percent for students entering prior to fall 2003 and 7.4 percent for students entering in the 2003-2004 academic year.
Funds resulting from the tuition increase will enable the university to enhance academic programs, undergraduate teaching and research facilities and a number of student programs and services.
Heinz School Announces Regional Scholarships

The Heinz School has announced the Regional Leaders Scholarships, a new scholarship opportunity awarded to applicants who have demonstrated a commitment to the Pittsburgh community.
Some of the scholarships will provide full tuition for admitted applicants. Participation in programs such as the CORO Fellows program, Leadership Development Initiative, Pittsburgh Urban Magnet Project (PUMP), ONYX Alliance, Pittsburgh Young Professionals, Ground Zero, as well as community outreach activities, volunteerism and participation on nonprofit boards typify the type of work that will be recognized through this award.
STUDIO Awarded Grant from Warhol Foundation
The STUDIO for Creative Inquiry's 3 Rivers 2nd Nature (3R2N) Project has received $75,000 from The Andy Warhol Foundation for the Visual Arts.
The 3R2N Project addresses the meaning, form and function of the three river systems and 53 streams of Allegheny County. It calls attention to public space and intends to inspire citizens to creative action and stewardship of the potential found in and along the rivers and streams of Allegheny County.
The 3R2N Project, directed by artists Tim Collins and Reiko Goto, is a mix of international and regional artists and theorists who will be in residence in Allegheny County creating art works, metaphors, dialogues, designs, performance, future plans and visions with post-industrial communities. The artists chosen have proven abilities at working in this manner and producing a range of affective processes and products.
"Our goal is to preach, teach and disseminate the idea that we are all artists with a primary responsibility for the creative transformation of our communities," Collins said.
Heinz Offers Fast Track Public Policy Degree
The Heinz School has announced a new fast track, one-year option for students getting a master of science in public policy.
Students in the one-year program are required to take the equivalent of 14 semester-length courses, demonstrate competence in core areas and complete a final project.
To qualify for the one-year program, applicants must have a minimum of three years of relevant, professional work experience, completed the Peace Corps or the CORO Fellows program, attained the rank of captain in the Army, Marines or Air Force or attained the rank of lieutenant in the Navy or Coast Guard.
The Heinz School master of science in public policy and management degree prepares students to advance the public interest by developing exceptional analytic, quantitative and technical skills. With concentrations in policy analysis, financial management and analysis, urban and regional economic development, management, and information systems, the program provides market-oriented training that is applicable to any policy field in the public, nonprofit and private sectors.
University Praised for Recycling Efforts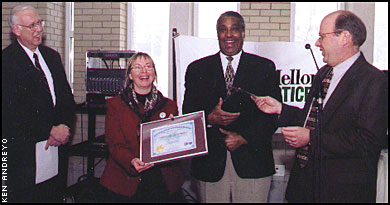 Joe Chnupa (far left), assistant regional director of the Department of Environmental Protection, recently presented Carnegie Mellon with a plaque and $1,000 check for its second-place finish in the state's RUSH to Recycle Challenge this past fall. Carnegie Mellon collected 286,600 pounds of recyclable material from Oct. 4 through Nov. 30, 2002. President Cohon (far right) gave the plaque to Barbara Kviz, environmental coordinator for Facilities Management Services (FMS), and the check to Ken Kimbrough, assistant vice president for FMS. Both are members of Carnegie Mellon's Green Practices Committee, which Cohon said has been "working together to innovate and to identify new ways to make the world a better place."