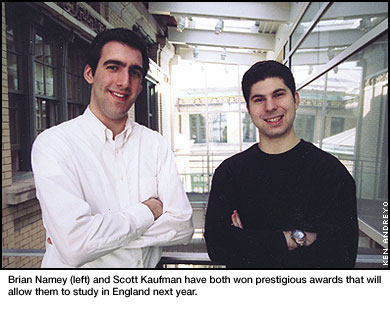 Students Earn Scholarships to Study Overseas
Carnegie Mellon University likely will be well represented next fall at England's most prestigious universities.
Scott B. Kaufman, a senior in the College of Humanities and Social Sciences, has been selected as a Gates Cambridge Scholar and will have the opportunity to study at Cambridge University on a full scholarship.
Kaufman, who is pursuing a double major in cognitive psychology and human-computer interaction and a minor in vocal performance, was one of only 41 Gates Cambridge Scholars selected in the United States and is the first from Carnegie Mellon. One hundred people were accepted worldwide; about 20,000 applied.
Meanwhile, H&SS senior Brian Namey has received a Rotary Foundation Ambassadorial Scholarship to attend graduate school overseas. The scholarship will pay for one year of study at a university in another country. Namey, a major in international relations and ethics, history and public policy, has applied for admission to the University of Oxford where he hopes to earn a master's degree in comparative social policy.
Ultimately, Namey wants to earn a law degree and run for public office. He and Kaufman were delighted to learn that they share a common interest in education policy. Namey said the two are sure to find some way to collaborate in England. "We can meet in London," Namey said.
If Namey is accepted into Oxford, he should be able to complete the master's program in one year. As a Rotary scholarship recipient, Namey will be charged with establishing a professional relationship with Rotarians in England and a potential partnership with the Rotary clubs in Oxford and his hometown of New Kensington, Pa.
Namey, the president of the student body at Carnegie Mellon, said that study abroad will provide a great foundation for a career in public office. "I think the best public servants are public servants who have an international perspective," Namey said.
Kaufman could spend up to three years at Cambridge and earn his Ph.D., but he's also been accepted into the doctoral program in psychology at Yale University, where he would study under renowned psychologist Robert J. Sternberg, the president of the American Psychological Association. Kaufman tentatively plans to spend a year at Cambridge and then hopes to go to Yale.
"Scott has been just a fantastic student. He set a goal very early about doing research in intelligence and he just has kept his eye on the prize and has been highly motivated and has a lot of self-initiative," said Anne Fay, Kaufman's mentor, who is an adjunct professor of psychology and an educational assessment specialist for the Eberly Teaching Center and the Office of Technology for Education at Carnegie Mellon.
The Bill and Melinda Gates Foundation started the Gates Cambridge Scholarship to bring elite scholars from all over the world to Cambridge in order to create a global network of future leaders.
"These students are among America's best and brightest young men and women," said Professor Sir Alec Broers, chairman of the Gates Cambridge Trust and vice-chancellor of the University.
Kaufman hopes to improve the way educators and researchers measure human intelligence. He believes that the current standardized test to measure IQ does not reflect the range of human abilities, and as a result many gifted people are denied important educational opportunities.
Kaufman's senior honors thesis examines the relationship between musical ability and IQ. Kaufman's grandfather was a cellist with The Philadelphia Orchestra, and Kaufman spent time among many other gifted musicians. He is from Wynnewood, Pa.
Kaufman's initial advisor on his honors project was the late Nobel Prize-winner Herbert A. Simon, a pioneer in artificial intelligence who spent 52 years at Carnegie Mellon. Simon died in 2001 at the age of 84.
"I've had the opportunity to work with the best," Kaufman said.
Top
Jonathan Potts