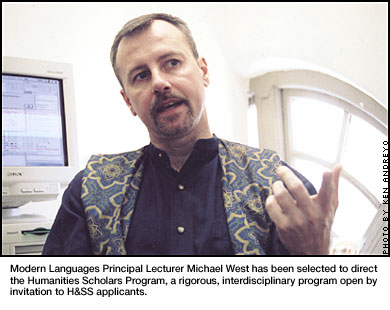 Award-Winning Lecturer Leads New Interdisciplinary Humanities Scholars Program
Principal Lecturer Michael J. West has been selected to direct the Humanities Scholars Program, a bold new initiative that the College of Humanities and Social Sciences (H&SS) will launch this fall.
The Humanities Scholars Program will be a rigorous, four-year interdisciplinary program open by invitation to H&SS applicants. The students will have the option to live in the same dormitory cluster their first two years at Carnegie Mellon in order to create a vibrant community of scholars. The program will be open to 20 freshman students each year.
The program will exemplify what sets the humanities at Carnegie Mellon apart from other institutions; namely, interdisciplinary research in a technologically rich environment with an open and forward-thinking stance toward the arts and the sciences.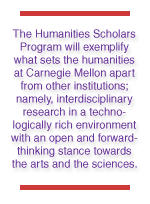 "This is a very good moment for the humanities at Carnegie Mellon University because there's a lot of good support from the administration and I'm personally committed to increasing the visibility of the humanities on campus," West said. West, who teaches French, has been recognized for his teaching expertise at both the university and college level. He was the 1995-96 winner of the university-wide William H. and Frances S. Ryan Award for teaching excellence, and in 1994 received the Elliott Dunlap Smith Award, given for distinguished teaching and educational service in H&SS.
"Michael is an outstanding educator and mentor with a wonderful record of accomplishment," said H&SS Dean John Lehoczky. "He's a great choice to develop and implement the intellectual agenda of the program."
The Humanities Scholars will be able to choose from among the university's degree programs, but they also will follow a four-year course of study involving comparative and in-depth research within and across disciplines.
The curriculum has been designed and will be team-taught by faculty in the university's humanities departments—English, History, Modern Languages and Philosophy. The program will culminate in the students' senior year with an independent research project and the Humanities Scholars Colloquium, in which students will share and discuss their research under the guidance of faculty. The new program aims to foster an environment in which faculty from multiple disciplines collaborate on research and in designing courses, which will benefit all students. With the Humanities Scholars Program, Carnegie Mellon will take its place among the top institutions for the humanities in the nation.
Top
Jonathan Potts