Staff Members Honored for Outstanding Service
Software Engineering Institute Presents the AJ Awards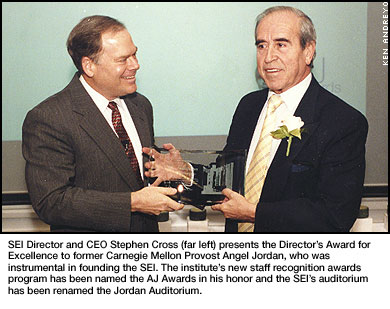 Suresh Konda, Jan Morgan Vargas, and the CERT Analysis Center's Technical Analysis Team of Michael Collins, Marc Kellner, Suresh Konda and James McCurley received AJ Staff Recognition Awards at the Software Engineering Institute in mid-February. The AJ Awards are named in honor of Angel Jordan, former Carnegie Mellon provost and a founding father of the SEI.
Konda earned the Innovation Award for his efforts in the SEI's Networked Systems Survivability Program. Vargas was presented with the Dedication Award for her work in the SEI's Program Integration Directorate. Collins, Kellner, Konda and McCurley received the Contribution Award.
Stephen Cross, director and CEO of the SEI, presented Jordan with a special Director's Office Award for Excellence. Cross also announced that the SEI's auditorium has been renamed the Jordan Auditorium in recognition of his contributions to the SEI and for his decisions in the best interest of the SEI and the university.
"Angel's contributions to the SEI cannot be overstated," said University Provost Mark Kamlet.
The SEI, founded in 1985, has become an internationally recognized software engineering authority, has helped establish a Master of Software Engineering program and has become a home base for the CERT Coordination Center, the nation's first and foremost organization in Internet security.
Hollen Barmer
School of Computer Science Recognizes More Than 20 Students, Faculty and Staff

The School of Computer Science community honored many outstanding members of its student body, staff and faculty at UPMC Sportsworks in early February.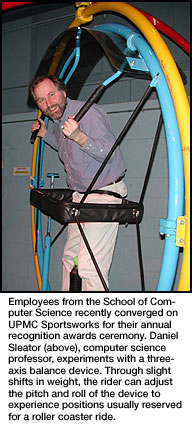 The Informedia Digital Library project team and the Project LISTEN team received the Allen Newell Award for Research Excellence. The Digital Library Project team, which has virtually established the field of video information extraction, includes SCS Vice Provost for Research Howard Wactlar, team leader Alexander Hauptmann, Senior Systems Scientist Michael Christel, Whitaker University Professor Takeo Kanade and Human Computer Interaction Institute (HCII) Senior Systems Scientist Scott Stevens.
The Project LISTEN team, which has created a computerized reading tutor that listens to children read and verbally prompts them when they stumble, includes Jack Mostow, a principal research scientist in the Robotics Institute and Gregory Aist. Today, nine elementary schools in six districts and two states are using Project Listen's reading tutor. Allegheny County schools using the tutor include Colfax Upper Elementary, William Penn Elementary, Central Elementary, Poff Elementary, Wyland Elementary, Johnston Elementary and Weil Technology Institute.
The Graduate Student Service award went to Stephanie Schriver for her outstanding service to the SCS community.
Michele Mannella, graduate program coordinator in the HCII, Karen Olack, personnel records manager in the Computer Science Department, and Marian D'Amico, assistant to HCII Director Dan Siewiorek, were recognized as outstanding support staff.
HCII Associate Professor Bonnie John took the prize for "most overworked faculty member." A joint award for the "most innovative effort" went to technical staffers Bill Ross, a commercialization specialist at the National Robotics Engineering Consortium (NREC) of the Robotics Institute, and Jason Pratt, a research programmer in the Entertainment Technology Center and HCII.
Technical support awards went to Computer Operations Supervisor Kirk Berthold and Peter Rander, also a commercialization specialist at the NREC.
SCS Business Manager Allen Stoltzfus was honored for his "wise choices" in hiring outstanding employees.
And the SCS "Rainmaker" award went to the faculty team who secured last year's $5.6 million NSF award for computational biolinguistics. Judith Klein-Seetharaman, assistant professor in the Department of Pharmacology at the University of Pittsburgh Medical School with a secondary appointment in the Language Technologies Institute (LTI), accepted the "umbrella" for the team that also includes Simon University Professor Raj Reddy, LTI Director Jaime Carbonell, LTI Associate Professor Ronald Rosenfeld and LTI Associate Professor Yiming Yang.
Top
Anne Watzman