Bryant Elected to National Academy
Randal E. Bryant, the Robert Mehrabian Professor of Computer Science and head of the Computer Science Department, has been elected to the prestigious and highly selective National Academy of Engineering (NAE), one of the highest professional distinctions an engineer can achieve.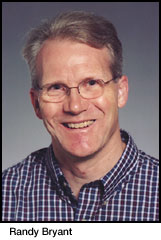 Membership in NAE honors individuals who have made important contributions to engineering theory and practice and who have demonstrated unusual accomplishments in pioneering new and developing fields of technology. Established in 1964, the NAE shares responsibility with the National Academy of Sciences to advise the federal government on questions of policy in science and technology.
Bryant was elected to the academy for his contributions to the fields of symbolic simulation and logic verification of digital circuitry. He pioneered new abstractions for logic circuit simulation, especially the switch-level model for MOS circuits.
His development of computer-aided design tools that simulate and verify digital circuits, and his research in symbolic manipulation and parallel computation have made a difference in academic research and in industry.
Bryant developed the MOSSIM switch-level chip simulator and ordered binary decision diagrams (BDDs), a tool that has enabled breakthroughs in the formal verification of hardware and software systems, including the widely acclaimed symbolic model checking, largely developed at Carnegie Mellon.
The MOSSIM simulator, developed in 1983, was the first tool that could accurately model the behavior of very large-scale integrated (VLSI) circuits. Intel Corp. used the program for more than a decade to simulate processors. Versions of the COSMOS simulator, which Bryant developed to succeed MOSSIM, are still being used at Intel and other companies.

In 1985, Bryant developed several very efficient algorithms based on binary decision diagrams to manipulate the switching functions that form the basis for computer designs. Since then, researchers at other universities and industry, as well as Carnegie Mellon, have used the algorithms to represent and manipulate large state sets when verifying computer chips.

Carnegie Mellon Members of the National Academy of Engineering


Hubert I. Aaronson
John L. Anderson
Alfred Blumstein
Richard J. Fruehan
Ignacio Grossmann
Angel G. Jordan
Takeo Kanade
Harold W. Paxton
Raj Reddy
Daniel P. Siewiorek
Herbert L. Toor
Arthur W. Westerberg
Robert M. White
Bryant is "the paradigm of a great computer science professor," said School of Computer Science (SCS) Dean James Morris. "He has done outstanding research in verification systems that lots of people, including Intel and Microsoft depend upon to verify the basic soundness of their computer systems. He is a great teacher, has written a book and recently took first place in the 50-and-over division in the Pittsburgh Indoor Rowing Race."
Bryant's new book "Computer Systems: A Programmer's Perspective," written in conjunction with SCS colleague David O'Hallaron, was published last fall by Prentice Hall. Thirty colleges and universities are currently using the book, which for the first time offers a core text that provides an integrated view of the hardware, software, and network that underlie computer systems.
Bryant earned a bachelor's degree in applied mathematics from the University of Michigan in 1973. He received a doctor's degree in electrical engineering and computer science from the Massachusetts Institute of Technology in 1981. Before coming to Carnegie Mellon in 1984, he spent three years as an assistant professor of computer science at the California Institute of Technology.
Bryant is a Fellow of the Institute of Electrical and Electronics Engineers (IEEE). He has received several awards from the Semiconductor Research Corp., including inventor recognition awards in 1989 and 1990, plus a technical excellence award shared with Carnegie Mellon colleagues in 1996. He is also a co-recipient of the Association for Computing Machinery's Kanellakis Theory and Practice Award for his contributions to the development of symbolic model checking. The Kanellakis award recognizes theoretical work in computer science that evolves to impact the commercial world.
During his career, Bryant, who holds a courtesy position in the Electrical and Computer Engineering Department, has consulted for numerous companies, including Hewlett-Packard Corp., IBM, and Fujitsu. He also serves on the technical advisory boards of several companies.
"Randy Bryant's research on symbolic simulation and logic verification has brought distinction not only to him but also to Carnegie Mellon," said John Anderson, dean of the College of Engineering. "His election to NAE is well-deserved recognition for his leadership in this important area of computer science."
Top
Anne Watzman