Friend of the Court Brief Supports Affirmative Action
Carnegie Mellon has filed an amicus curiae (friend of the court) brief to the United States Supreme Court in support of the University of Michigan, the defendant in two cases involving challenges to its use of affirmative action in the admission process.
At least 38 colleges and universities from across the United States joined in the filing on Feb. 18.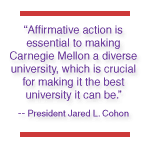 "Affirmative action is essential to making Carnegie Mellon a diverse university, which is crucial for making it the best university it can be," said Cohon in a speech kicking off the university's Martin Luther King Jr. Day celebration.
"I have decided that the stakes in the University of Michigan case are so high and diversity is so important to our university that Carnegie Mellon will actively support the University of Michigan by filing a friend of the court brief in favor of their position," Cohon said.
Carnegie Mellon's brief does not focus on specific programs, but instead endorses the larger concept of Affirmative Action. It argues that diversity continues to be a compelling interest that justifies the use of race as one factor among many in college and university admissions. The brief states that "a racially diverse student body serves and enriches the higher education of all students and is essential to the training of leaders for our pluralistic world."
The brief also takes issue with the suggestions of some that diversity can be accomplished by using so-called "race-neutral" means, noting that those may work for large public universities, but fail for highly selective private universities, and that "race neutral percentage" plans used in Texas, California and Florida depend upon segregated high schools to achieve diversity in the public universities of those states.
Carnegie Mellon Vice President and General Counsel Mary Jo Dively said that current standards have had a "profound and positive" influence on the Pittsburgh campus. Carnegie Mellon officials point to a campus milestone: the retention rate of minority freshmen has reached 98%.
"This compelling evidence responds to the charges of some critics who contend that universities use race to admit individuals who would otherwise not be qualified to be there," said Dively.
In addition to Carnegie Mellon, the following institutions joined in this filing: American University, Belmont University, Boston College, Brandeis University, Bucknell University, Case Western Reserve University, California Institute of Technology, College of the Holy Cross, DePaul University, Dickinson College, Drexel University, Duquesne University of the Holy Spirit, Elizabethtown College, Emory University, Fairleigh Dickinson University, Gettysburg College, Goucher College, Johns Hopkins University, Marquette University, New School University, New York University, Northwestern University, Occidental College, Pepperdine University, Rhode Island School of Design, Saint Louis University, Syracuse University, The Catholic University of America, The George Washington University, The University of Notre Dame du Lac, The University of Miami, The University of Rochester, The University of San Francisco, The University of Scranton, The Washington and Lee University, Villanova University and Washington University in St.Louis.
Top
Teresa Thomas