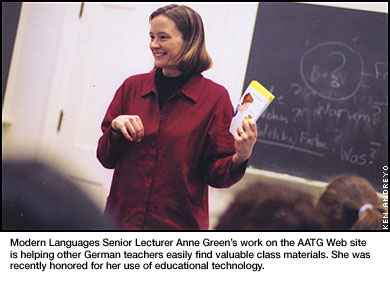 Anne Green's Web Work Has Teaching Impact Worldwide
In the search to find new, entertaining and engaging academic material for their students, many teachers often come up short. But, thanks to the Internet work of Modern Languages Senior Lecturer Anne Green, German teachers no longer have that problem.
Green's work on the American Association of Teachers of German (AATG) Web site, along with her own Web sites is helping German teachers easily find valuable class materials. So much so, that she recently received the American Council on the Teaching of Foreign Languages/Faculty Development Program (ACTFL/FDP) Houghton Mifflin Award for Excellence in Foreign Language Instruction Using Technology.
Green, chair of the AATG Technology Committee, helped to revamp the organization's Web site with the addition of a "Teaching Resources" section. The new, easy-to-navigate section provides German teachers with a central location for new and useful classroom resources, including informative and up-to-date activities for students.
"Many German teachers had made Web-based activities, but they weren't centrally located," Green explained. "The Web right now is the best way to get information that's authentic and up-to-date for the foreign language classroom."
The "Teaching Resources" section includes several categories geared to specific areas of study. The categories are Family and Friends, Language and Culture, Politics, and Food and Drink.
The site (http://grow.aatg.org/index.html) provides "everything the German teacher needs," Green said.
Green was also cited by the ACTFL/FDP for her work with German children's and young adult literature on the Internet. In 1997, Green posted supplemental learning activities on the Internet for "Ein Sommer, Ein Anfang," (a young adult novel) that she thought would be helpful for her students. She included grammar exercises and vocabulary lists, among other things, to help her students understand the novel.
Green said the activities were so helpful that she began to receive other materials created by teachers to aid in the teaching and understanding of German children's literature. Since then, the site (http://ml.hss.cmu.edu/facpages/amgreen/projects/jug.html) has grown and it now houses activities and ideas for about 50 works, submitted by Green and other German teachers.
"What started off as this willingness to share a good book and ready-made activities grew into a central location for activities for about 30 different books," Green said.
Gisela Moffit, professor of German at Central Michigan University, confirms the usefulness of Green's Web work.
"I have used and recommended heartily to other teachers her Web site, which houses teaching resources on young adult literature," Moffit said. "It is an awesome site—very useful for busy teachers."
Top
Laine Towey