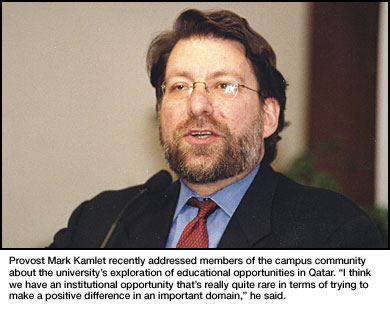 University Explores Educational Opportunity in Qatar
From a master's degree program in software engineering for South African women to architecture classes in Mexico, Carnegie Mellon is reaching across the globe to enhance higher education worldwide. Now a new opportunity is on the horizon—in Doha, Qatar, a small westernized Islamic nation in the Gulf region of the Middle East.
The Qatar Foundation, a nonprofit organization established in the 1990s to support the educational goals of the Qatari government, has invited Carnegie Mellon to create undergraduate business and information technology programs in Qatar's Education City. This initiative aims to bring the best of western education to the children and young people in their country and surrounding region.

"They see human capital creation as a key component of their economic development strategy," said Carnegie Mellon Provost Mark Kamlet. "In particular, they have a vision called Education City, in which the leadership of the country is building out of the desert a set of buildings in which there will be higher education institutions and K-12 programs. Their goal is rather audacious. In their minds, they hope to build the next Alexandria."
The foundation has approached a number of leading American universities and asked them to bring their high-quality educational specialties to the region. Cornell University is now operating a branch medical school and Virginia Commonwealth University is providing a design and communication program in Qatar's Education City. The Rand Corporation has been working in Qatar to help improve its public education system.
Carnegie Mellon was approached because of its excellence in both business and technology.
"Qatar was hoping to partner with great universities in different areas, and they came to us to see if we'd be interested in establishing an undergraduate program in computer science and an undergraduate program in business," Kamlet said.
Initially, the programs would be quite small, enrolling about 25 students per year, half of whom would be Qatari citizens. The remaining students would likely be coming from other countries in the Mid-East. As the program continued to grow, 50 students would enroll each year—25 in each program—for a total of 200 students.
Carnegie Mellon stands to benefit in a number of ways from the proposed partnership with the Qatar Foundation. The primary advantage would be what the university's presence in the Middle East could do for relations between that area and the western world.
"If there's ever going to be engagement between the western world and the Islamic-Arab world, higher education is a natural place to start," Kamlet said. "I think that we have an institutional opportunity that's really quite rare in terms of trying to make a positive difference in an important domain."
Kamlet also noted that he has met with officials from the U.S. State Department about the university's opportunity in Qatar. "They are tremendously supportive. Qatar has been an important U.S. ally and American educational institutions are admired by citizens in the Middle East. Both the administration and our friends in Congress believe that this opportunity could contribute to improving relations between the West and the Middle East over time," he said.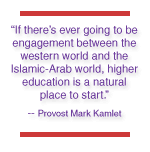 Financially, the Qatar Foundation would pay for the buildings and cover all costs associated with the program, as well as ongoing management fees.
"If we can establish a mutually beneficial relationship with a country with this desire for development and this amount of resources to do it, I think there are significant opportunities. And if they could find projects that intersect the sweet spot of their interests and ours, I think there would be a tremendous amount of potential," Kamlet said.
While the prospect of partnering with the Qatar Foundation has definite advantages, there are a number of factors to consider when making such a decision. One important question facing administrators is how the university will ensure the quality and integrity of its academic product.
"Our first fear has been that somehow we would end up putting together a curriculum that looks so different than the curriculum here that we would all have problems saying this is a Carnegie Mellon undergraduate education. Our first concern has really been to make sure that doesn't happen," he said.
While Qatar is a westernized nation with a culture much like that of the United States, another area of concern is maintaining Carnegie Mellon's commitment to diversity and freedom of expression.
"From the very get-go, it's been completely understood that we'd control everything in terms of admissions decisions, in terms of curriculum and in terms of enforcing nondiscrimination," Kamlet said. "There can be people who are Jewish at this campus, there can be women at this campus—there are normal rules as they apply here for issues like academic freedom. The Qataris realize this is essential from the starting point."
Another main concern is ensuring the safety of the faculty, staff and students in the program. Before moving any further, Kamlet says that university officials want to make certain that they're not putting anyone in harm's way.
How international political context affect this opportunity and the financial requirements of the situation will also be reviewed as the assessment process moves forward.
Cornell University shared many of these same concerns when they decided to open their medical school in Qatar. Now, after their first term in Education City, the university has discovered that many of their concerns or anticipated problems have not materialized. For example, male and female students are in the same classes together and interacting without any of the problems administrators feared might occur.
The university has conducted a number of briefings and discussions with representatives of the university community. This early evaluation process, typical of the planning that has taken place to consider other international and off-site programs or operations, will take a number of months and will include a variety of assessments as well as several meetings with trustees, faculty, students, staff, alumni and the administration.
Top
Susan Cribbs