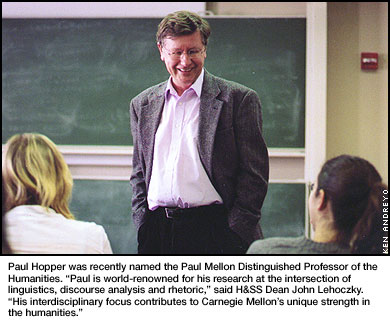 World-Renowned Linguist Earns Paul Mellon Professorship
English Professor Paul J. Hopper, a world-renowned linguist, has been named the first Paul Mellon Distinguished Professor of the Humanities.
Hopper, previously the Thomas S. Baker Professor of English and Linguistics, is an expert in several areas of linguistics, including Indo-European languages and linguistic change over time. Hopper's research centers on the relationship between grammar—the structure of language—and rhetoric.
"Paul is a wonderful teacher and colleague and an important member of the rhetoric program and the Department of English at Carnegie Mellon," said David S. Kaufer, head of the English Department.
Hopper has authored several books, including "Grammaticalization," which he co-wrote with Stanford University linguist Elizabeth Traugott. The book examines the different ways that languages can create structure from bits and pieces of everyday usage.
"It puts grammar in a totally new light—as something that is fluid and constantly adapting itself to the needs of speakers," Hopper said.
Hopper's expertise has been sought by institutions across the globe, and in 2001 he was awarded the Medal of the Collège de France. He gave two public lectures in French at the Collège de France and served as director of studies at the Ecole Pratique des Hautes Etudes in the Sorbonne, France's premier graduate institution.
Hopper earned a master's degree in German from Washington University and a doctor's degree in linguistics from the University of Texas. He has held teaching positions at several American universities and has been a visiting professor of linguistics at La Trobe University in Melbourne, the University of Cologne and the Federal University of Rio de Janeiro.
In 1983 Hopper was the Collitz Professor of Comparative Philology at the Linguistic Society of America's Linguistics Institute at UCLA. He has been a Fulbright Fellow and a Guggenheim Fellow.
"Paul is world-renowned for his research at the intersection of linguistics, discourse analysis and rhetoric," said John Lehoczky, dean of the College of Humanities and Social Sciences. "His interdisciplinary focus contributes to Carnegie Mellon's unique strengths in the humanities. I am delighted that we can recognize his talent and contributions."
The late Paul Mellon, the son of Andrew W. Mellon, was a lifelong supporter of the arts and humanities. He co-founded the National Gallery of Art and other museums, and he oversaw the many Mellon family charities and businesses.
In 1967, Mellon played a major role in the merger of the Mellon Institute of Research, which Mellon's family had established, with the Carnegie Institute of Technology to form Carnegie Mellon University. At the time, he encouraged the university to offer "the whole circle" of studies to its students.
Top
Jonathan Potts