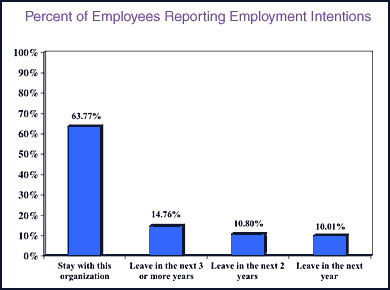 HR Morale Survey Measures Employee Satisfaction
63% Plan on Staying at Carnegie Mellon Indefinitely
Although it's human nature to complain, Carnegie Mellon employees are generally satisfied with their work environment. So say the results of last summer's university-wide survey measuring staff morale.
Thirty-one percent (771) of the university's 2,485 staff members completed the 150-question, online survey produced by Human Resources and Consulting Psychologist Press, Inc. (CPP). The respondents included a fair representation of all colleges and administrative divisions on campus. Only two areas were below the 20 percent participation rate.
Employees were asked to rate their satisfaction with direct supervisors, the quality of relationships with coworkers, opportunities for recognition, career development opportunities, communication from upper management, their ability to balance work and life, their perception of upper management competence, trust in upper management, treatment by upper management, their commitment to the organization and job satisfaction.
While staff said there's room for improvement in several of these areas, none were found to be glaring weaknesses or problems requiring immediate attention. One of the most notable results came from questions that asked staff members about their intent to stay or leave the university. More than 75 percent of survey respondents said they intend to remain with Carnegie Mellon for at least three years. Sixty-three percent plan on staying indefinitely.
That number might seem high, but Barbara Smith, assistant vice president for human resources, said that it's not an unexpected result for a university environment.
"Many, if not most, staff choose to be in a university environment," Smith said. "I think for that reason you see a larger positive response rate in terms of commitment. They value the business we're in. The university work environment is very attractive to many people."
Staff also responded favorably in regard to their satisfaction with immediate supervisors, coworker relationships, commitment to Carnegie Mellon, ability to balance work and life, and overall job satisfaction. Smith attributes these results to the total value of employment at Carnegie Mellon.
"It goes beyond the paycheck; it goes beyond the benefits," Smith said. "It's being in this milieu. It's having the opportunity to interact with people who generally share your values, who are doing exciting work that contributes to society.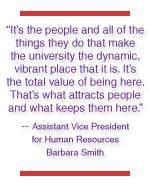 "It's having a gym at your doorstep and having theater and libraries available to you. It's the people and all of the things they do that make the university the dynamic, vibrant place that it is. It's the total value of being here. That's what attracts people and what keeps them here," Smith said.
The survey also revealed some areas for university-wide improvement. Employees expressed concern over opportunities for career development and the lack of recognition they receive for their contributions to the organization. They are also concerned about the consistency and content of communication from upper management and sometimes feel as though they aren't always treated fairly by management.
In response to these "opportunities for improvement," Smith has met with the deans and vice presidents to share both university and department-specific results. She's offered them advice on how to make positive changes.
"What we think is most beneficial is that they engage in a discussion about the results with their employees, and identify two or three things that could be done in their environment to make an improvement—to either leverage some of the things that are strengths or address some of the opportunities for improvement," Smith said.
Four focus groups were held in December to discuss the survey results with university employees. Human Resources wanted to make sure that the results accurately reflected employee perceptions.
"They really told a story similar to how we read the results," said Ron Placone, director of learning and development in Human Resources. "Their comments have really given more depth and substance to the survey results."
Smith and Placone said the purpose of the survey was fivefold: to support the university's strategic plan (which emphasizes employee success), to establish a baseline from which to assess the organizational climate, to evaluate university practices to leverage strengths and address opportunities for attracting and retaining talent, to generate feedback on Human Resources' services and to provide information for use in developing a Human Resources' strategic plan. A follow-up survey will be conducted in the summer of 2004.
Top
Susan Cribbs