September 16, 2016
Op-Ed: The Enduring Political Power of 9/11 Victims
Jay Aronson Publishes Washington Post Op-Ed on the Enduring Political Power of 9/11 Victims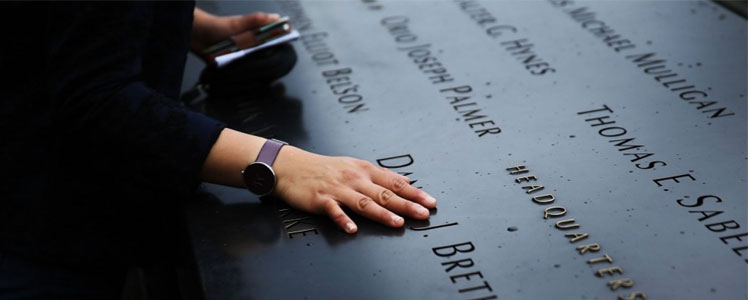 Only 293 of the 2,753 victims of the Sept. 11, 2001, World Trade Center attacks in New York were recovered whole. The rest were painstakingly collected in 21,900 pieces, many just bone slivers or unrecognizable bits of flesh. This forensic effort was undertaken not just to enable the return of remains to victims' families, but also to signal that Americans were dramatically different from the terrorists who so callously disregarded the value of human life.
In my new book, "Who Owns the Dead? The Science and Politics of Death at Ground Zero," I examine the recovery, identification and memorialization of the 9/11 victims. The costliest forensic endeavor in history at more than $80 million to date, this massiveproject seeks to identity every single human remain recovered from the debris of the twin towers.
Each individual remain is stored separately in a repository adjacent to the National 9/11 Museum at the World Trade Center site and treated as a unique entity that may one day be identified and returned to families. This procedure rules out collective burial or interment, the most common way of handling unidentified remains after conflict and disasters in the past. And this effort is ongoing. New York City's Office of the Chief Medical Examiner has committed to retaining and retesting currently unidentified remains in perpetuity as new technologies become available.
What motivates us to identify unknown dead?
In many ways, this is a natural progression in how we treat the dead. As scholar Thomas Laqueur notes, before the 20th century, casualties of war were generally left on the battlefield to rot or be eaten by scavengers. Beginning in World War I, it became increasingly common to bury them in individually marked graves and to memorialize them on grand monuments after the war.
The reasons for this shift were complex, but Laqueur argues that it began in the 19th century. In that era, at least in the West, burial in an unmarked grave was a sign of social exclusion and hopelessness. Efforts to bury dead soldiers during the Great War were an attempt to make sense of death on such a mass scale. This change also signaled revulsion at the physical condition of the remains resulting from destructive and explosive new weapons and fear that the sacrifices of young soldiers would be forgotten over time. Individual burial and collective memorialization would hopefully prevent this dreaded erasure.
Nearly a century later, advances in DNA profiling have brought this desire to individualize the dead within reach. Forensic scientists can now extract genetic material from even the most fragmented and degraded bit of bone or tissue, and new statistical methods can use familial reference samples to identify partial DNA profiles from the source. Many of these developments had their roots not in criminal justice, but in investigations of genocide and human rights abuse in Argentina, Bosnia and other countries emerging from mass violence.
The political power of the dead
But there is something else at play in the identification of the dead after conflict and disaster. As the pioneering scholar Katherine Verdery noted in her work on exhumation and reburial of bodies in post-socialist Eastern Europe, dead bodies have political power. They can galvanize particular groups against others by highlighting past misdeeds, they signal ownership and rightful control of land, and they can legitimize political action, including war. Indeed, as the former Yugoslavia was splintering apart, Serbian nationalist Vuk Draskovic stated "Serbia is wherever there are Serbian graves."
The political power of 9/11 victims was marshaled by politicians, especially then-President George W. Bush, Vice President Richard B. Cheney, Defense Secretary Donald H. Rumsfeld and their backers to justify both a widely supported war against the Taliban and al-Qaeda in Afghanistan and a more contentious one against Saddam Hussein in Iraq. In his speech before a joint session of Congress on Sept. 20, 2001, Bush declared: "Our grief has turned to anger and anger to resolution. Whether we bring our enemies to justice or bring justice to our enemies, justice will be done." The victims also underwrite the metastasizing war on terror across the globe. Many relatives of 9/11 victims, including several I interviewed, find this mobilization of victims to justify war deeply discomforting.
These wars and lethal actions undertaken, at least partially, in the name of victims have pockmarked parts of the Middle East and Africa with mass graves and unidentified remains. While most were not directly killed by American military personnel or drones, hundreds of thousands have died as a result of the chaos and instability that has enveloped the region since the invasion of Iraq in 2003.
Forensic technology is also political
Throughout the course of writing "Who Owns the Dead," two questions continued to surface. First, will the same unending scientific effort be undertaken to identify victims of this instability and war abroad? As I conclude in my book, recognizing that the answer might very well be "no" highlights the inherently political nature of the deployment of genetic technologies on behalf of the victims of mass atrocity.
The second question, which I did not address in my book, is how the remains of innocents and combatants alike will be used in the future. Many lie buried in the kinds of mass graves that those in the West have continually sought to avoid over the past two centuries. Others were left in place because it was considered unsafe to retrieve them.
As we mark this 15th anniversary of the 9/11 attacks, it is useful to reflect on how these countless unearthed remains are a potential political time bomb buried just under the surface of the ground that, even after peace has been restored to the region, lie in wait for some new leader to mobilize for the ends he or she chooses. While those ends could of course be peaceful and reconciliatory, history suggests this will not necessarily be the case.
Jay Aronson is an associate professor of science, technology and society in the history department at Carnegie Mellon University and is director of the Center for Human Rights Science. He is the author of "Who Owns the Dead? The Science and Politics of Death at Ground Zero," (Harvard University Press, 2016).