August 10, 2016
CHRS Receives Grant To Study How Social Media and Big Data Affect Protection of Human Rights
From Carnegie Mellon Press Release:
Contact:
Shilo Rea / 412-268-6094 /
shilo@cmu.edu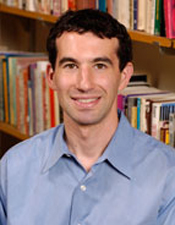 PITTSBURGH-The growth of smartphones and social media are giving the world instant, first-hand accounts of human suffering and political repression during events like the 2010 Haiti Earthquake, recent elections in Kenya, and the ongoing uprising in Syria.
To investigate how social media and big data analytics are changing human rights fact-finding, and to better understand the ways that these technologies can advance human rights protection in the future, the
MacArthur Foundation
recently awarded an 18-month, $175,000 grant to Carnegie Mellon University's
Center for Human Rights Science
, directed by
Jay D. Aronson
.
Human rights organizations, governments and the general public are increasingly turning to this massive accumulation of images, video and text to investigate and understand the human impact of conflicts, disasters and political violence. It remains unclear, however, whether this huge amount of data actually improves the global community's ability to protect and promote the rights of vulnerable individuals around the world - particularly those who still lack reliable and secure access to the Internet or whose rights are violated in private, rather than in public view.
"An increasingly common refrain among new media technologists is that it is crucial to give people whose basic human rights are being threatened or denied a way to tell the world about their predicaments," said Aronson, associate professor of science, technology and society in the
Dietrich College of Humanities and Social Sciences
'
Department of History
. "In many ways, the Internet and social media sites like Crisis Mappers, Facebook, Twitter, Ushahidi and YouTube provide an ideal mechanism for doing so.  
"Raw textual narratives, video and photos that depict human suffering raise global awareness and may lead to humanitarian aid from governments, private donations from individuals and even military intervention in some cases. For seasoned human rights activists, including many technologists, though, these new forms of data also raise serious questions about credibility, comprehensiveness and analytical methods," he said.  
Aronson added, "There are also serious questions emerging about the use of data and the responsibilities of academics and human rights organizations to its sources. In many cases, it is unclear whether the safety and security of the people reporting the incidents is enhanced or threatened by these new technologies. This project seeks to help mediate these tensions and augment the potential of new technologies to protect and promote human rights through rigorous academic analysis."
Aronson and his colleagues will conduct a comprehensive review of the technologies that currently exist to gather and analyze big data in the context of human rights; explore what is being done with social media and big data in fields that may have lessons for the human rights community, such as disease detection and commerce; examine the most pressing ethical and technical challenges that come with the use of social media and big data in human rights work; and provide recommendations to the human rights community, academics, and funding bodies about what kinds of research and development ought to be conducted in this domain over the next few years.
Carnegie Mellon is uniquely suited to examine the implications of social media and big data on human rights because of the university's strong expertise in
machine learning
, data mining,
statistics
,
computer science
,
information systems
and policy analysis. In addition to Aronson, key CMU project members will include
Stephen Fienberg
, the Maurice Faulk University Professor of Statistics and Social Science, and
Daniel Neill
, associate professor of information systems within the
Heinz College
and the School of Computer Science.  Aronson also will be partnering with colleagues from
New York University School of Law
's Center for Human Rights and Global Justice to organize an international meeting on human rights fact-finding this November in New York City.