Friday, December 4, 2015
*Good Experience: Active and Aspiring Entrepreneurs Meet, Mingle at Carnegie Mellon University's Global Entrepreneurship Week Startup Job Fair 2015
Three young adults stood smiling and chatting, smack in the middle of the entrepreneurial mêlée. All three sported bright green, can't-miss t-shirts with their company logo – an EKG rhythm – emblazoned across the chest. Alex Liu, College of Engineering '12, EKG's co-founder, struck a festive note with a matching sequined party hat slung casually around his neck.
"We like to be fun and innovative," said Liu. "When you're at work, it should be like being at home or being with friends. It should be a good experience."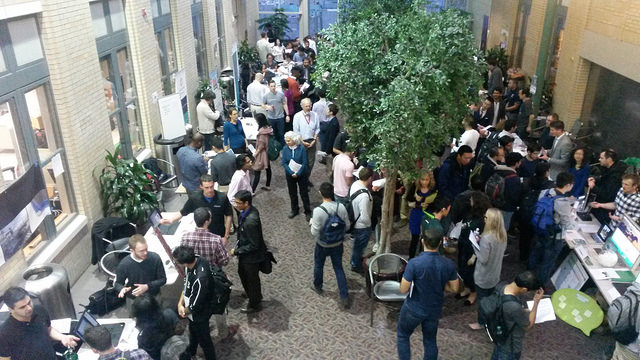 Liu and his two colleagues emerged from behind their assigned spot to mingle with some of the more tentative students quietly observing the proceedings. This was the third year that their Treatspace, a provider of secure social software for healthcare providers, had been to this job fair. They long ago secured seed funding, yet they are still looking for both full time employees and interns. Before working with incubator Alpha Lab, the company had begun its journey with job fair co-sponsor Project Olympus, a Carnegie Mellon School of Computer Science initiative.
The recruiters lining the walls took their positions behind their card tables, straightened their placards, checked laptops and display materials. . . and prepared to greet prospective new team members.
Carnegie Mellon's fifth annual startup job fair took place on Nov. 19. A highlight of Global Entrepreneurship Week, the event was hosted by the Carnegie Mellon Center for Innovation and Entrepreneurship (CIE).
A few feet from the Treatspace crew, another pair of entrepreneurs was venturing beyond the table. Prahlad Menon, College of Engineering '13, was scouring for technical talent for CerebroScope, a producer of headgear intended to detect concussions. A former Carnegie Mellon electrical and computer engineering faculty member, Menon previously founded two other companies, one of which remains involved with Project Olympus. He'd also joined forces with CerebroScope founder Stephen Jones, a retired Allegheny General Hospital research scientist. Eying a particular group of students, Menon set off toward them, leaving Jones to man their table. He joked as he strode off: "Let's see if I can rope one of them."
Theirs wasn't the only team that included members outside the Carnegie Mellon community. "We have 46 startups here," said Kit Needham, Project Olympus's entrepreneur-in-residence, as she made her way through the venue. "Many are from Carnegie Mellon, but a lot are co-founded with people who are not. They come here for the talent, not only technical, but also business expertise."
"Carnegie Mellon just has an exceptional pool of talent," agreed Jean Marie Sloat, MBA '14, College of Fine Arts '15, founder of CONNECTwithChildcare.com, a site that links parents with early child care providers. "It's really about how Carnegie Mellon students have the flexibility and are willing to think about things in a different way. We have a very ambitious vision here."
BreatheWise, a provider of smart, compressed gas regulators founded by Eric Wise, College Engineering '14, originated with his undergraduate research. "Going into the startup field, [Carnegie Mellon] provided me with the resources I needed to learn as a non-business person," said Wise, who was looking for top-notch engineers and programmers. "It's no secret that Carnegie Mellon is a great place to look."
Clearly, the throng of students milling around the tables were among those looking.
"I think it's a place where an MBA can make a bigger impact," explained Rodd Pribik, MBA '15, taking a break from the action with his classmate Andy Godish, MBA '16. "It's what helps me wake up in the morning, to know that my success is going to result in something right away." Godish took a more laid back approach. "Someday, I want to found my own startup, so I'm trying to cut my teeth."
Apoorva Reddy Neelapu, Heinz College '17, was also taking a break, contemplating her next move. "I'm considering jobs as well as companies to invigorate what I have in mind," said the masters student, who holds a particular interest in social entrepreneurship and aggregating small farmer groups in India.
"I've started up and failed already, so I'm not scared anymore," she joked about her entrepreneurial aspirations, adding, "And I love Carnegie Mellon culture. It's so multidisciplinary, so interactive. In the CIE entrepreneurship bootcamps I've met people from science, from management, from policy. There's so much opportunity to integrate with whomever I want. It's what I love."
Nearby, a sophomore girl stood, neat in black tights and striped dress, leafing through her growing stack of informational handouts and cards. "I just want to learn, get some hands on experience," said Ning Guan, College of Engineering '18. "Startups are very interesting. You've got more responsibility, can actually contribute more. You can find a mentor to teach you and really grow. And one company I found may be interested in me, as well."
At the top of her pile was CerebroScope. Perhaps Prahlad Menon roped one candidate or job seeker, after all. Read More»