The following guidelines are established by the United States Postal Service (USPS) for addressing domestic mail. These guidelines should be observed for all USPS mail, including campus mail sent through CMU's Postal Services.
Address requirements
Placement of the address on the face of an envelope should conform to the following USPS specifications:
The address should be in an area 1/2" inch from each side of the envelope.

The top of the address should be no more than 2 3/4" from the bottom of the envelope.

The bottom of the address should be no more than 5/8" from the bottom of the envelope.

The area 4 1/2" by 5/8" in the lower right hand corner of the envelope should remain empty for bar code placement.

Whenever possible, avoid addressing mail by hand because this could delay sorting by the U.S. Post Office.
Packaging requirements
Strength
The envelope must be strong enough to protect and retain its contents. The use of oversized or overstuffed envelopes can lead to damaged or lost contents.
Window Envelope Enclosure
Enclosures should be designed so that the address appears in the envelope's window. Do not staple items to prevent slippage of the address from window view. If the addressed enclosure does not properly fit the window, use an envelope without a window.
Enclosures
All mail must be sealed in an appropriate envelope or parcel. When a periodical or other publication is mailed with non-incidental First Class mail or any standard mail enclosure, the mark "First Class Mail Enclosed" or "Standard Mail Enclosed" must be placed, respectively, on or in the host publication. The type of enclosures determines the mailing classification.
Oversize/Underweight Mail
First Class and International Letter Class mail weighing one ounce or less is classified as non-standard if it exceeds any of the following size limits:
Length: 11 1/2"

Height: 6 1/8"

Thickness: 1/4"
There is an additional charge on each piece of mail that is found to be non-standard. In addition, mail that is less than 3 1/2" in height, 5" in length or the thickness of a postcard are non-mailable in the U.S. and may be returned to sender.
Envelopes
The size of an envelope should properly accommodate its contents. There are two categories of envelopes used by USPS: letter size and large envelopes. Below are the guidelines for mail shapes.
Mail Shapes
Knowing the shape of your mail helps you select the right service and price.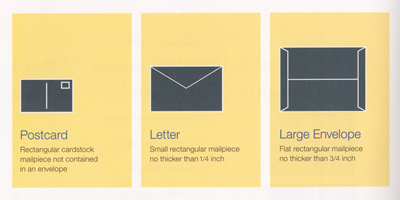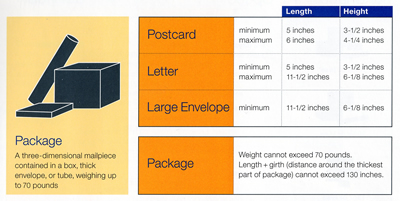 Once you know the shape of your mail, visit the USPS Postage Price Calculator to determine which service is right for you.
Mail restrictions
Any mail/parcels that contain anything liquid, fragile, perishable or potentially hazardous (such as lithium batteries, perfume or mercury) that you wish to send via USPS through Postal Services must be given to a Postal Services cashier at our front counter in our Cohon University Center location.
Some things cannot be mailed or can be mailed only in small quantities for safety and legal reasons. Also, some items can jam or damage the mailing machines and can cause serious injury to the USPS employees and equipment. USPS lists the following items as prohibited or restricted:
Aerosol cans (can be mailed through Retail Ground service only)

Alcoholic beverages

Ammunition

Fireworks

Flammable or explosive materials

Glass chips

Illegal or infectious substances

Lottery tickets

Metal pieces

Narcotics or drug paraphernalia (prescription and over-the-counter medications can be mailed via air or surface mail)

Poisonous materials

Sand
Envelopes and cards less than 3 1/2" in height or 5" in length are also classified as non-mailables and may be returned to sender. Also, all foreign countries impose various restrictions. It is recommended that when mailing questionable items to U.S. or foreign destinations, the mailer should contact Postal Services for assistance. The use of staples is prohibited on the exterior of any letter or parcel.