May 03, 2023
Personal Mention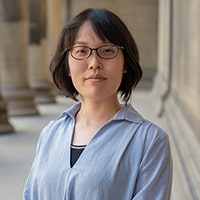 Fifth-year chemistry Ph.D. candidate Manami Kawakami has received the Kwolek Fellowship in Chemistry at Carnegie Mellon University for her work in conjugated polymers and macrocycles. Kawakami's research involves designing new organic electronic materials, building up structures into either long chains or into large ring systems. She has created novel structures based on thiophene and furan building blocks, compounds which can be found in pharmaceuticals or roasted coffee beans. Kawakami plans on using the fellowship to focus more on her research. After her graduation, she hopes to move into industry, continuing her work developing novel polymers. Created by chemistry alumna and Kevlar inventor Stephanie Kwolek, the Kwolek Fellowship provides partial funding for an academic year to support a female chemistry graduate student's research and academic expenses. Read the story.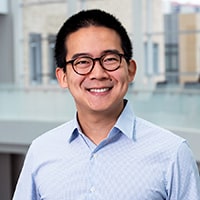 Andrew Li, assistant professor of operations research at Carnegie Mellon University's Tepper School of Business, has earned a CAREER award from the National Science Foundation (NSF) for his work on developing blood tests to detect early-stage cancer. The award, part of the Faculty Early Career Development Program, is given to individuals early in their careers who play an integral role in furthering their area of science. In addition to his work on blood tests and early-stage cancer detection, Li's other research interests include statistics, optimization and machine learning, with applications to operations management and medicine. The award will support Li's development of algorithms designed precisely for these optimization problems as well as interdisciplinary work with medical researchers and practitioners to apply the algorithms. The award also supports a plan for integrating research with education, which will aid in disseminating this work to students, the academic medical community and private companies. Read the story.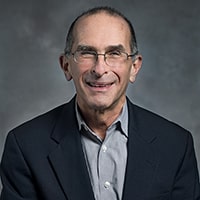 Daniel Nagin, Teresa and H. John Heinz III University Professor of Public Policy and Statistics in the Heinz College of Information Systems and Public Policy, has been elected to the American Academy of Arts & Sciences. Nagin is one of nearly 270 members elected this year from academia, the arts, industry, policy, research, and science. Founded in 1780, the American Academy of Arts & Sciences honors excellence and convenes leaders from multiple fields to examine new ideas, address issues of importance to the nation and the world, and work together to cultivate art and science that may advance the interest, honor, dignity, and happiness of a free, independent, and virtuous people. "I am honored to be elected to the Academy, an organization that for more than two centuries has encouraged individuals in academia and elsewhere to address the challenges facing our nation," said Nagin. In his research, Nagin focuses on the evolution of criminal and antisocial behaviors over the life course, the deterrent effect of criminal and non-criminal penalties on illegal behaviors, and the development of statistical methods for analyzing longitudinal data. Read the story.
Who's New at CMU?
Carnegie Mellon welcomes the following new staff members this week.
Ann-Marie Floresca, Director, University Stores;

Alexander Jones, ORIC Triage Coordinator, Office of the Vice President for Research;

Paul Bennett, Assistant Director, Part-time & Online MBA Programs, Tepper School of Business;

Benjamin Fozard, Temporary Employment Service, HR Operations;

Emily Spencer, Administrative Assistant II, Computer Science Department;

Emily Toal, Development Associate - I, Mellon College of Science;

Mohammad Ashraf Alimi, Temporary Employment Service, HR Operations;

Michael Stanley, Administrative Assistant II, Computer Science Department; and

Tapajit Dey, Software Architecture Researcher, Software Engineering Institute 
Did You Know?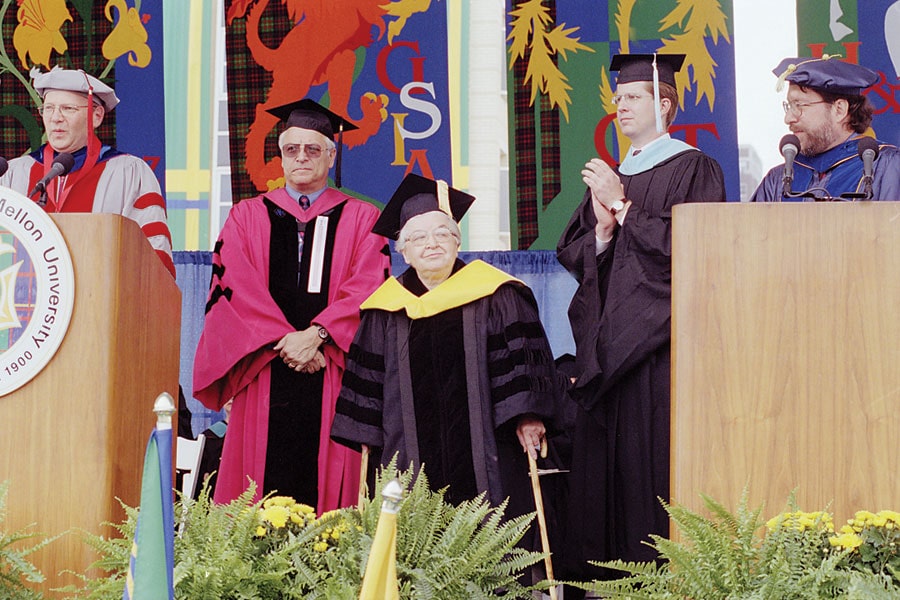 Stephanie Kwolek receiving her honorary degree from CMU in 2001.
At different points in her life, Stephanie Kwolek wanted to be a fashion designer and a doctor. Ultimately, her career had elements of both: she invented a fiber used in clothing that saves lives.
A 1946 Margaret Morrison chemistry major, Kwolek went to work for DuPont. One day in 1965 she was dissolving a polymer, patiently trying solvent after solvent. Nothing worked—so she tried a solvent not normally used. It produced a thin, cloudy liquid that behaved differently from any other; when Kwolek tried to shake it off the spatula, it held together.
She had to work hard to persuade her male colleagues to run the liquid through a spinneret, a device that forces dissolved polymers through tiny holes, extruding stringlike fibers. To everyone's surprise, the fiber from Kwolek's liquid couldn't be broken. This was something altogether new—and astonishingly strong.
A DuPont team developed the new fiber into Kevlar, which of course is the fabric used in bulletproof vests. Kwolek smiled as she recalled being at the White House in 1996 to receive the National Medal of Technology: she was treated indifferently by security forces until someone recognized her name. Suddenly, she was surrounded by guards and police clamoring to tell her how her invention had kept them safe.
Kwolek believed that Kevlar probably couldn't be invented in the modern day, because corporate America focuses more on near-term profits than on longer-term outcomes. "Productive research requires an investment of time and money," she said. "It's not like inventing a gadget in your garage."
Today, Kevlar has more than 200 applications, and Stephanie Kwolek's name appears on 17 patents. She has received innumerable awards and honors, and has even been an answer to a question on the popular game show Jeopardy.
After retiring in 1986, she worked as a consultant in polymer chemistry and completed a term on the Liquid Crystalline Polymer Committee of the National Research Council of the National Academy of Sciences.
Kwolek was active in mentoring other women scientists and participating in programs for school children. One of Kwolek's most cited papers, written with Paul W. Morgan, is "The Nylon Rope Trick," which describes how to demonstrate condensation polymerization in a beaker at atmospheric pressure and room temperature. This experiment is used in classrooms across America. She authored or co-authored more than 30 publications.
Kwolek was the fourth woman inducted into the then 113-member National Inventors Hall of Fame in 1994. She was awarded the National Medal of Technology in 1996, the Society of Chemical Industry Perkin Medal in 1997 and was inducted into the Plastics Hall of Fame in 1997. She received a Carnegie Mellon Alumni Distinguished Achievement Award in 1998 and was elected a member of the National Academy of Engineering in 2001.
She is a member of the American Chemical Society, the American Institute of Chemists, the Sigma Xi and Phi Kappa Phi honorary societies and the Franklin Institute of Philadelphia.

In addition to her honorary degree from CMU, Kwolek received honorary degrees from Worcester Polytechnic Institute and Clarkson University.