March 23, 2022
News Briefs
Tartan Swimmers Make a Big Splash at NCAA Championships
The Carnegie Mellon swimming and diving programs had a March to remember with all 15 NCAA qualifiers scoring points for their respective teams and earning All-America (top 8 finish) or Honorable Mention All-America (places 9-16) accolades. The men's team had its best finish since 2005, placing 14th overall with 11 competitors earning points in 10 different events while setting eight school records. Senior James Kyle earned the highest diving finish in school history when he placed fourth on the 3-meter board to pick up his second All-America honor. Senior Justin Britton completed his career with an All-American sixth-place finish in the 100-yard backstroke and earned six other Honorable Mention All-America awards. The men also had four of five relays earn a top-16 finish for the first time since 2005.
The women's team placed 24th with four swimmers earning points in three different events. Junior Bonnie Wang finished in the top 16 in both the 100-yard backstroke and 200-yard backstroke to garner Honorable Mention All-America status. Junior Tiffany Tseng and freshman Emma Hoffman earned honorable mention honors in the 100-yard backstroke and 200-yard backstroke, respectively. Senior Kierstyn Cassidy became the first Tartan woman to earn points at the NCAA championships in the 1,650-yard freestyle by placing 11th while setting two school records in the same race (10:22.10 – 1,000 yards, 17:07.20 – 1,650 yards). Wang's 100-yard backstroke time of 55.50 seconds is also a new school record.
Learn more about the men's and women's swimming and diving teams.
Eight Finalists to Compete for Three-Minute Thesis Championship March 30

Eight finalists will attempt to win this year's Three-Minute Thesis Championship at 4:30 p.m., Wednesday, March 30 in the College of Fine Arts' Kresge Theatre. A livestream will also be available.
Carnegie Mellon's Three Minute Thesis (3MT) pits doctoral students against the clock and each other to explain complex research and captivate their audience in just three minutes.
3MT is an internationally recognized competition that began at the University of Queensland in 2008. Keith Webster, the Helen and Henry Posner, Jr. Dean of the University Libraries who brought the competition to CMU, will be the host of the championship.
In its seventh year at CMU, 3MT offers the competitors a way to connect with others and learn critical public speaking skills. These opportunities have been limited by the pandemic.
This year's finalists are:
Gaurav Balakrishnan, Materials Science & Engineering, College of Engineering;
Emma Benjaminson, Mechanical Engineering, College of Engineering;
Aditi Chaudhary, Language Technologies Institute, School of Computer Science;
Sathvik Divi, Mechanical Engineering, College of Engineering;
Amaranth Karra, Materials Science & Engineering, College of Engineering;
Zekun "Suzy" Li, School of Architecture, College of Fine Arts;
Mohammad Ayaz Masud, Electrical & Computer Engineering, College of Engineering; and
Piyumi Wijesekara, Biomedical Engineering, College of Engineering.
Learn more about the competition.
CMU's International Film Festival Opens Today, March 24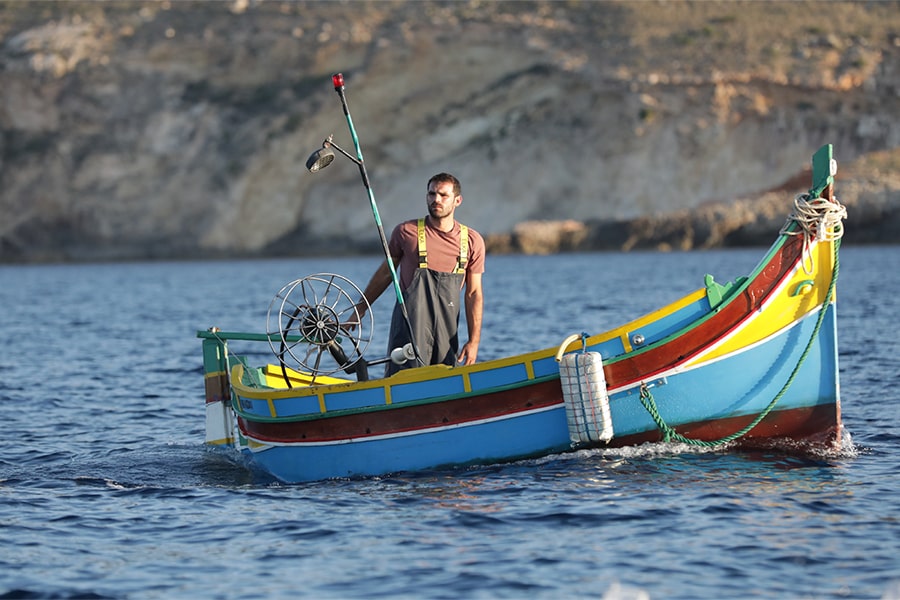 In "Luzzu," released in Malta in 2021, Jesmark, a Maltese fisherman, comes up against a moral, economic and social dilemma when his wooden fishing boat starts leaking. "Luzzu" will be shown at 7 p.m. March 31 in the Cohon Center's McConomy Auditorium.
Carnegie Mellon's International Film Festival opens today with "Casablanca Beats" at 7 p.m. in the Cohon Center's McConomy Auditorium. This year's 14 films fall under the theme "Faces Behind the Mask." 
The mission of the festival is to engage the Pittsburgh community with all-encompassing programming that promotes cultural exchange and expression, and through film illuminates the local and global ethnic communities, which seldom have opportunities to celebrate their artwork and culture on a large public scale. By collaborating with guest filmmakers, arts organizations and local businesses, the festival creates a platform for these ethnic groups to expose the Pittsburgh community to their cultures, allows attendees to identify and relate to their own origins, and for cinematic artists to engage audiences with their films and dialogues.
Created in 2006, the Carnegie Mellon International "Faces" Film Festival is a project of the Humanities Center at Carnegie Mellon, which has supported research and encouraged interest in the humanities for more than 15 years. The festival serves as a non-academic bridge to the greater Pittsburgh community, and opens its doors each year to the interests and passions of people across generations and cultures.
The festival runs through April 9. See this year's schedule of films and ticket options.
Masks To Become Optional, Gathering Limits Lifted, Effective March 28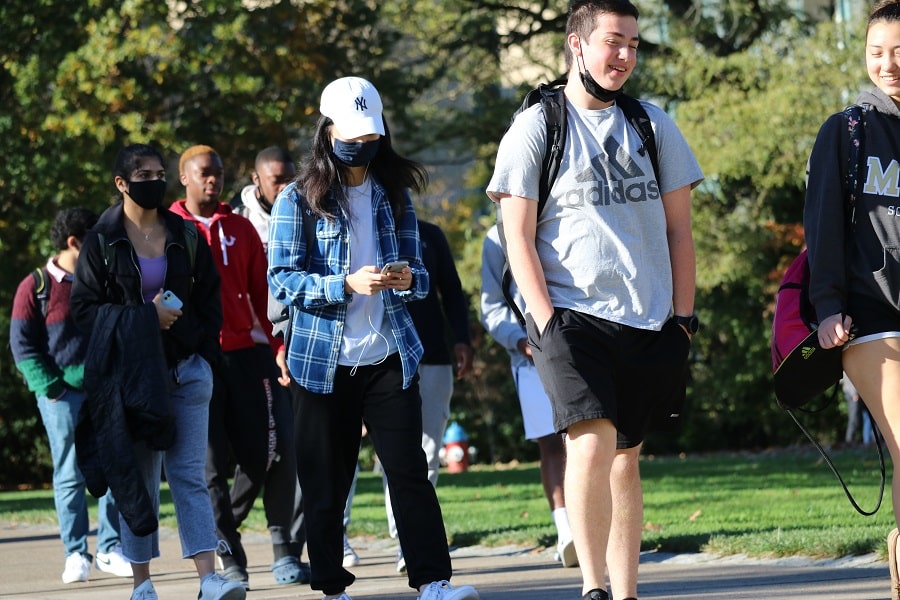 In a COVID-19 Update last week, CMU announced modifications to its guidelines for facial coverings and gatherings.
As of March 28, facial coverings both indoors and outdoors will be optional for members of the campus community who are up-to-date with respect to COVID-19 vaccinations (meaning fully vaccinated and boosted when eligible). Those who are not up-to-date on vaccinations must continue to follow mitigation measures, including wearing facial coverings while indoors.
There are several circumstances in which individuals will still be required to wear a high-quality, well-fitting facial covering indoors, regardless of vaccination status. These circumstances are:
Anyone who has tested positive (wear for at least three days following the seven days of isolation).
Anyone who has been a close contact of a positive case within 10 days of exposure.
Anyone visiting Tartan Testing or University Health Services.
Anyone riding a CMU shuttle or other public transportation.
Anyone in a university child care setting, including the Cyert Center for Early Education and The Children's School.
Individuals may choose to continue wearing facial coverings for a variety of reasons, and the university community is encouraged to support those who wish to do so. Continue to keep a facial covering with you for times when it will be beneficial. The university provides disposable facial coverings throughout campus, including KN95 masks via vending machines at no cost to students, faculty and staff.
In addition, as of March 28, all restrictions on gatherings (both indoor and outdoor) will be lifted. This means that attendees of in-person meetings and student organization and university-sponsored events will be allowed up to 100% of space capacity, and food may be served. 
Read the full COVID-19 Update.
Volunteers Needed for Take Our Child to Work Day
Take Our Child to Work Day on Thursday, April 28, is in need of campus community members to assist with registration, lunch, chaperone guided tours across campus, and monitor the children waiting to be picked up from Wiegand Gym. The time commitment for each role is detailed below.
Registration volunteers are needed from 10:45 a.m. through about 12:15 p.m.
Lunch volunteers are needed from 11:45 a.m. through 1 p.m.
Track Guides are needed from 1 – 3:15 p.m.
Session Presenters are needed from 1 - 3:30 p.m.
Monitors at pick-up are needed from 3 – 4 p.m.
Since these positions include direct contact with children as defined by the Pennsylvania Child Protective Services Law (as recently amended by "Pennsylvania Act 153") you will be required to obtain certain clearances prior to participating in the event. Information about these clearances and how to obtain them will be provided separately. If you are interested in volunteering in any capacity, please send email to toctwd@andrew.cmu.edu.
Recognize Your Student Employee, Register for the Celebration Event
The annual Student Employee Appreciation Celebration, sponsored by the CPDC, will once again be a virtual event this year. The celebration will be held from 12 -1 p.m. ET Tuesday, April 12.
To submit a student for recognition, you are only required to complete the Student Employee Recognition Submission Form.
All current undergraduate student employees, remote or on-site, are eligible to be recognized. The submission deadline is March 25. Contact Pati Kravetz, pk13@andrew.cmu.edu, with questions.

CMU's Confidential Ethics Reporting Hotline Has New Vendor and Contact Information
The Office of Human Resources has announced that CMU has partnered with a new vendor and system, Navex Global and the EthicsPoint hotline system, to administer the university's Confidential Ethics Reporting Hotline. The switch to the EthicsPoint hotline system provides many new benefits, including greater ease of use, elimination of the need for a username and password, and an enhanced ability to follow up on reported issues.
As a reminder, members of the university community are responsible for reporting unethical, discriminatory or illegal behavior, and are encouraged to report suspected violations through their supervisor or other appropriate university official. However, in situations where you are not comfortable reporting through standard channels and/or prefer to report anonymously, CMU provides a hotline that the university community can use to confidentially report suspected unethical, discriminatory or illegal activity relating to financial matters, academic and student life, human relations, health and campus safety, or research.
To file a confidential report, access cmu.ethicspoint.com and use the online form. Alternatively, you can call the hotline at 844-587-0793, 24 hours a day, 7 days a week. All submissions will be reported to the appropriate university office. The hotline is NOT an emergency service. For emergencies, call University Police at 412-268-2323 or 911.
Please help spread the word by updating your electronic and print communications with the new hotline contact information, and by sharing the ethics hotline poster [pdf]. If you would like print copies of the poster to display in your area, please contact HR Communications.
Register Your Child for Gelfand Summer Outreach Classes
The Gelfand Center has announced its Summer Series outreach classes. The in-person, STEM focused, programs are for rising K-9 students. Classes are conducted in June and July. Registration is first-come, first-served. To apply, REGISTER HERE today.
Who's New at CMU?
Carnegie Mellon welcomes the following new staff members this week.
Lana Al Doori, Recruitment Manager, Psychology;
Crystal Calloway, Associate Buyer, Campus Design and Facility Development;
Ernesto Bedoy, Research Assistant, Mechanical Engineering;
Theresa Thrower, Study Abroad Advisor, International Education;
Sara Logan, Research Associate II, Biological Sciences;
Samantha Seroka, Executive Assistant to the Department Head, Chemical Engineering;
Christen Rose, Assistant Director of Admission, Undergraduate Admissions;
Chris Massimino, Gardener I, Facilities Management and Campus Services;
Draga Luksic, Temporary Employment Service, HR Operations;
Henry Craig, Systems Software Engineer, Network Development (Comp Services);
Hannah Carroll, Administrative Coordinator, Chemical Engineering;
Kristin Pierce, Executive Assistant III, Communications & Marketing;
Matthew Germaine, Systems Software Engineer, Network Development (Comp Services);
Michael Mattarock, Senior Engineer - Program Development, SEI Ai Do;
Richard Weise, Associate Cybersecurity Engineer, SEI Cyber Data and Content Curation;
Steven Althardt, Educational Technology Associate, Heinz General & Administrative;
Stephanie Bolla, Academic Services Coordinator, Electrical & Computer Engineering;
Tanner Parsons, Research Assistant, Tepper School of Business Masters Program;
Victoria Donahoe, Administrative Coordinator, History;
Brendan Livelsberger, Research Assistant, Mechanical Engineering;
Glotilda Cheruto, Administrative Officer, Heinz Australia; and
Jason Dohoda, Training Coordinator, Benefits.