Facial Coverings
Everyone must wear a facial covering sufficient to cover the nose and mouth at all times — both inside and outside of buildings. Masks are the most common facial covering.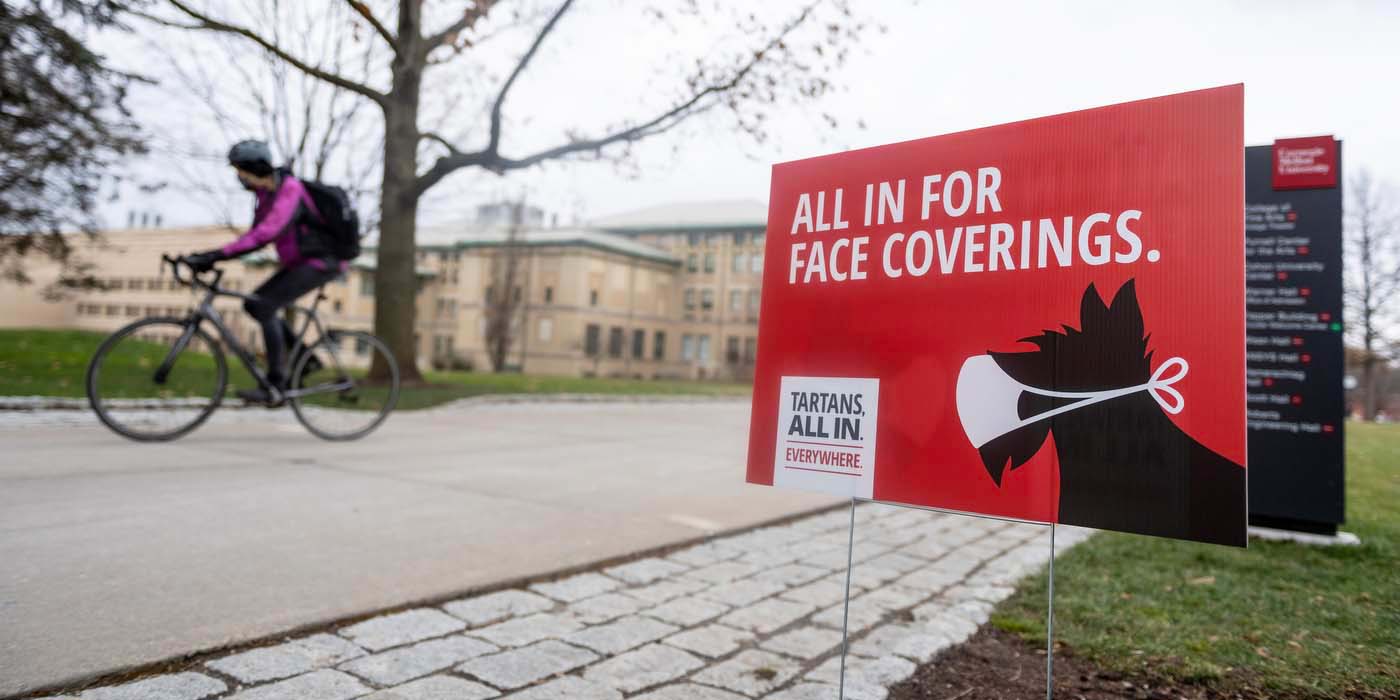 Disposable Masks Available Throughout Campus
For double mask protection, disposable masks are available throughout campus at Wean Hall, Scott Hall, Roberts Engineering Hall, Robert Mehrabian CIC, Newell-Simon Hall, Hamerschlag Hall, Hunt Library, CUC, Gates and Hillman Centers, Tepper School of Business, Doherty Hall, Warner Hall, College of Fine Arts, Hamburg Hall, Margaret Morrison Carnegie Hall, ANSYS Hall, Purnell Center for the Arts, Smith Hall, TCS Hall, Posner Center, FMS Building, Skibo Gym, Baker-Porter Hall, HOA/Posner, Cyert Hall, Pittsburgh Technology Center, Mellon Institute, all Dining locations, Software Engineering Institute, 4612 and 4615 Forbes Avenue, 4516, 4618 and 4620 Henry Street; Whitfield Hall, 205, 300, 311, 319 and 407-409 South Craig Street; 4609 Winthrop Street, 4721 Fifth Avenue and 477 Melwood Avenue.
Making the Most Out of Masks
Correct and consistent mask use is a critical step everyone can take to prevent getting and spreading COVID-19. Masks work best when everyone wears them, but not all masks provide the same protection. When choosing a mask, look at how well it fits, how well it filters the air and how many layers it has.
Source (CDC): Learn more about improving how your mask protects you. 
Make sure your mask fits snugly against your face.
Gaps can let air with respiratory droplets leak in and out around the edges of the mask.
Use a mask with layers to keep your respiratory droplets in and others' out.
Or wear a disposable mask underneath your cloth mask.
Additional Mask Guidelines
Wear your mask correctly
The mask should cover your nose and mouth and be secured under your chin.
Don't put the mask around your neck or up on your forehead.
Don't touch the mask, but if you do, wash your hands or use hand sanitizer.
Remove mask carefully when you get home
Handle mask only by the ear loops or ties.
Be careful not to touch your eyes, nose or mouth when removing and wash hands immediately after.
Wash mask after each use
How to Wear and Remove Fabric Masks
Exceptions for Removing Masks
Exceptions include: While eating or drinking, if working outdoors during hot and humid conditions, or when alone in a private space, such as an office, assigned residence hall room, or enclosed vehicle. When outdoors, facial coverings are expected to be worn whenever physical distancing of 6 feet or more cannot be maintained, such as on sidewalks and in other similarly crowded or rapidly changing circumstances.
If you cannot wear a facial covering due to a medical condition, please contact either the Office of Disability Resources (students) or HR Disability Services  (employees) to request an exemption as an accommodation. Individuals who are granted a medical exemption from wearing facial coverings are expected to access university programs, activities, and courses remotely or through other contactless methods (e.g. pick-up / delivery) whenever reasonably possible.