June 29, 2022
News Briefs
CMU Wins Gateways to Blue Skies Aeronautics Competition
The Carnegie Mellon team's project, "Sustainability and Connected Autonomy: A New Era for Aviation," took first place in the inaugural Gateways to Blue Skies Competition. Competing among eight finalist teams who presented their ideas for future climate-friendly airport designs, the CMU team earned the top award at the 2022 Blue Skies Forum, hosted at NASA's Langley Research Center on June 2-3. The Forum was judged by subject matter experts from NASA and industry.
The Carnegie Mellon team was awarded an opportunity to intern at any of the four NASA Aeronautics Centers across the country during the 2022-23 academic year. They were also awarded an opportunity to present their climate-friendly airport integration concept at the Airports Council International – North America Annual Conference and Exhibition on September 18 at the Minneapolis Convention Center In Minneapolis, Minnesota.
Meet the VentureBridge '22 Startups

The VentureBridge program, part of the Swartz Center for Entrepreneurship at Carnegie Mellon, has announced its investment in 12 startups headquartered in San Francisco, New York and Pittsburgh, representing brilliant and ambitious alumni founders of Carnegie Mellon, Emory, Harvard, NYU, Rochester Institute of Technology, Stanford, University of California at Santa Barbara, and University of Missouri at St Louis. 
These 12 startups are engineering innovative solutions to combat corrosion, decarbonize cold chain logistics, improve indoor and outdoor heating efficiency, convert future receivables into income generating assets, and much more.
Meet the VentureBridge startups.
Livehoods Project Wins Test of Time Award
Ten years ago, researchers in the School of Computer Science were among the first to demonstrate how analyzing public, anonymized location data at scale could provide unique insights into the dynamics of cities.
CMU's Livehoods project redefined how people looked at location data and at their cities and neighborhoods. Lauded when it was published in 2012 and still highly relevant today, the work recently received the Test of Time Award from the International Conference on Web and Social Media (ICWSM) — the same conference that gave the team a best paper award when they first presented their findings. 
"We basically started this space," said Norman Sadeh, a professor in the Institute for Software Research and head of the Livehoods project. "This research was about investigating what we could learn from this data if we mined and managed it correctly. We were the first to show how this data was a direct reflection of how people perceive cities, neighborhoods and venues, and how these mental maps are reflected in their behaviors."
Sadeh and his team — Jason Hong, a professor in the Human-Computer Interaction Institute; Justin Cranshaw, a then-Ph.D. student in CMU's Societal Computing program; and Raz Schwartz, a visiting scholar at CMU from Bar-Ilan University in Israel  — analyzed 18 million public tweets embedded with location data from cities like New York, San Francisco and Pittsburgh. The team developed an algorithm that mapped the data to show how people interacted with their cities. The algorithm revealed locations frequented by clusters of people and showed other places those people were likely to go.
"The innovation with Livehoods was that geotagged social media could also be used to understand cities in ways not done before," Hong said. "It opened a new line of research that many people are still investigating today."
Find out more about the Livehoods project.
Swartz Center Names 2022-23 Innovation Commercialization Fellows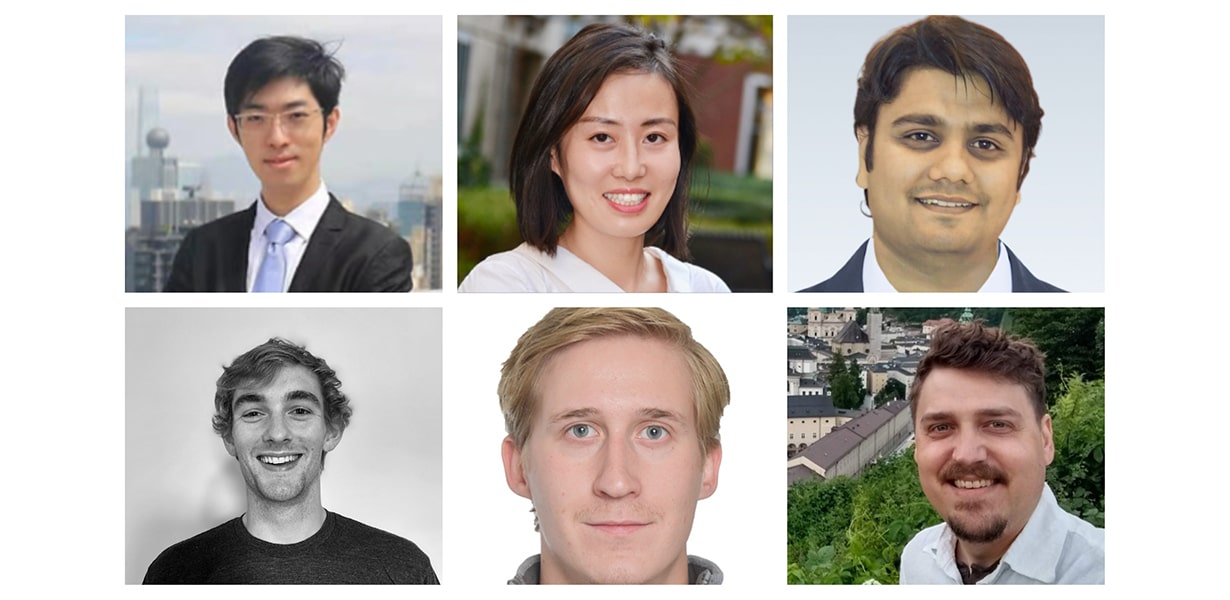 Clockwise from top left: Rui Cheng, Feifei Fu, Vishal Jain, Craig Shultz, Filip Relander and Spencer Matonis.
The Swartz Center for Entrepreneurship recently awarded six Innovation Commercialization Fellowships for 2022-2023. This year's recipients are:
Rui Cheng, a postdoctoral research associate in the Department of Mechanical Engineering, has developed a robust, low-cost, and scalable fabrication method for nanostructured films and is currently exploring its applications in energy-related technologies.
Feifei Fu, an MBA candidate at the Tepper School of Business and technical coordinator in the Biological Sciences Department, is a co-founder of Acuity Diagnostics, Inc., a spinoff startup from CMU's Biophotonics Laboratory in Biological Sciences, which develops advanced biological imaging methods. 
Vishal Jain, a research scientist in the Neuroscience Institute, and his team are developing a device, "PainAllay," which aims to help mitigate chronic pain following stroke, intense surgeries and similar conditions.
Spencer Matonis, a Ph.D. candidate in the Materials Science & Engineering Department, explores novel drug-delivery strategies for Crohn's Disease patients, which aims to lower the cost of IBD treatment and reduce the need for invasive surgeries in patients.
Filip Relander, a master's degree student in the Department of Biomedical Engineering, focuses on the use of near-infrared spectroscopy for non-invasive intracranial pressure sensing, and he is spearheading the commercialization of this technology. 
Craig Shultz, a postdoctoral fellow in the Human-Computer Interaction Institute, is an award-winning researcher at the intersection of haptics, electromechanical systems and human-computer interaction. Shultz is focused on commercializing novel actuation and sensing methods for haptic (tactile) interfaces, especially those which are inexpensive, reliable and high performance. 
The Innovation Commercialization Fellows Program is a yearlong program that works to accelerate the process of commercializing university research. It aims to foster entrepreneurship among graduate students, postdoctoral fellows and research personnel who work directly with faculty investigators to conduct scientific experiments, solve problems and innovate. Fellows are awarded $50K in funding and participate in dedicated workshops and intensive mentoring to pursue their startup idea. Since 2015 the program has awarded 40 fellowships.
Tartans Earn Best Finish for Overall Athletic Performance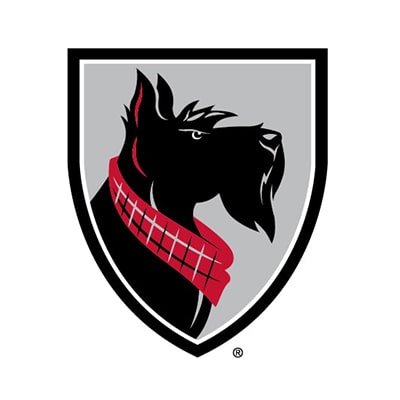 CMU finished 15th in the 2021-22 Division III Learfield Directors' Cup standings with a total of 725.75 points to record its highest finish in the 27-year history of the Learfield Directors' Cup. Following the 2017-18 school year, Carnegie Mellon was 23rd. The Tartans are one of four University Athletic Association institutions to crack the top 15 in the standings.
"It was a remarkable year for our program and I couldn't be prouder of our student-athletes, coaches and staff," said Director of Athletics Josh Centor. "We are explicit about our goals to be one of the top Division III programs in the nation, and we took big strides toward those ambitions this year. With the opening of the Highmark Center just around the corner, it is an incredible time to be a Tartan."
Carnegie Mellon received its points from scoring in 13 championships – four fall, four winter, and five spring.
Learn more about the Tartans success.
Engineering Professors Earn NSF Awards for Research
 
Eni Halilaj and Charlie (Xi) Ren have received National Science Foundation (NSF) CAREER Awards for their research with CMU's Mechanical Engineering and Biomedical Engineering programs. The NSF Faculty Early Career Development Program awards grants to "early-career faculty who have the potential to serve as academic role models in research and education, and to lead advances in the mission of their department or organization."
Halilaj, an assistant professor of mechanical engineering and director of the Musculoskeletal Biomechanics Lab, has been awarded a five-year grant to study musculoskeletal modeling with wearable sensors and smartphone cameras. Halilaj's research with the NSF grant will seek to make gait analysis more accessible for rehabilitation research and therapy monitoring. Her work will merge the complementary strengths of artificial intelligence and physics-based modeling into new motion-tracking systems that are low-cost, dynamically robust, and equitably accurate across human demographics and abilities. The project also plans on employing youth outreach programs to educate and inspire the next generation of biomechanical researchers and engineers.
Ren, an assistant professor of biomedical engineering, has been awarded a five-year grant for research into the role of the extracellular environment in lung tissue maturation during embryonic development and lung tissue regeneration after surgical procedures. The goal of the research is to aid in the engineering of functional lung cells from human-induced pluripotent stem cells (hiPSCs) or human made stem cells used for applications in tissue regeneration and repair or when combating diseases and injuries. Ren seeks to employ a new method of tracking the production of proteins in the extracellular matrix that are key to the regeneration of lung tissue. This new method will provide crucial data in the field of lung regenerative medicine and will address a current bottleneck in the progress of this research.
Employee Resource Groups To Expand in the Fall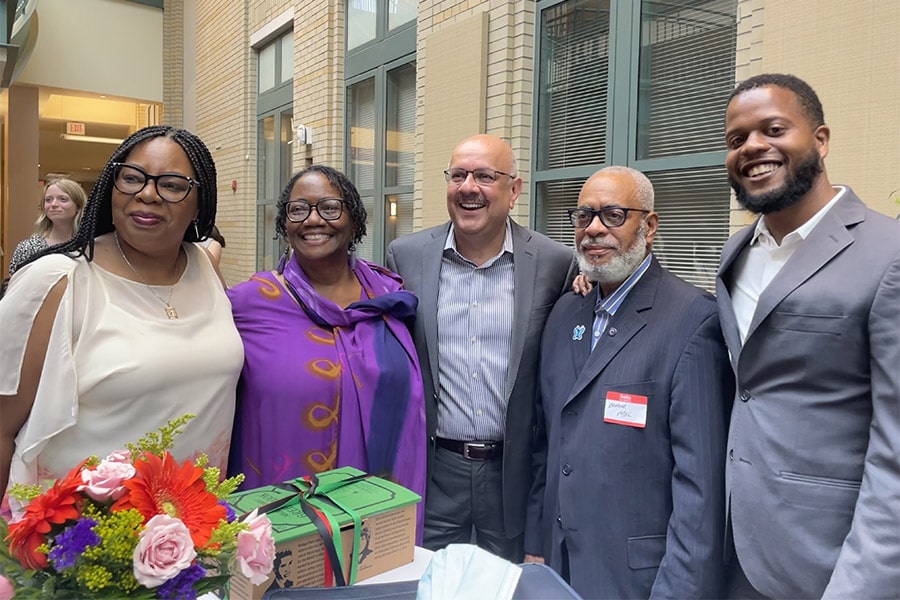 The Sankofa—Black Faculty and Staff Alliance, in collaboration with the School of Computer Science and the Office of the Vice Provost for Diversity, Equity and Inclusion and Chief Diversity Officer, held a Juneteenth Welcome Reception on June 16.
The Office of Human Resources has announced the expansion of CMU's employee resource groups (ERGs) with the launch of a new ERG in the fall: The Neurodiverse Faculty and Staff Alliance.
Neurodiversity explains that the differences in brain functioning within the human population are normal and that brain functioning that is not neurotypical should not be stigmatized. Examples can include, but are not limited to: ADHD, autism, bipolarity, dyslexia, sensory awareness and other learning disabilities. Those who self-identify and allies are welcome to join. If interested, please complete an ERG Membership Form. 
HR is also gauging interest in a Latinx ERG. Latinx includes Latinos, Latinas, gender-neutral or nonbinary individuals who represent Latin American roots and heritage, as well as the Hispanic community.
A Latinx ERG will help to unite our CMU faculty and staff and raise awareness of this rich culture. If interested, please complete an ERG Membership Form.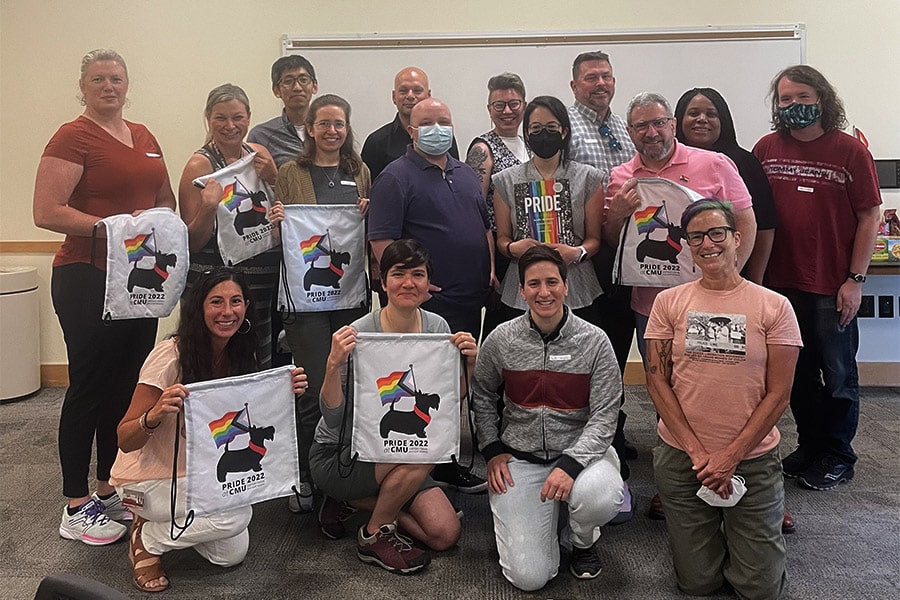 The LGBTQIA+ Faculty and Staff Alliance employee resource group celebrated with a Pride Month lunch on June 21.
Fire Evacuation Drills Scheduled for July
Environmental Health and Safety (EHS) is conducting fire evacuation drills this summer in compliance with local fire codes. All drills will be conducted between 9 a.m. and 12 p.m. and will last approximately 10-20 minutes.
Once the alarm sounds, please evacuate immediately in a safe and orderly manner – do not run. Shut-off any heat sources or equipment, quickly gather personal belongings (i.e. keys, purses, bags) and proceed to the nearest exit.
Remember to use stairs and not elevators when evacuating.
After exiting, proceed to the building's designated evacuation assembly points or move to a safe location 150 feet away or further from the building. Do not re-enter the building until given the all clear to return inside by EHS personnel.
If you need help evacuating, shelter-in-place or go to an enclosed stairwell, if safe to do so. Tell someone of your location and ask them to notify the EHS personnel conducting the drill. If you are not sure if the fire alarm is a drill, call University Police at 412-268-2323 and tell them your location and situation.
Learn more about the fire safety services provided by EHS. See the building evacuation schedule.
If you have questions regarding proper procedures for your area please email EHS at safety@andrew.cmu.edu.  
Who's New at CMU?
Carnegie Mellon welcomes the following new staff members this week.
Helen Scala, Surgical Research Manager, Biomedical Engineering;
Allison Connell, Eberly Center Data Science Research Associate, Eberly Center;
Taylor Atkins, Assistant Early Childhood Educator, HR Operations;
Andrew Coleman, Associate Director, Advancement Communications;
Bethany Butler, Early Child Educator, HR Operations;
Breanna Kraus, Assistant Cybersecurity Operations Researcher, SEI Monitoring and Response;
Brian Rodriguez, Security Officer, University Police;
Caroline Kaicher, Research Associate II, Psychology;
Christopher Small, Sr. Help Center Consultant, Computing Services;
Emma Miller, HR Specialist, HR Operations;
Jessica Lutz, IS Academic Advisor, Is Program in Dietrich;
Katherine Kennel, Temporary Employment Service, HR Operations;
Lencia Beltran, Project Coordinator, University Libraries-Deans Office;
Steven Ibarra, Assistant Software Engineer, SEI Security Automation;
Sera Passerini, Communications and Events Coordinator, College of Engineering Dean's Office;
Shelby Roberts, Benefits Administrator, HR Benefits;
Zachary Schoenrock, Online Program Manager, Integrated Innovation for Products and Services;
Kaitlin Heller, Senior Institutional Development Strategist, Human-Computer Interaction Institute;

Tejas Rane, Research Associate I, Robotics Institute – Campus;

Tabitha Pfleger, Facilities Manager, School of Music;

Caroline Huber, Contracts Analyst, Associate Vice President for Research & Academic Admin;

Hayley Schaeffer, Personal Care Associate, Electrical & Computer Engineering;

Joel Marchewka, Systems Software Engineer, Application Development (Comp Services);

Logan Widhalm, Administrative Coordinator, Integrated Innovation for Products and Services;

Mohan Kumar Srirama, Engineer, Robotics Institute – Campus;

Riley Keffer, Institutional Research Designer and Analyst, Tepper School of Business;

Sandra O'Neil, Dispatcher, University Police;

Star Broadus, Temporary Employment Services Manager, HR Operations;

Tyris Chapman, Early Child Educator, HR Operations; and

James Randolph, Hourly Shuttle/Escort Driver, Shuttle Service.