January 19, 2022
News Briefs
Seeking Orientation Counselors for 2022; Applications Now Open!
Want to make new friends and memories that will last a lifetime? Want to help shape the culture of CMU? Help a new class of first-year students chart their course and apply to be an Orientation Counselor!

The Office of First-Year Orientation is seeking Orientation Counselors for the 2022 First-Year Orientation program.

Orientation Counselors (OCs) are important student leaders as they help incoming students with their intellectual, social, emotional and cultural transitions to the Carnegie Mellon community. The Orientation Counselor position is open to all full-time undergraduate students at Carnegie Mellon who have completed at least one semester on campus and who are returning to Carnegie Mellon's Pittsburgh campus as a full-time undergraduate or first-year graduate student in the fall of 2022. Applicants must maintain a 2.5 QPA throughout the duration of their position and successfully complete a community standards records review. Orientation Counselors must be available to be back on campus by Sunday, August 14.

For more information about the position and selection timeline and to apply, please login to Handshake and search for job # 5725050. For more information about Handshake, please see the Career & Professional Development Center's website. Please note, you will be directed to submit an external application. Applications are due by 11:59 p.m. Sunday, January 30.
Stressed Out? HR Has Resources to Help
With COVID-19 cases rising, the Office of Human Resources reminds faculty and staff of the existing resources available to help with child care and other family care issues. Here's a summary of some key resources:
OHR also strives to provide high quality guides and resources on its website, including a Care Shares Document to help you connect with other families to share a nanny. 
CareLink is a wonderful resource for connecting with other CMU families and students. For parents, this can be a place to find baby sitters, tutors and families to share care with. It is also a good place to find help with pet care and household chores if you live close to campus.
OHR recently created a webpage that compiles care resources for staff and faculty. You can also visit the Family Care page or join the family care mailing list to stay updated on what OHR has to offer.
Finally, OHR asks all supervisors to remain flexible with employees regarding work schedules and workplace accommodations as we all cope with the unknowns of the pandemic and its impact on personal well-being and family care needs.
Gupta, Mason Named ACM Fellows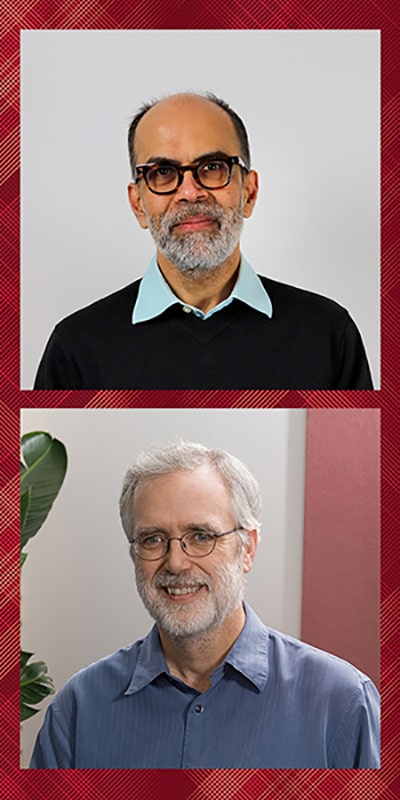 The Association for Computing Machinery (ACM) has named Anupam Gupta and Matthew T. Mason 2021 ACM fellows.
The ACM recognized Gupta, a professor in the Computer Science Department, for his contributions to approximation algorithms, online algorithms, stochastic algorithms and metric embeddings. Mason, a professor emeritus in the Robotics Institute, was honored for his contributions to robotic manipulation and manipulation path planning.
The ACM fellows program honors the top 1% of ACM members for their outstanding accomplishments in computing and information technology or outstanding service to the ACM and larger computing community. Gupta and Mason were among 70 fellows recognized in 2021.
Gupta's research focuses on algorithm design and algorithms for uncertain environments, like those arising in online and stochastic optimization. Mason, a past director of the Robotics Institute, heads the Manipulation Lab and studies robotic and human manipulation.
Learn more about the ACM Fellows.
Introducing "Making Possible"; Supporters' Impact Comes to Life Through New E-publication
Cover art for Making Possible by Deb Lee (CFA 2018).
Research preparing workers for an AI-future. An equity-focused center that fosters meaningful and action-oriented community-campus connections. Students from a wide variety of backgrounds and perspectives discovering new possibilities for their futures.
All this and more has been made possible by the more than 55,189 supporters of Make Possible: The Campaign for Carnegie Mellon University. Now, you can explore supporters' impact in a new e-publication that launched this month.
"Making Possible" shares stories of the people, places and programs that are shaping CMU's vision of the future of research and education. The inaugural issue takes an in-depth look at the new Center for Shared Prosperity, the CS Academy, the Block Center for Technology and Humanity and the Arts Greenhouse — initiatives having an impact now with the potential for revolutionary breakthroughs in the future.
Make Possible is a multiyear effort that aims to raise $2 billion in private philanthropy to support CMU's strategic priorities across the university and its seven colleges and schools. To date, campaign supporters have contributed more than $1.819 billion to CMU.
Visit "Making Possible" at makepossible.cmu.edu/impact-stories.
Attention Students: Learn About Summer Internships in Washington, D.C.
Student information sessions for the Friedman Fellowship will be held January 28, February 1 and February 11. The Friedman Fellowship provides financial aid for undergraduate and graduate students to intern in Washington, D.C., during the summer. Student internships in the nation's capital are available in government and nonprofit organizations. Information sessions will present an overview of the fellowship and application requirements, followed by a Q&A period.
All Carnegie Mellon undergraduate and graduate students who have a strong academic record and would value the opportunity to gain firsthand policy experience in a public or private sector in Washington, D.C., are invited to apply.
Get Fit 4 U! Fitness Challenge Begins January 24
Having a hard time finding the motivation to keep active with winter forcing everyone indoors? Join the 2022 Fitness challenge: Fit 4 U!
The goal is to participate in physical activity or exercise at least 20 minutes a day for four days or more each week. The challenge begins January 24 and continues over the next six weeks. To help you track your baseline movement, you may log all activities by filling out the shared sheets document.
Get Fit 4 U! Register for the challenge today. Questions? Email Pattye Stragar at pls@andrew.cmu.edu.
CMU-Led Team Will Develop Technology to Service Satellites in Orbit
Researchers from Carnegie Mellon will head a consortium selected by the Air Force Research Laboratory (AFRL) and the Air Force Office of Scientific Research (AFOSR) to pioneer research into robotic inspection, maintenance and manufacturing of satellites and other structures while in orbit. Led by principal investigator Howie Choset, CMU will collaborate with researchers at the University of New Mexico, Texas A&M and Northrop Grumman Corporation to develop systems for intelligent inspection, dexterous maintenance and agile manufacturing of satellites in space. 
"This is an incredible opportunity to work together toward an ambitious goal," said Choset, a professor in the Robotics Institute at CMU's School of Computer Science. "No one knows how to refuel spacecraft such as satellites and telescopes. If we're successful, we will." 
The work will require expertise in artificial intelligence, hard and soft robotics, additive manufacturing, astrodynamics, estimation theory, control and space systems. Researchers intend to further develop existing technologies related to self-deployable construction tools, decentralized autonomy, attaching new components to existing structures while in orbit, and intelligent and interactive inspection.
CMU's efforts will be led by Choset and Matt Travers, co-directors of the Robotics Institute's Biorobotics Lab, and Carmel Majidi, a professor of mechanical engineering in CMU's College of Engineering who specializes in soft robotics. They will build on previous work by Choset and Travers with Northrop Grumman that evaluated robotics and AI for servicing satellites while in orbit and conducting assembly and manufacturing tasks in space.
New Club Connects Students with Alumni Writers

The Writing Academy, founded in 2021, is a club dedicated to all forms of writing that provides students with opportunities for networking and developing professional skills. The organization currently has 28 members and is looking to grow.

The Writing Academy matches each member with a personalized mentor who caters to their mentee's specific writing needs and niche. Further, it allows a space for students to share their writing projects and obtain valuable feedback from their peers.

Sarah Abrams, Writing Academy founder and president, noticed an opportunity to create new networking options for CMU students interested in writing careers. With the desire to enter the field of technical writing, Abrams took it upon herself to create a space for CMU students to network with peers and alumni.

"There is a disconnect in the way that students are currently able to network with alumni in the writing industry," said Abrams. "This is a step toward connecting students with alumni."
Learn more about the Writing Academy.
Who's New at CMU?
Carnegie Mellon welcomes the following new staff members this week.
Alicia Fullilove, Housefellow and Coordinator of Residential Education, Division of Student Affairs, Community Life;
Denise Hardman, Adjunct Instructor, Human-Computer Interaction Institute;
Erin Gray, Accounts Payable Representative, Financial Reporting;
Jeannette Dow, Academic Program Advisor, Electrical & Computer Engineering;
Katie King, Housefellow and Coordinator of Residential Education, Division of Student Affairs, Community Life;
Kelly Collier, Entrepreneur In Residence, Computer Science Department;
Kaitlyn Hallock, Housefellow and Coordinator of Residential Education, Division of Student Affairs, Community Life;
Kevin Stephens, Associate Vulnerability Analyst, SEI Threat and Vulnerability Analysis;
Mitchell Coates, Associate Director, Development, Mellon College of Science;
Rachael Savage, Sponsored Research Administrator, College of Engineering Research;
Richard Butts, Help Desk Support Technician, School of Computer Science Computing Facility;
Tara Seman, Academic Coordinator, Computational Biology Department;
Miranda Sotelo, Assistant Director of Admission, Enrollment (Qatar); and
Mukhtar Maulimov, Software Developer, Robotics Institute - Campus.