November 10, 2021
News Briefs
Time to Rally; Help the Food Drive Reach its $100K Goal
Carnegie Mellon's 28th annual food drive, sponsored by Staff Council to support the Greater Pittsburgh Community Food Bank, needs your help now more than ever. With just a few days left — the drive runs through Monday, November 15 — the total raised thus far (more than $61,000) is still far shy of the $100,000 goal for this year. Please make your gift today!
For your convenience, cash contributions to support the Greater Pittsburgh Community Food Bank can be made online at https://pittsburghfoodbank.org/cmu28. Please know that gifts of any size are important and appreciated. In fact, $1 donated to the Food Bank can provide up to five meals! Note that you can make a gift to the CMU Drive, overall, or select a specific CMU team.
In addition, this year's drive is also seeking 200 manual can openers and 2,000 reusable grocery bags (can be gently used) for the CMU Food Pantry. Please make your gift today!
Learn more about the Food Drive and the many options you have to contribute.
Register for Police Review Open Forums, Nov. 17-18
As reported in last week's Piper, CMU's Police Department is undergoing a departmental review this year, similar to the periodic advisory board reviews that are conducted of each academic unit. The consulting firm 21st Century Policing Solutions (21CP) is reviewing CMUPD's operations, policies and practices in light of national best practices and policing principles.
As part of the assessment, 21CP has spent the past month meeting with CMU community members and neighbors to inquire about their experiences with the CMUPD, their sense of safety on campus and areas for improvement.
In addition to these targeted listening sessions, two virtual open forums have been scheduled in which students, faculty and staff can participate. They are:
Please register in advance; attendance is limited to 25 at each session. After registering, you will receive a confirmation email containing information about joining the meeting. Additional open forums will be scheduled if necessary.
Outside of the listening sessions and open forums, members of the university community may provide feedback by sending email to voicesofcmu@21cpsolutions.com.
Women's Soccer Team Advances to NCAA Division III Playoffs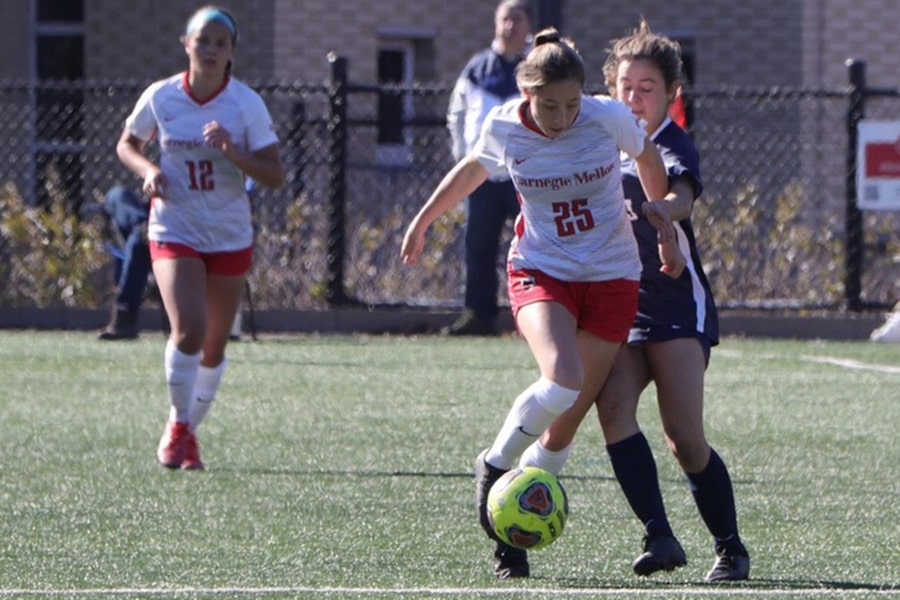 Carnegie Mellon's 15th-ranked women's soccer team received an at-large bid to the 2021 NCAA Division III Women's Soccer Championship after finishing fourth in the University Athletic Association. The appearance in the NCAA tournament marks the eighth in nine years for the program, which finished the regular season with an 11-5-1 overall mark.
The Tartans, who won two games against ranked opponents this year after playing six nationally ranked teams, will travel to McDaniel College in Westminster, Maryland, for the first round of the tournament. Carnegie Mellon will open the tournament at 1:30 p.m., Saturday, November 13 against Trine University.
The Tartans had one of the toughest schedules in the nation as they faced eight teams that made the tournament. Their five losses, all by one goal, came against nationally ranked teams.
Should the Tartans advance, they would play the winner of the McDaniel vs. Penn State Harrisburg game at 1 p.m., Sunday, November 14.
Find out more about the Tartans.
CMU Recognized as Top Performer in Sustainable Campus Index
Carnegie Mellon has been recognized as a top performer in the 2021 Sustainable Campus Index (SCI), tying for fifth overall among 30 institutions in the research category. The rating recognizes CMU for addressing sustainability challenges, and researching and developing new technologies, strategies and approaches to address those challenges.
Driven by CMU's Sustainability Initiative, the university is building upon two decades of an engaged effort in support of the Sustainable Development Goals (SDG), also known as the Global Goals. The Global Goals, are 17 global objectives to create a more equitable and viable planet by 2030.
The Sustainable Campus Index, a publication of the Association for the Advancement of Sustainability in Higher Education (AASHE), recognizes top-performing colleges and universities in 17 sustainability impact areas, as measured by the Sustainability Tracking, Assessment & Rating System (STARS). STARS is a voluntary framework used by hundreds of colleges and universities to measure, report and strengthen their contributions to global sustainability. Carnegie Mellon received gold status from the Association for the Advancement of Sustainability in Higher Education in 2019.
This ranking is based on CMU's current report, which is available on the STARS website. An update to this report is currently being developed and will be available in early 2022.  
Employee Resource Groups are Sponsoring a Winter Necessity Clothing Drive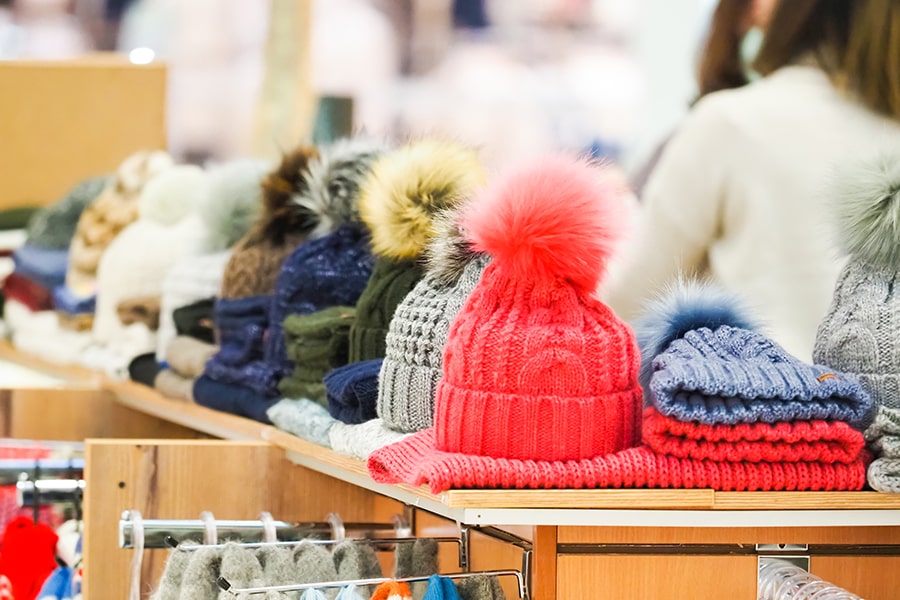 Carnegie Mellon's employee resource groups are sponsoring a Winter Necessity Clothing Drive to collect new hats, gloves, socks and undergarments for Familylinks, a social service organization based in East Liberty.
Donations for men, women and children are being accepted on campus from 8 a.m. – 5 p.m., December 1-2 in the Cohon University Center's Wean Commons, outside of the Connan Room. Thirty-minute free parking is available in the East Campus Garage. You can also donate online by purchasing items by November 29 from the Clothing Drive Wishlist.
Questions? Contact Darrell Baltimore at dbaltimo@andrew.cmu.edu or 412-268-5304. Find out more about the drive and employee resource groups.
Meet With the Provost Thursday, Nov. 18

Provost Jim Garrett will continue to host office hours for students, faculty and staff on Thursday, November 18 from 3 - 4:30 p.m. in CCR East in Warner Hall. Appointments will be made in person on a first-come, first-served basis. Provost Garrett welcomes you to use this time as an opportunity to tell him what's on your mind, and share your experiences, ideas and aspirations for Carnegie Mellon.
Red Whittaker, Andrew Moore Received Keys to the City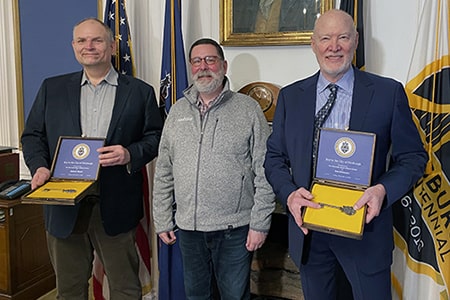 Pittsburgh Mayor Bill Peduto presented keys to the city to Carnegie Mellon's Red Whittaker and Andrew Moore on Friday, calling the two "leaders of the fourth industrial revolution." The mayor described Whittaker and Moore as humble men who love Pittsburgh and chose to stay in the city to train top-level scientists and develop transformative technologies.
"They created new ideas. They created new industries that not only changed Pittsburgh but changed the world," Peduto said. "They changed Pittsburgh beyond its economy and brought it back to the world stage."
Whittaker, the Founders University Research Professor in CMU's Robotics Institute, pioneered field robotics, designing systems for autonomous driving, the cleanup of nuclear sites and space exploration. He led the Tartan Racing program during the DARPA Grand Challenges of the early 2000s and won the 2007 Urban Grand Challenge — establishing CMU as a center for autonomy and self-driving vehicles.
Moore, the head of Google Cloud AI, is a former computer science professor and dean of CMU's School of Computer Science. While he was a professor, Google recruited Moore to start the company's Pittsburgh office. He later returned to CMU to serve as the SCS dean before rejoining Google in 2019.
Nominate an Educator for the 2022 Celebration of Education Awards
Each spring, the CMU community recognizes educators who exemplify the university's standards of excellence in education at the Celebration of Education Awards Ceremony. 
Nominations are now being accepted for 2022 and you are encouraged to nominate an educator whom you admire for their outstanding contributions to the university's educational mission. 
To be considered, nominations must be submitted by Monday, November 15.
Visit the Celebration of Education website to learn more about the award categories and nomination process.
CMU Police, SLICE Seek Your Help in Supporting Toys for Tots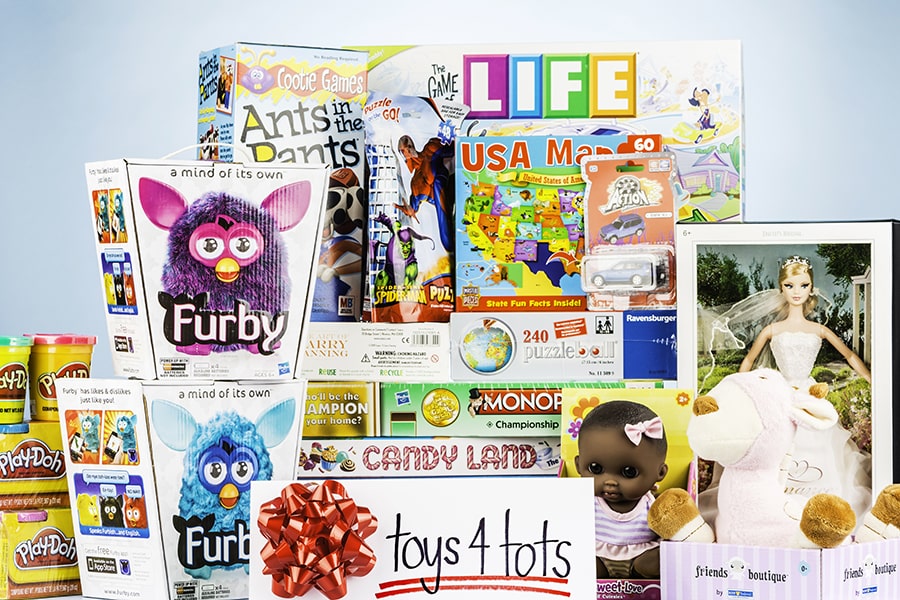 Give a toy and bring some joy this holiday season!
Carnegie Mellon Police and the Office of Student Leadership, Involvement and Civic Engagement (SLICE) are once again asking for your help as partners supporting the U.S. Marine Corps' Toys for Tots program. The program collects new, unwrapped toys and distributes them as Christmas gifts to less fortunate children in the local area.
You can help by purchasing a toy from the Amazon Wish List at tinyurl.com/cmuwishlist and dropping it off unwrapped at several locations on campus. Donations are being accepted through Friday, December 10.
Drop-off location are:
CMU Police Station, 4551 Filmore Street;
CMU Police Community Resource Office, Tepper Quad 2201;
Hunt Library, front entrance;
Alumni House;
SLICE Office, Cohon University Center;
Hamburg Hall, front entrance lobby;
CyLab, second floor Collaborative Innovation Center;
Enrollment Services, Warner Hall;
SEI, main entrance lobby;
Mellon Institute, Bellefield Street entrance lobby; and
NREC lobby.
You can also purchase toys from the Amazon wishlist and have them delivered directly to the CMU Police Department at 4551 Filmore, Street, Pittsburgh, PA. 15213.
Questions? Send email to atwade@andrew.cmu.edu or mvillase@andrew.cmu.edu.
CTTEC Seeks Grad Students for its Inaugural Fellows Program
The Center for Technology Transfer and Enterprise Creation (CTTEC) is looking for the inaugural cohort for its new CTTEC Fellows Program. This new program is an exciting opportunity for CMU graduate students to gain exposure to the process of commercialization of academic technology.
On a part-time basis, the fellows will assess the commercial viability of innovative university technologies and aid in the process of moving research from the bench to the outside world. This will enable CTTEC to provide faster and more thorough feedback to innovators while giving the fellows a chance to expand their resume and build skills in technology commercialization and intellectual property protection. 
Applications for the 2022 CTTEC Fellows Program will be accepted through Monday November 29. Applicants must submit a resume (no longer than two pages), along with a one-page cover letter describing your interest and potential fit in the program, to innovation@cmu.edu, attention Meghan Hayes. PDFs preferred.  Selected candidates will be invited for an interview.
 Questions? Send email to Meghan Hayes at meghanh@cmu.edu.
Art for August — Community Art Exhibit Comes to CMU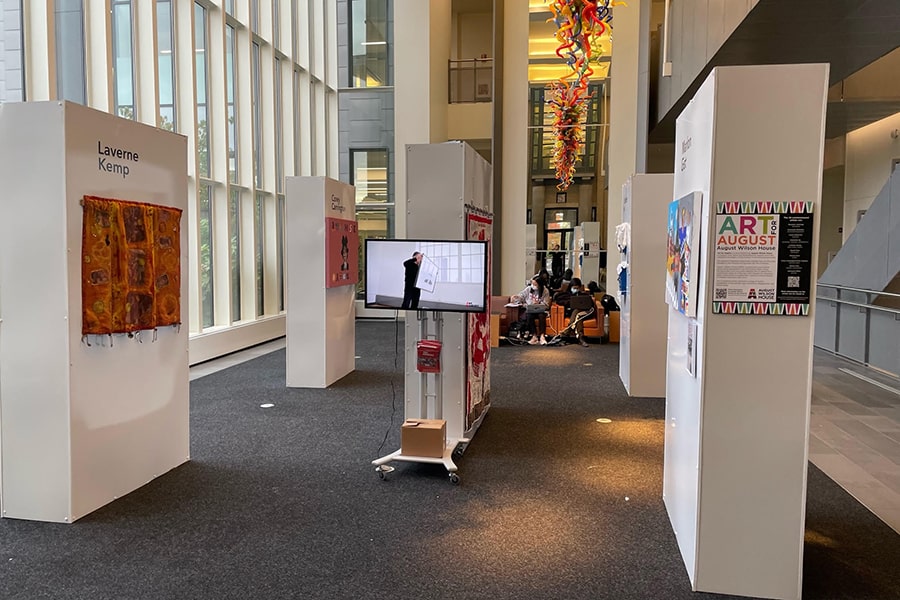 Carnegie Mellon, in partnership with the August Wilson House, is hosting the Art for August exhibit in the Lee Lobby of the Cohon University Center through December 15.
Art for August is a traveling exhibit to honor and celebrate the birthday of August Wilson, the Pulitzer Prize-winning playwright and Pittsburgh native, while supporting local artists and vendors. The exhibit debuted at the Energy Innovation Center on April 27 — Wilson's birthday — and has been traveling throughout Pittsburgh before making its way to CMU on November 1. The artwork included in the exhibit comes from local artists who were commissioned to create art in tribute to Wilson.
All CMU community members are welcomed and encouraged to view and experience the exhibit. For more information on the exhibit and the featured artists, please consult the Art for August Exhibit Brochure [pdf]. To learn more about August Wilson and his legacy, please take the time to visit the August Wilson House website.
Last Call for Faculty/Staff: Review Your Benefits Options; Open Enrollment Closes Nov. 15
Open Enrollment is the annual opportunity for faculty and staff to review their benefits coverage options and make selections for the upcoming calendar year. Benefits elections become effective on January 1, 2022, and remain in effect for the entire year. After the enrollment period, you cannot change your elections unless you experience a qualifying status change.
2022 Benefits Offerings and Changes to the HMO Plan
Visit the 2022 Open Enrollment website for information about 2022 benefits, including rates, the 2022 Benefits Guide and the 2022 Open Enrollment Overview [pdf].
For 2022, the Highmark EPO and UPMC HMO (available in the Western Pennsylvania area only) plans will be offered in place of the current Aetna HMO. The design of the plan will remain the same, and you will be able to choose the provider network that best meets your needs. The Office of Human Resources has scheduled numerous virtual events (see below) to provide information to assist you in making your decisions.
Enroll Online Through Workday
Log in to Workday to submit enrollment changes. If you are enrolling in a Flexible Spending Account (FSA), you must log in to Workday and select your contribution level. Your 2021 spending account elections will not automatically roll over to 2022, as the IRS does not allow FSA elections to roll over to the next year.
Refer to the Open Enrollment System Guide [pdf] for detailed instructions on the online enrollment process.
Virtual Events
The Office of Human Resources has scheduled virtual events to provide assistance as you navigate your benefits elections. You are encouraged to participate in a virtual event to learn more about your benefits options and get help making elections in Workday.
Virtual Benefits Fair
Visit the Benefits Fair through your computer at any time throughout Open Enrollment to learn more about benefits options. Booths contain information on health and welfare benefits, retirement savings plans, family care resources, and more. Visit at least five virtual booths to be entered into the fair raffle for a chance to win a prize!
Drop-In and Vendor Information Sessions via Zoom
The Office of Human Resources will again offer benefits drop-in sessions throughout the Open Enrollment period, and you are encouraged to join a session that best fits your schedule. A presentation outlining the 2022 benefits plan changes will be provided, and Benefits and HR Service team members will be available to answer questions about options and the enrollment process in Workday. Zoom's breakout room functionality will be used so participants can speak one-on-one with an HR team member. In addition, weekly vendor information sessions provide the opportunity to meet with representatives from UPMC and Highmark throughout Open Enrollment.
If you have questions regarding Open Enrollment, please contact Human Resources Services at 412-268-4600 or hr-help@andrew.cmu.edu.
Who's New at CMU?
Carnegie Mellon welcomes the following new staff members this week.
Alisha Roudebush, Administrative Associate, Institute for Software Research;
Natosha Safo, Associate Director of Impact, Rwanda - ICT;
Anna Radder, Director, Digital Marketing and Communications - College of Engineering Dean's Office;
Jaimie Sebeck, Employee Relations Specialist, Central Operations;
John Astleford, Executive IT Support Consultant, IT Service Desk (Comp Services);
Reginald Donkor, Finance Officer, Rwanda - ICT;
Sheng Zhang, Help Center Consultant, IT Service Desk (Comp Services);
Paris Maxshure, HR Generalist I, HR Operations;
Jessica Ignasky, III Communications Manager, Integrated Innovation for Products and Services;
Shen Zhang, MTS - Senior Engineer, SEI Ssd Emcs Systems Software Development;
Janet Zapata, Senior Administrative Assistant and Office Manager, Community Health & Well-Being; and
Mark Chimel, Senior Institutional Research Designer & Analyst, Office of the Provost.