March 01, 2021
Testing Managers Put Tartans First
By Bruce Gerson bgerson(through)cmu.edu
It's more than a job to pay the bills. For three new Tartan Testing program managers, it's an opportunity to help a community.  
George Innocenzo is operations director for Carnegie Mellon University's asymptomatic COVID-19 testing program for more than 15,000 Pittsburgh-based students, faculty and staff. He and his family moved here from Philadelphia last October after he lost his job in the citrus and avocado industry due to the pandemic. With 25 years of experience as an operations manager, he was looking for a challenge.
"One of the main things that attracted me to this job was the fact that I had the chance to work for an institution like Carnegie Mellon, help the university, and ultimately the community during the pandemic," he said. "It's rewarding to know that what we are doing has a hand in helping to keep everyone at CMU a little bit safer."
Innocenzo is responsible for the check-in process, saliva sample collection and transportation of the samples to the Tartan Testing Lab in the Pittsburgh Technology Center on Second Avenue. He supervises more than 50 team members.
After a successful ramp-up period in January and February, Innocenzo said the program is expected to process about 2,000 samples per day.  
"The program and lab were built from the ground up so it is on ongoing situation of improving our processes, efficiency and output," Innocenzo said. "We have had to make a lot of changes since we first started to ensure efficiency, and to make sure the members of our team and those taking the test are all as safe as possible."
Vini Costanzo, the Tartan Testing intake manager, is responsible for setting up the appointment schedules, controlling the supply inventory, training new staff, and overseeing the Danforth Lounge check-in location and the collection sites on the first and second levels of the East Campus Garage.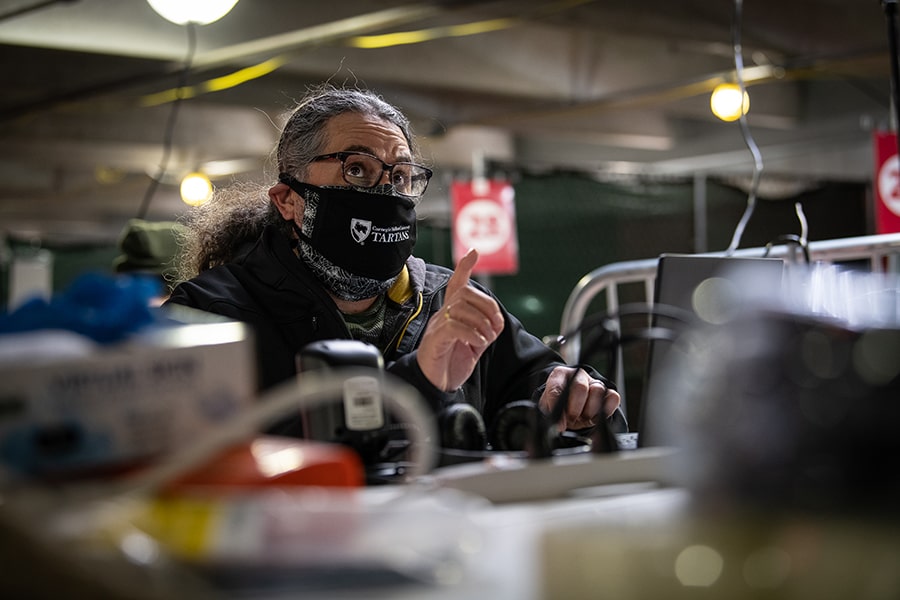 Vini Costanzo
His 20 years of management experience include stints at the Andy Warhol Museum in Pittsburgh, Madame Tussauds New York and the world's largest Build-a-Bear Workshop in the Big Apple.
"My typical day at CMU begins at 5:30 a.m. on Mondays and Wednesdays and 7 a.m. on Tuesdays and Thursdays. We start by setting up the laptops and seven check-in stations in Danforth and the 48 collection stations in the East Campus Garage," Costanzo said.
"The appointments begin right away with up to 20 people arriving every 5 minutes. From there it's non-stop."
Costanzo said it feels good to do work that is helping to stop the spread of the virus, and praised the people he works with. "I have a remarkable team from various backgrounds and generations," he said.
One of those team members is supervisor Nicole Shughart, who helps train new hires in the point-and-click appointment scheduling system and assists with questions and concerns at the collection site.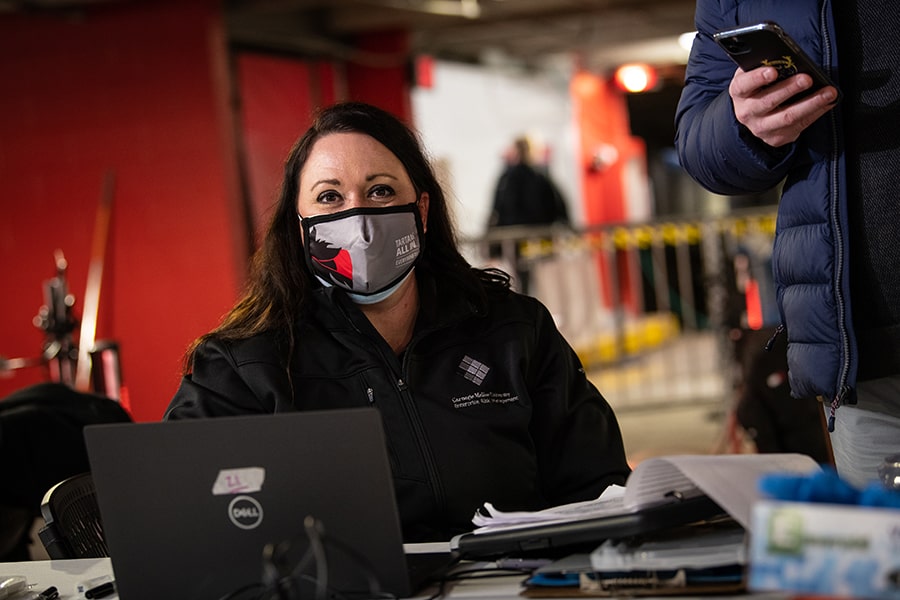 Nicole Shughart
Shughart began working for the Tartan Testing program as a Temporary Services Employee last fall.
"I wanted to help our community, and I really enjoy working with the staff, faculty and students at Carnegie Mellon," she said. "The students are only a little older than my own son, Cole, and I feel they need guidance and help through this unprecedented time with care and a calming voice. I really love working with the student body."
Shughart's grandmother was a nurse, and her mother was an X-ray technician.
"I have 20 years of experience in the restaurant business, but I've always had an interest in health care," she said. "I was looking into going back to school to be a nurse prior to this opportunity."
Innocenzo, Costanzo and Shughart find their positions rewarding — they all enjoy helping the community — and challenging in various ways.
"I have to say the most challenging part is the temperature," said Costanzo of the recent cold climate in the East Campus Garage.  "I am looking forward to spring."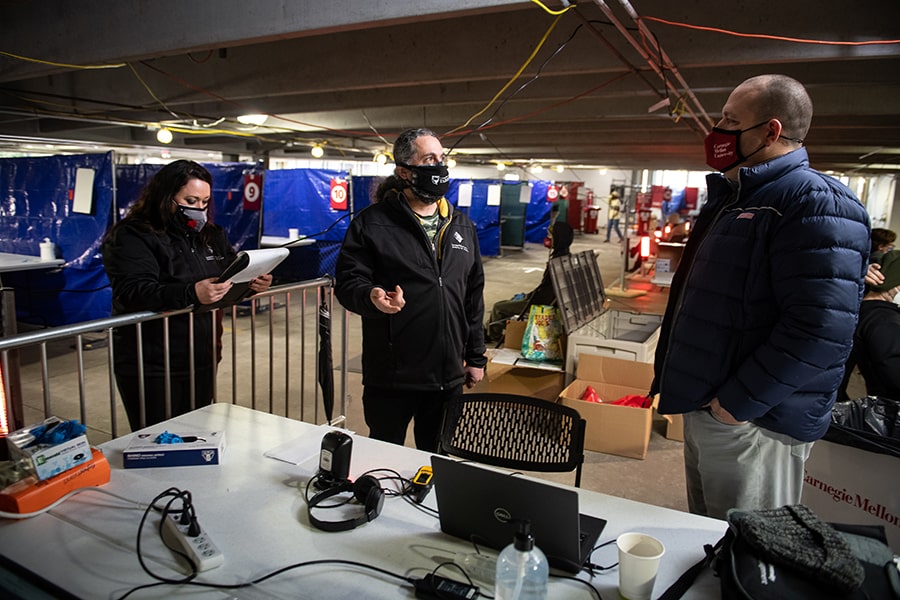 Nicole Shughart, Vini Costanzo and George Innocenzo in the East Campus Garage testing site.