June 16, 2021
News Briefs
CMU Hosts Flag Day, U.S. Army Birthday Celebration 
Carnegie Mellon hosted a celebration honoring Flag Day and the U.S. Army's 246th birthday this past Monday, June 14.
The event included a brief in-person ceremony during which CMU President Farnam Jahanian and Vice President for Research J. Michael McQuade reflected on the university's past and present partnership with the Army, noting in particular, the Army Artificial Intelligence Innovation Center (AI2C), formerly called the Army AI Task Force.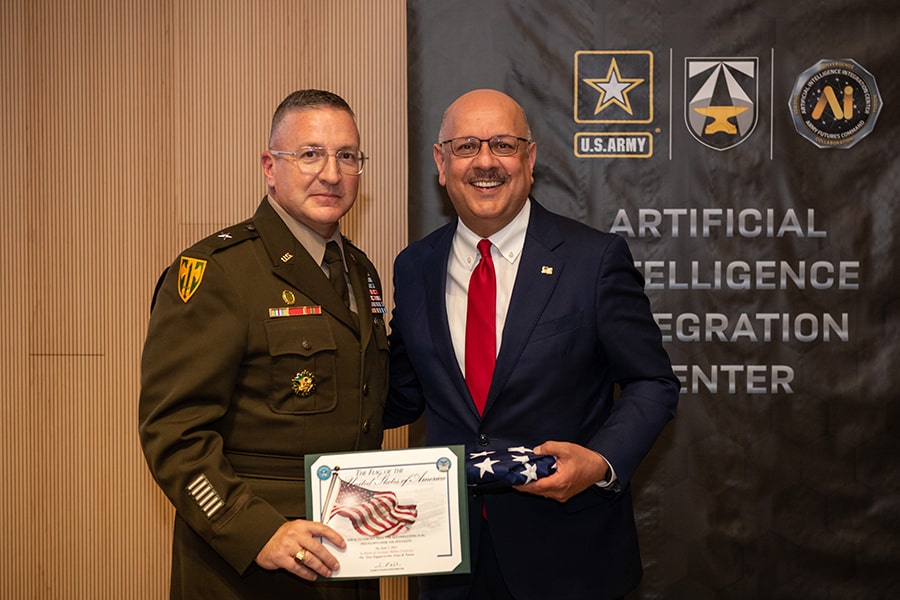 Brigadier General Duane R. Miller presents CMU President Farnam Jahanian with a U.S. flag that had been flown over the Pentagon.
Army participants in the ceremony included Brigadier General Duane R. Miller, the Deputy Provost Marshal General (PMG) and Commanding General of the U.S. Army Corrections Command (ACC), as well as the Deputy Commanding General of the U.S. Army Criminal Investigation Command (USACIDC); Army Reserve Ambassador for Pennsylvania Brigadier General Chaplain Robert Pleczkowski, U.S. Army retired; and Colonel David Bradshaw, the AI2C Deputy Director.
Rory Cooper, adjunct professor in CMU's Robotics Institute and professor at the University of Pittsburgh, who serves as a Civilian Aide to the Secretary of the Army (CASA) for Pennsylvania (West), also was a key participant in the event.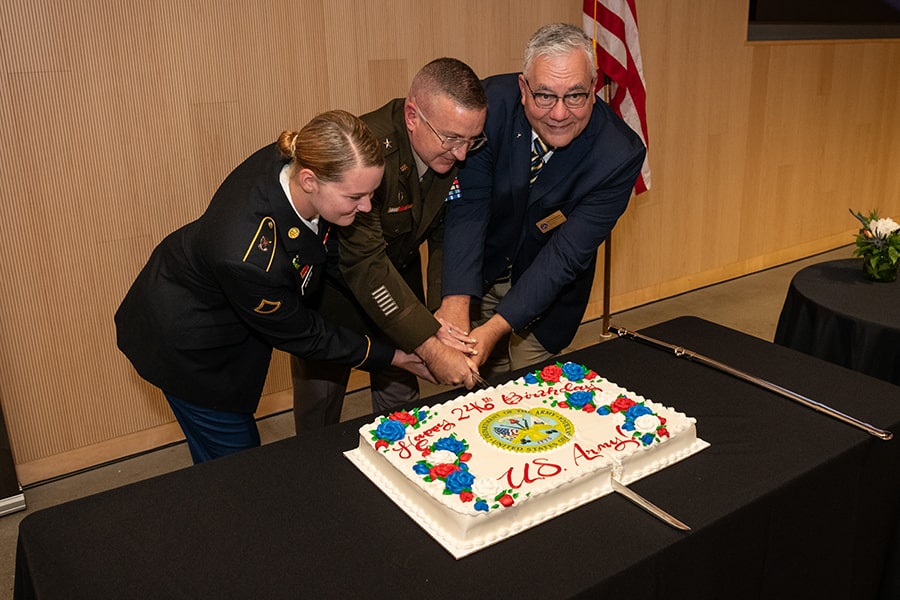 A cake-cutting ceremony followed traditional U.S. Army tradition — the most senior and most junior soldiers present cut the cake with a saber. Pictured are (l-r) Private First Class Arianna Waters, Brigadier General Duane Miller and Brigadier General Chaplain Robert Pleczkowski.

The event brought together AI2C staff, CMU's Army AI Hub staff and faculty that support the AI2C, and CMU students supported by the Army who are expanding the Army's expertise in data science and artificial intelligence.
Carnegie Mellon's partnership with the AI2C is accelerating the speed in which breakthroughs in artificial intelligence research are being applied to integrate new knowledge, technologies and innovations into Army operations to help protect our country and the lives of those, like many in attendance of the event, who serve the nation.  
Five Faculty Selected To Receive Amazon Research Awards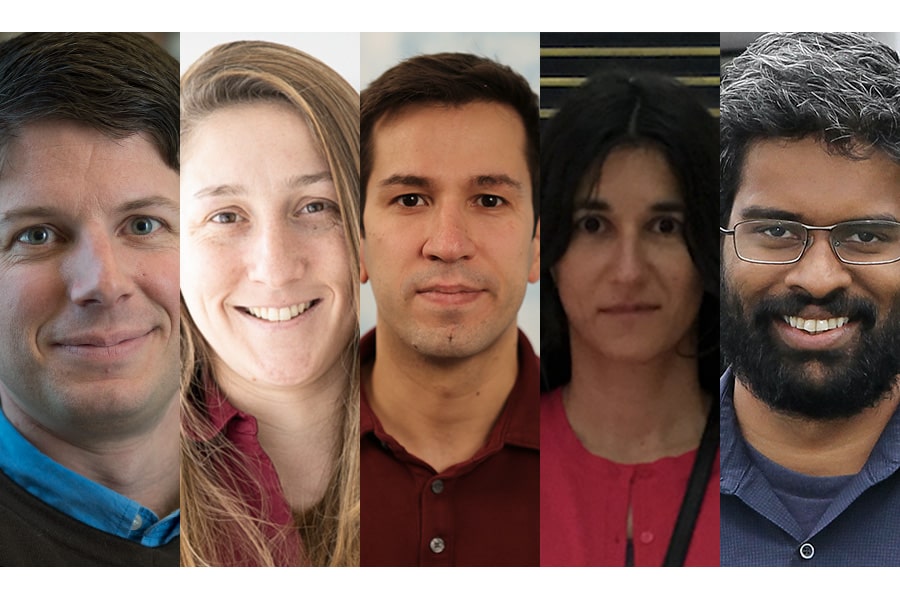 The recipients are (l-r) David Danks, Heather Miller, Ruben Martins, Katerina Fragkiadaki and Sivaraman Balakrishnan.
Amazon selected five Carnegie Mellon faculty members to receive funding in its latest round of Amazon Research Awards.
Katerina Fragkiadaki, Ruben Martins and Heather Miller from the School of Computer Science, and Sivaraman Balakrishnan and David Danks in the Dietrich College of Humanities and Social Sciences received fellowships.
The awards provide funding, access to Amazon public datasets, and the use of artificial intelligence and machine learning services and tools. Each award is intended to support one year of work for one to two graduate students or postdoctoral students with faculty supervision. Amazon provided 101 awards to recipients from 59 universities.
Find out more about the Amazon fellowship recipients.
Research Aims To Reset Travelers' Biological Clocks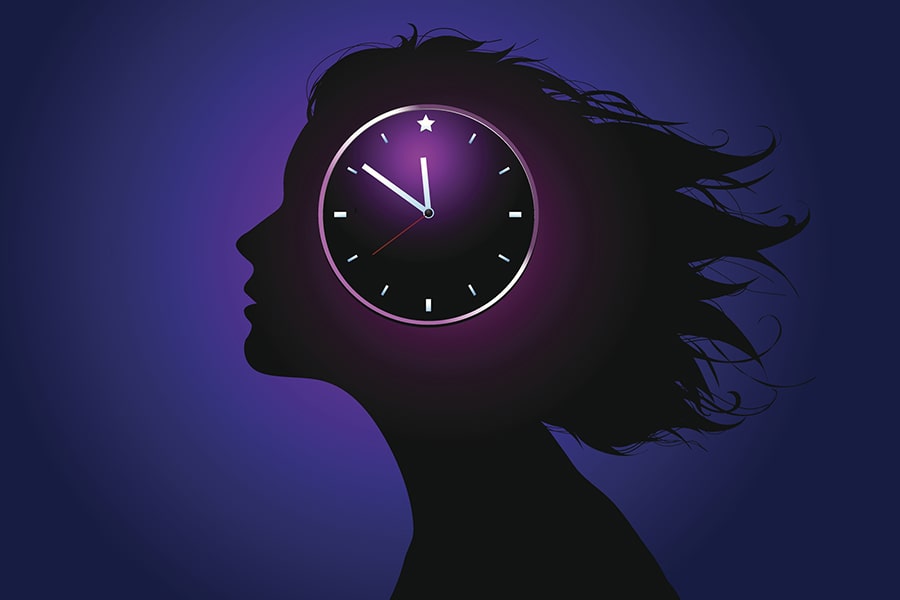 Carnegie Mellon researchers are part of a team working with the Defense Advanced Research Projects Agency (DARPA) to develop a system for regulating the body's circadian clock. Such a system will support military personnel who frequently travel across multiple time zones, and shift workers including first responders, who vacillate between overnight and daytime shifts.
The body's circadian rhythms are sophisticated cycles that regulate essential functions that range from sleeping and waking to digestion and hormone production. When the brain's master clock is disrupted — as with travel — physiological and mental processes bear the burden, causing a person to experience insomnia, gastrointestinal issues, impaired cognitive function, and even a weakened immune response. A new research collaboration aims to address this.
"Carnegie Mellon brings expertise in bioelectrical platform design and fabrication, along with rich experience in the development and implementation of neurotechnologies," said Tzahi Cohen-Karni, associate professor of biomedical engineering and materials science and engineering. "We are excited to collaborate with Northwestern and Rice universities, and leverage our collective strengths to support this unique project."
Study Shows Air Pollution Impairs Cognitive Function, Affects Workforce Productivity
Exposure to air pollution is detrimental in a number of ways, including harming cognitive skills such as attention, memory and problem-solving. But availability of data to measure the effect of pollution on cognition has been lacking. Now, a new study considering data from the brain-training game Lumosity, has found that exposure to fine particulate matter (PM2.5) impairs adults' cognitive function, especially for those of prime working age for new tasks, and for those with low cognitive ability, suggesting that air pollution may increase inequality in workforce productivity.

The study by researchers at Carnegie Mellon and the University of Queensland appears as a National Bureau of Economic Research working paper.

"This is the first time researchers have been able to study the adverse effects of pollution on cognition in a large group of working-age adults," says Edson Severnini, associate professor of economics and public policy at CMU's Heinz College, who co-authored the study. "Due to data limitations, previous studies have focused on only the young or the elderly."
Find out more about the study.
Promote Diversity, Equity and Inclusion; Join an Employee Resource Group 
Last fall, as a result of the Climate Task Force Listening Tours, the Office of Human Resources (OHR) began researching and developing a framework to provide resources and support to employees interested in establishing employee resource groups (ERG) at CMU. ERGs are groups formed by members of an organization to unite individuals to a common cause, improve awareness and engagement, and provide a structured framework and network for members.
To be formally recognized, an ERG's goals must align with the objectives and culture of CMU through self-identifying its purpose and its goals during the application process. Individual membership in ERGs is strictly voluntary, open to all interested individuals, and supports diversity, equity and inclusiveness. Additionally, ERGs act as a conduit for outreach efforts for the local community and for other campus initiatives.
During the ERG development process, the ERG working group researched peer institutions to see what other universities were offering in this arena and sought advice locally from Vibrant Pittsburgh. The team also sought the support of university leadership. Now that the resources have been developed, OHR has received approval to proceed with facilitating the establishment of three pilot ERGs (please note the names are placeholders; the members will determine the names for the groups):
Black Faculty and Staff Alliance
LGBTQ+ Faculty and Staff Alliance
Veteran's Alliance
Please click the link to submit your membership request for an ERG ERG Membership Form.
CMU Wins Two CASE Circle of Excellence Awards
Carnegie Mellon has received two Council for Advancement and Support of Education (CASE) Circle of Excellence Awards for 2021.
The collaborative team behind the 2020 Virtual Conferral of Degrees, led by Marketing & Communications and University Advancement, won a silver award in the Special Events: Online (Commencement) category. University Advancement also won a silver award in the Publications: Fundraising Publication Packages category for the "Make Possible" Campaign Case Statement Package.

Watch the 2020 virtual conferral of degrees.
The judges noted in their comments that the virtual conferral "was engaging and inspiring for graduates and families" and the campaign package "provided insight into the character and persona of the institution, and the personalized feel reflected their investment in internal, partner engagement early and throughout the process."
The international awards program honors outstanding work in advancement services, alumni relations, communications, fundraising and marketing at colleges, universities, independent schools and affiliated nonprofits. CMU's entries were among nearly 3,000 submitted entries for consideration in 100 categories from 530 higher education institutions, independent schools and affiliated organizations worldwide. Entries were judged by peer professionals at schools, colleges and universities as well as professionals from outside of education.
EHS To Conduct Building

 Fire

 

Evacuation

 Drill

s 
To practice fire safety awareness and preparedness, the Environmental Health and Safety (EHS) Department will conduct building fire evacuation drills in more than 40 academic and administrative buildings this summer. During the 15-20 minute drill, please follow these directions when the alarm sounds:
Never ignore a

 fire

 

alarm.
If a

 fire

 

alarm sounds, evacuate immediately in a safe and orderly manner – do not run.
If needed, turn off any heat sources or equipment, quickly gather personal belongings (i.e. keys, purse, bag) and proceed to the nearest exit.
It is recommended to have at least two ways out. Proceed to the nearest exit. Remember to use the stairs.
When exiting, move at least 150 feet away or further, to a safe location from the building.
Do not re-enter the building until given the all-clear to return inside.
For any ADA assistance during a

 fire

 drill

 

and inability to self-evacuate, shelter-in-place or go to an enclosed stairwell, if safe to do so. Tell someone of your location and ask them to notify the EHS personnel conducting the

 drill

. If you are not sure if the

 fire

 

alarm is a

 drill

, c

all University Police at 412-268-2323 and tell them of your location and situation.
Evacuation drills will be conducted between 9 a.m. and 12 p.m. and will follow the schedule below.
Tuesday, July 6, 9 a.m.: Hamburg Hall, Smith Hall, CIC, Doherty Hall, Hamerschlag Hall, Scott Hall. FMS Building and Wean Hall.
Wednesday, July 7, 9 a.m.: Margaret Morrison Carnegie Hall, Porter Hall/ Baker Hall, ANSYS Hall, Roberts Hall, CFA, Hunt Library, Posner/ Posner Center and HOA.
Thursday, July 8, 9 a.m.: Gates Hillman, Newell Simon Hall, Purnell / Miller Gallery, Cyert Hall, Cohon University Center and Alumni House.
Monday, July 12, 9 a.m.: INI Building, SEI, UTDC, Whitfield Hall, 4721 Fifth Avenue, GATF and TCS.
Tuesday, July 13, 9 a.m.: 205 S. Craig, 300 S. Craig, 311 S. Craig, 407 S. Craig, 417 S. Craig, Mellon Institute and Tepper Building.
Thursday, July 15, 9 a.m.:  6555 Penn Avenue, NREC, PTC, Mill 19.
Warner Hall – drill TBA.
Any rain make-up dates will be scheduled for the following week. If you have questions or concerns regarding these drills, please send email to safety@andrew.cmu.edu     
Piper Moves to Summer Schedule
The Piper has moved to its bi-weekly summer schedule for June and July. Upcoming publication dates will be July 1, July 15 and July 29. The Piper will resume its weekly schedule in August. 
Who's New at CMU?
Carnegie Mellon welcomes the following new staff members this week.
Emily Estanich, Animal Husbandry Technician I, MCS Dean's Office;
Erin McShane, Animal Husbandry Technician I, MCS Dean's Office;
Benjamin Commeau, Research Scientist − Quantum/Advanced Computing, SEI - ETC Dev Team 3;      
Rex Fernando, Research Associate, Computer Science Department;
Amanda Hodge, Animal Husbandry Technician I, Micv Lab;
Justin Ball, Police Officer, University Police;
Jeffrey Yurek, Research Associate I, Biological Sciences;
Mara Leff, Assistant Director, Block Center - Heinz College, Heinz College - Block Center;
Michael Taufkirch, Assistant Business Manager, HCII: Human Computer Interaction Institute;
Nancy Igoe, Sponsored Research Assistant, ISR: Institute for Software Research;
Ryan Scarpino, Media Relations Specialist, Marketing & Communications; and
William Pridgen, Electronics Engineer - Robotics Institute, Robotics Administration.