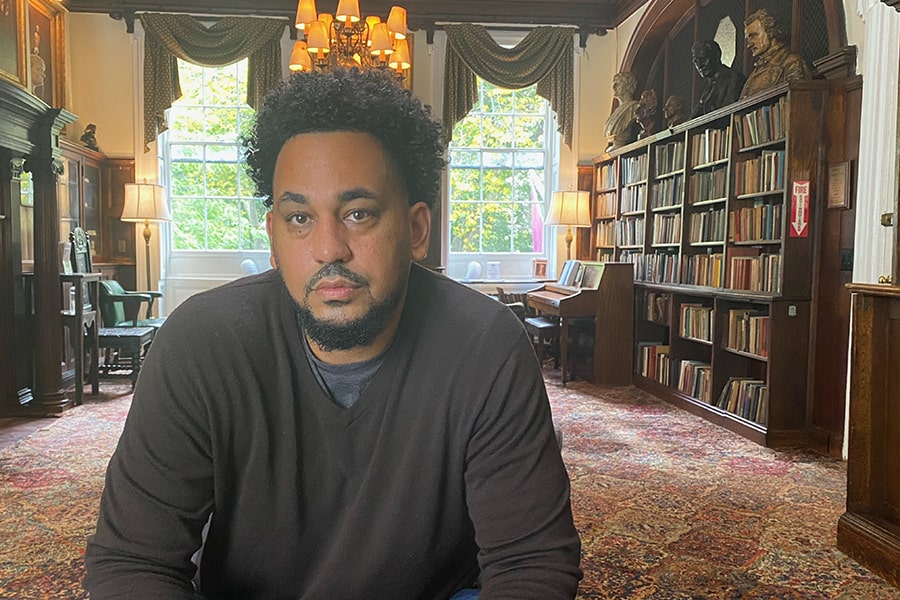 January 11, 2021
England Writes to Pay Tribute to Ghosts from his Past
By Bill Brink wbrink(through)andrew.cmu.edu
Quotes and anecdotes are the tools with which Jason England conveys his thoughts.
During a virtual event with students, the Carnegie Mellon University English professor injected them into his talk, pivoting around them, using them to set up his points. Upon quotes from Carlos Fuentes and Marilynne Robinson, England built the description of his background and how it influenced his life.
"I write, I teach, and I suppose I'm here today because I've seen the face of death, and because memory is a sense of loss and loss has pulled me after it," England said during a Professional Journeys discussion hosted by the Institute for Politics and Strategy's Center for International Relations and Politics.
This was not hyperbole.
England grew up in New York City, splitting time between a welfare hotel in Times Square and the projects in Harlem. Gunshots and drug use were commonplace in the hotel, a glorified crack house. He still hears the screams of people falling down the freight elevator shaft. After his mother pulled a knife from the chest of a neighbor whose wife had stabbed him, he took the knife and kept it for 30 years.
"I don't know how to talk about my professional journey," he said, "because it has not been traditional."
Out of that childhood, England found his way to Wesleyan University, where he graduated with high honors and received awards for his fiction writing. England received his Master of Fine Arts degree from the Iowa Writers' Workshop and was the Carl Djerassi Fiction Fellow at the University of Wisconsin. He has been published in Sports Illustrated, The Root and The Chronicle of Higher Education.
He became disenchanted with writing at one point, but another encounter with the prospect of death, this time on a bus in Minneapolis in a dispute over a cellphone, stressed its importance in his life.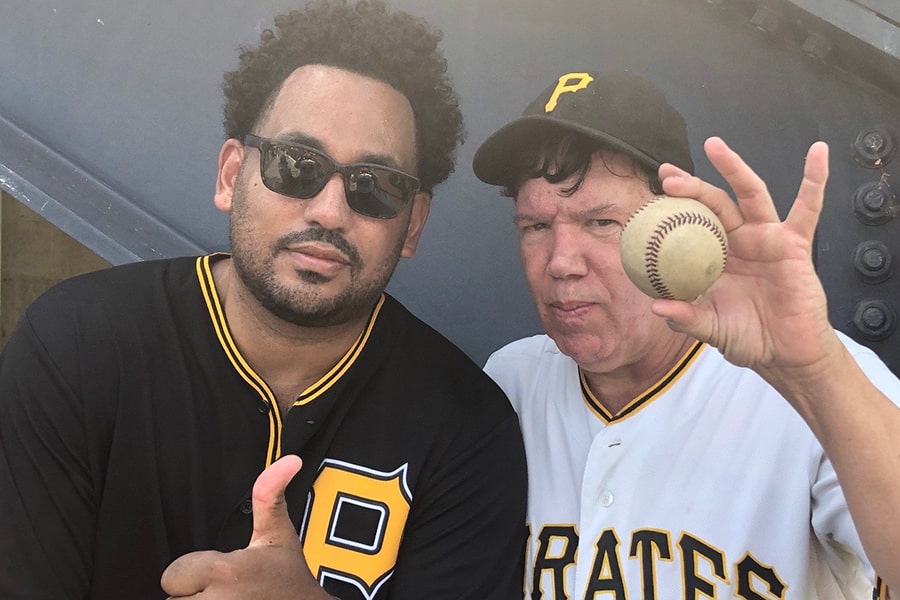 Pre-pandemic, Jason England poses with "Baseball Joe," a presence at every Pittsburgh Pirates baseball game.
"I realized that these ghosts in my past, these friends who had died, these bright lights who had self-immolated — I wasn't going to be able to pay any homage to them," he said. "I wasn't doing them any justice if I didn't get back to my career, if I didn't continue to write."
England taught at the University of Iowa and served as a dean of admissions at Wesleyan before joining Carnegie Mellon. He is currently working on two books, one creative and one nonfiction. He wants to carve out space at Carnegie Mellon to contribute to the community and engage with other departments.
"I think higher education, to some extent, is sometimes about letting people know that regardless of how much money you make, that there's a different measure of success," England said. "Spiritual success, success in terms of the contributions you make to society, shaping policy, shaping narrative. It was [WEB] DuBois who said that all art is propaganda, and that's not a bad thing. Art is a way that you can finally grab narrative and reclaim it. You can tell your own story. I think that that's more worthwhile than any corporate gig I could have ever gotten."
In explaining the way academia can at times delegitimize fiction writing, he turned to another anecdote. He began work on a Ph.D. in college. His project was called 'The Reinscription of Patriarchal Bias on 1970s Black Feminist Literature."
"Just reciting that reminds me of why I fled doing a Ph.D.," he said.
When answering a question about the intersection of creative writing and current events, he said he saw the two as complementary, and argued that fiction serves just as important a purpose as more formal academic writing.
"Could something like Don DeLillo's 'Libra' give us a better understanding of the JFK assassination in that it captures the aura, the mood, the environment of the time, the psychology of the sort of person who would shoot JFK?" he asked.
"Fiction and politics and history — to me, at its best, fiction moves in step with those, and it translates those for people who don't have the time to do that sort of thinking. … The creative never seems that far removed from the practical and the pertinent to society. I don't find those to be divorced."