February 11, 2021
CMU Staff Pitch In To Help
Community service is a university hallmark
By Bruce Gerson bgerson(through)cmu.edu
Every Wednesday morning Kristin Ward begins her day delivering baked goods from Giant Eagle to senior housing in Garfield. She's been helping others since the pandemic shut things down a year ago.
Last March, when COVID-19 put just about everyone into work-from-home mode, Ward found herself without as much to do. As an arts technician for the School of Drama, there were no props to make or sceneries to build. There were no live performances to prep for.  
So, she took the stage, taking advantage of Carnegie Mellon University's community service option to supplement her day job by working to help others. Staff were given the opportunity and flexibility to volunteer during work time through May 31, 2020, and some, like Ward, have continued to do so on their personal time.
Ward volunteers at 412 Food Rescue and the Greater Pittsburgh Community Food Bank, delivering essential food items to people in need. She also lends a hand at Pittsburgh's Toonseum, where she helped pull off its first "Free Comic Book Day," packaging and dropping off comic books to 77 children in 30 neighborhoods.
"These special care packages offered families a respite from quarantine fatigue while promoting literacy and interest in the arts," she said. "I enjoy the flexibility of being able to choose volunteer work that's meaningful to me."
Ward is one of many CMU staff members who give back to their communities.
Robert Regan's photography skills have gone to the dogs. The principal accountant for International Finance takes photographs of the recent arrivals at the Humane Animal Rescue of Pittsburgh. The shelter features the photos on its website.
"I love dogs, and I feel great whenever I come back a week or so later to find the dogs I had previously photographed had found a home," Regan said.
Laura Everhart said she likes to think of herself as one of Mr. Rogers' helpers. She assists at several food banks and has volunteered at animal shelters for 20 years.
"I have always been a volunteer," said Everhart, associate director of development for the School of Computer Science. "Back when I was little my mother took us to volunteer at our church's food bank on her birthday. That was probably my first experience at helping others in a concrete way."
Since last March, Everhart, who serves on the board of directors for four nonprofits, has been volunteering weekly at a food bank in Lawrenceville.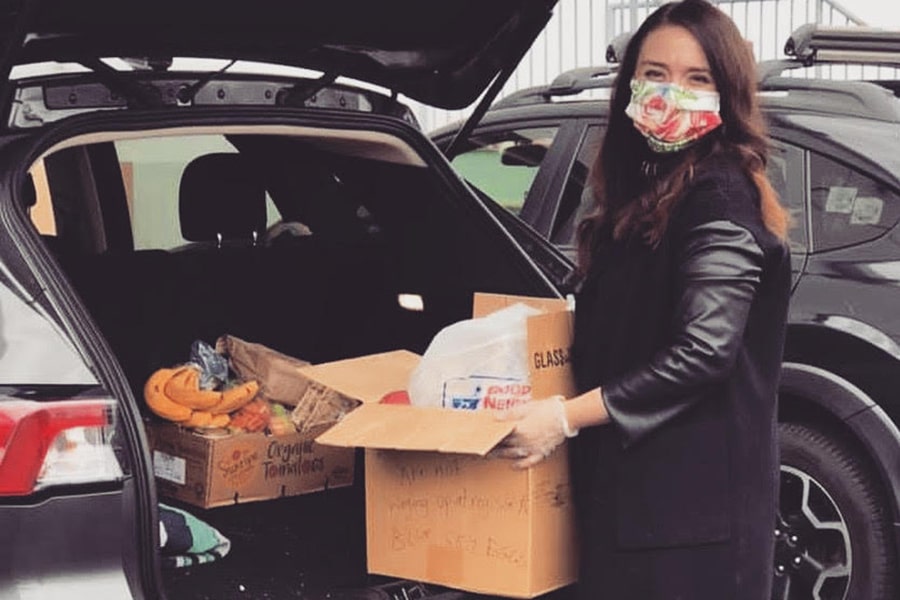 Laura Everhart has been volunteering weekly at a food bank in Lawrenceville.
"This past year I have tried to lean in hard to organizations that are tackling the most basic needs of our community, such as the food bank and social justice organizations like the WWHAT'S UP?! Pittsburgh chapter," she said.
Everhart and Ward often join the Carnegie Mellon Women's Association's (CMWA) community service efforts.  
Created in fall 2018, the CMWA Service Club brings together CMWA members to support worthy community initiatives, such as Dress for Success Pittsburgh, CMU Food Drives' Snack Bag for Kids event, the CMU Food Pantry, Rise Against Hunger and Toys for Tots. During the pandemic, the club has met virtually to share ways each member can help others.
Ally Sokolowski, associate director of development for University Advancement, and Stefanie Santo, senior financial administrator for Athletics, are co-chairs of the CMWA Service Club.
"These meetings are a source of light for me and a reminder that despite a very uncertain time, there are always ways we can help," Sokolowski said. "I've connected with many wonderful people all while helping great causes."
Santo enjoys giving back and meeting others with the same passion.  
"I appreciate the positive female relationships CMWA and the Service Club have been able to provide me. Not only do we work together to help out the community, but we are there for each other," she said.
New members are welcome in the CMWA. Membership is open to all women associated with the university including faculty, administrators, trustees, and staff or wives/partners and friends of faculty, administrators, trustees and staff.
The CMWA is one of many university organizations that support community service, including 1000plus, a student organization that annually hosts 1000plus Day of Service to help community organizations throughout the greater Pittsburgh region. 1000plus strives to engage at least 1,000 people to dedicate 1,000 hours of service and help communities in 1,000 different ways. All students, faculty, staff, alumni, parents and friends are invited to participate in CMU's largest day of service.