Send Your Name to the Moon Aboard Iris
The Carnegie Mellon University team sending a tiny rover to the moon in 2021 has invited more people along for the ride.
The Iris lunar rover team launched a crowdfunding campaign this week to raise $50,000 to help with the final costs of their lunar mission. Anyone who donates to the project will have their name stored on the rover.
"Space is expensive," said Raewyn Duvall, a Ph.D. student in the Electrical and Computer Engineering Department and the deputy program manager of the Iris project. "We're always trying to find funding. This is really for the final push."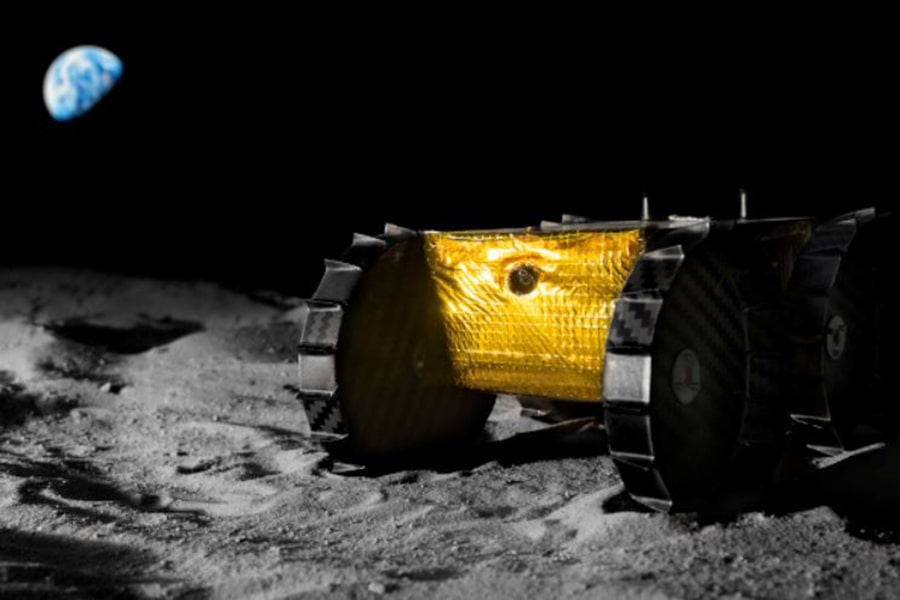 The Iris rover will be the first American, the first student-developed, the smallest and the lightest rover to land on the moon. It is scheduled to fly there on a United Launch Alliance rocket this fall and touch down on the lunar surface aboard Astrobotic's Peregrine lander. The shoebox-sized, big-wheeled rover weighs about four pounds and has a team of more than 200 CMU students behind it.
The team has set aside a section of its flash memory space for a file with the names of everyone who donates to their crowdfunding effort.
"Anyone who donates, no matter the amount, will have their name aboard the rover's memory," said Divya Rao, a sophomore studying statistics and machine learning who serves as the project's systems management lead.
The rover is made of space-grade materials and carbon fiber, Rao said. The crowdfunding effort will help pay for the last flight components and for a series of tests needed to make sure Iris can handle the harsh environment on the moon.
Learn more and make your donation.
Register for Virtual Spring Carnival, April 12-17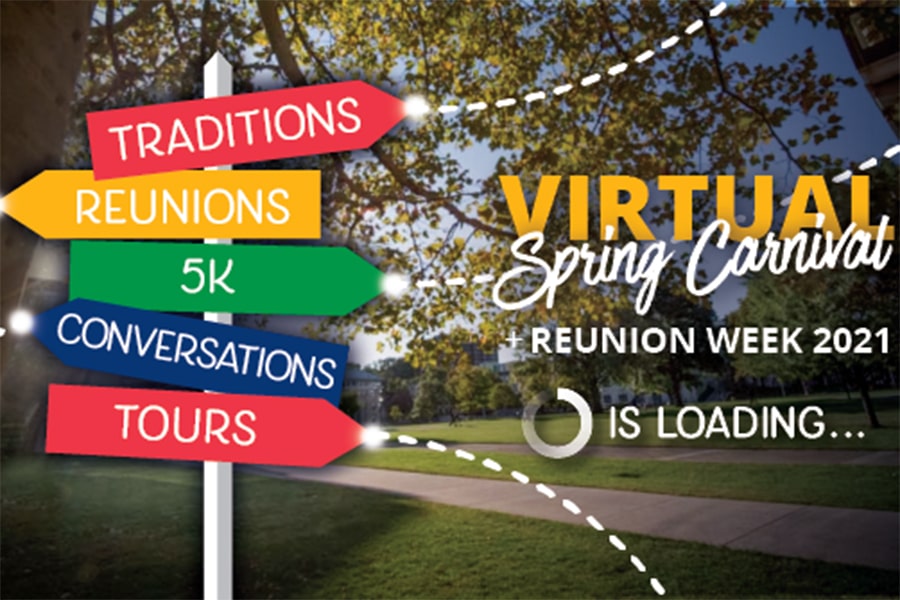 For more than 100 years, Spring Carnival has been — and continues to be — one of CMU's most anticipated times of the year. This year, Spring Carnival and Reunion Week will be held on a platform that provides an enhanced virtual experience, featuring reunion celebrations, student-led events, behind-the-scenes tours, interactive conversations, a virtual 5K and much more.

Additional events will be added to the schedule between now and Spring Carnival's opening, and you're welcome to update your registration at any point.

For Pittsburgh-based students only, there will be limited in-person engagement opportunities over the coming weeks for Spring Carnival.
CMU Launches One-of-a-Kind Data Science Graduate Program
With the launch of a new Master of Science in Data Analytics for Science (MS-DAS) degree program, Carnegie Mellon's Mellon College of Science (MCS) is offering a unique opportunity for students of the foundational sciences to acquire cutting-edge data science skills.

"It is a program created by scientists to equip the next generation of scientists with modern data analytics tools, machine learning skills and relevant mathematics and statistics backgrounds," said Professor of Physics Manfred Paulini, who spearheaded the development of the degree program in his role as MCS's associate dean for Faculty and Graduate Affairs.

What makes the MS-DAS program unique compared to other data science degree programs is its focus on students with backgrounds in the foundational sciences, including biology, physics, math, chemistry and related fields.
Learn more about the new program.
CMU Remains in EPA's Top 10 for its Investments in Solar, Wind Power 
With more than a decade long commitment to 100% green power, Carnegie Mellon University remains in the top 10 on the U.S. Environmental Protection Agency's list of Top College and University Green Power Partners for its investments in solar and wind power. Carnegie Mellon is a founding Green Power Partner and a recipient of a 2001 Green Power Leadership Award. In addition to purchasing Green-e certified, renewable energy certificates for 105% of its power needs, the university has committed to long-term contracts to procure all its physical power directly from renewable sources. This is one of the many ways CMU is contributing to the Global Goals.
Join the CMU Team: Take the Ecochallenge Through April
Join Carnegie Mellon's Earth Month Ecochallenge; Drawdown team and dedicate April to taking action on the 80 most practical solutions to stopping climate change.
Earth Month Ecochallenge: Drawdown is a solutions-oriented engagement program focused on individuals taking action to reduce greenhouse gases in our atmosphere. The actions in the ecochallenge connect to global solutions highlighted by Project Drawdown, a research-based organization that is leading the efforts to map, measure, model and describe existing, amazing solutions to climate change.
The ecochallenge provides tools and inspiration to turn intention into action, and gives participants a fun and social way to think about and act on proven solutions to reverse climate change. Over 100 actions within eight challenge categories provide participants with diverse options to reduce greenhouse gas emissions.
Every team member can select actions, check off their completed actions, track and share their individual progress, earn points for taking action, and see the real-time impact of their actions in a robust online platform. The combination of collective action, camaraderie, and friendly competition makes change a little easier — and a lot more fun.
Learn more and join the team.  Questions, contact CMU's Environmental Coordinator Barb Kviz. 
Webinar Series on Digital Accessibility is Now Online
CMU's fall 2020 webinar training series on digital accessibility is now available on demand on the Disability Resources website. Topics include:
Creating accessible content;
Accessible design;
Accessible coding and development;
PDF training; and
Multimedia accessibility.
The Digital Accessibility Committee partnered with Perkins Access to offer the fall series, part of the university's commitment to equity and inclusion. Learn more about digital accessibility resources at CMU.
Summer 2021 Registration is Open
Registration for summer 2021 coursework is now open. The summer term is an opportunity for students to ease their fall course loads, stay on track to graduate or speed the completion of a degree — even explore a new major.
Summer tuition rates are lower, and financial aid options are available for those in need of support. Interested students can browse the summer Schedule of Classes to explore enriching coursework, including many pre-requisite classes.
Summer Sessions:
Summer All: May 21—Aug. 13
Summer One: May 21—July 2
Summer Two: July 6—Aug. 13
Learn more about summer at CMU on the Summer Studies website.
Summer Housing Available for Enrolled Students
Summer housing at Carnegie Mellon is available for summer 2021 for any enrolled Carnegie Mellon undergraduate or graduate student who has an academic need for the summer and who requires housing for a period equivalent to a single summer school session or the full summer.
Summer assignments will be offered in apartment singles in the Oakland campus neighborhood. The summer housing application in the Housing Portal opens on April 1 and will close on May 7. For questions about summer housing, contact rmassign@andrew.cmu.edu.
Last Call: Vote for Your At-Large Staff Council Reps
Voting for your 2021-2023 At-Large Staff Council Representatives began on Monday, March 29.  Each staff member should have received an email with an individualized link to the ballot. You can select up to 30 candidates. The voting period runs through noon, Friday, April 9.
You can view the candidates' biographies and photos online. 
Questions or concerns? Contact Staff Council at staff-council@andrew.cmu.edu.
Gelfand Center Seeks Students for Educational Outreach Award

The Gelfand Center annually recognizes three students who have made a commitment to sharing their knowledge, talents, skills and time to make a difference in the lives of children in the community, with a priority for STEM educational outreach activities. The three students selected will each earn a $250 prize.
All nomination materials are due by Tuesday, April 20. This is a self-nomination process with letters of support provided by on-campus or community partners who know about your work. 
Students can complete the self-nomination form or email GelfandCenter@andrew.cmu.edu. 
Who's New at CMU?
Carnegie Mellon welcomes the following new staff members this week.
Amy Weston, Senior Administrative Assistant and Office Manager, Student Leadership, Involvement, & Civic Engagement
David Williams, Police Officer, University Police
Gaurav Nandkishor Deshpande, Research Assistant, Heinz General & Administrative
Mike Czapik, Research Associate, Institute for Software Research
Nikhil Vipul Lakhani, Research Assistant II, Psychology