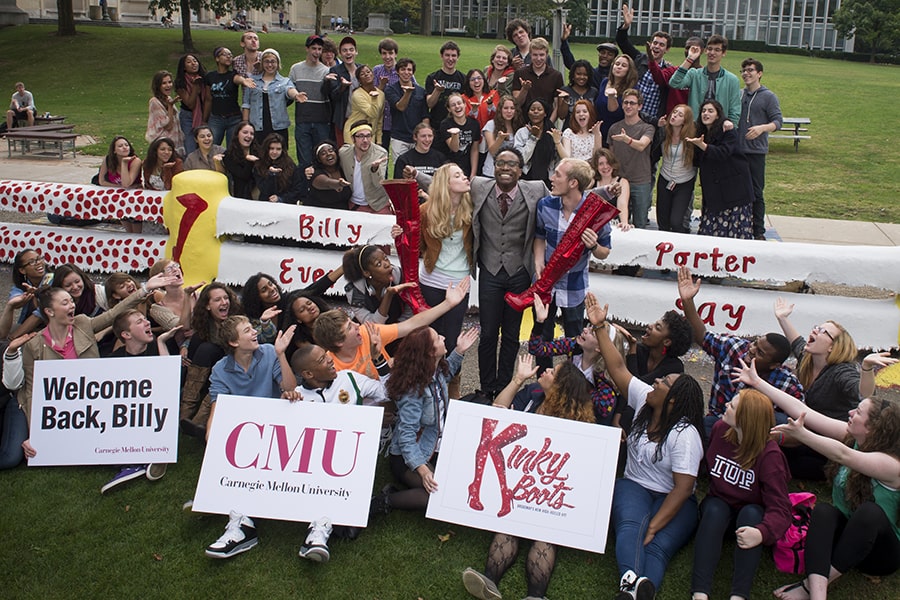 September 16, 2020
News Briefs
17 Alumni Up for Emmy Awards Sunday
Seventeen CMU alumni, including Billy Porter, Ted Danson, Leslie Odom Jr., James Cromwell and Cherry Jones are up for Emmy Awards this Sunday. The Television Academy's 72nd Emmy Awards will air live at 8 p.m., Sept. 20 on ABC from the Microsoft Theater in Los Angeles. Jimmy Kimmel will serve as host.
Porter will be defending his historical Emmy win for Outstanding Lead Actor in a Drama Series for his role as Pray Tell on FX's "Posse." In 2019, Porter became the first openly gay black man to win the award.
Carnegie Mellon alumni and faculty have received more than 130 Emmy Awards to date. 
CMU a Host Institution Sponsor for Global Sustainability Conference
Carnegie Mellon has been selected as a host institution sponsor for the Association for the Advancement of Sustainability in Higher Education's (ASHE) Global Conference on Sustainability in Higher Education, Oct. 20-22. As a host institution sponsor, CMU students, faculty and staff can register for free.
The event will deliver inspiring content, engaging networking opportunities, and thought-provoking keynote speakers and presenters. This year's virtual format provides an opportunity for an even larger global audience of innovative professionals committed to a more sustainable future.
"Our host institutions champion sustainability advancements in higher education. We are grateful to work with these select colleges and universities that directly contribute to the success of the conference and the sustainability movement as a whole," said AASHE Executive Director Meghan Fay Zahniser. 
"The provost's Sustainability Initiative is committed to educating, empowering and aligning the campus community around the world to address the Sustainable Development Goals," said Steve Guenther, university engineer, assistant vice president for Facilities Management and Campus Services, and co-chair of the Sustainability Initiative's Steering Committee. "With our host institution sponsorship providing free registration for all students, faculty and staff, the Global Conference on Sustainability in Higher Education is an excellent opportunity for the entire community."  
This year's theme, "Mobilizing for a Just Transition," will focus on a shift from an extractive economy to a regenerative economy. Conference speakers and presenters will encourage higher education sustainability leaders to reflect and act on the Just Transition Principles articulated by the Climate Justice Alliance and to spotlight inspirational examples of institutions championing this work.
Register here and enter the code CMU091420 to gain free access.
Garrett Announces Provost Office Hours for Fall 2020
Provost Jim Garrett will continue to host virtual office hours for students, faculty and staff this fall.
"When I began my tenure as provost, I promised to hold monthly provost office hours to hold conversations with community members," Garrett said. "I truly enjoyed our exchanges during those times and was reminded how important it is to regularly connect with the people who make Carnegie Mellon the special place that it is. Even when we went fully remote and we held office hours by Zoom, I found these chats incredibly meaningful." 
Office hours vary to accommodate those in different time zones. Virtual monthly office hours will be held at the dates and times below:
Wednesday, September 30, 5 – 6:30 p.m. ET
Tuesday, October 27, 7 – 8:30 a.m. ET
Monday, November 30, 2 – 3:30 p.m. ET
Monthly office hours will be held on Zoom. Participants can register for a timeslot within the designate hours. To sign up, email provost@andrew.cmu.edu to receive the meeting ID and timeslot.
"I invite you to continue to use this time to tell me what's on your mind, and share your experiences, ideas and aspirations for Carnegie Mellon," Garrett said.
Student Team Wins Qualcomm Innovation Fellowship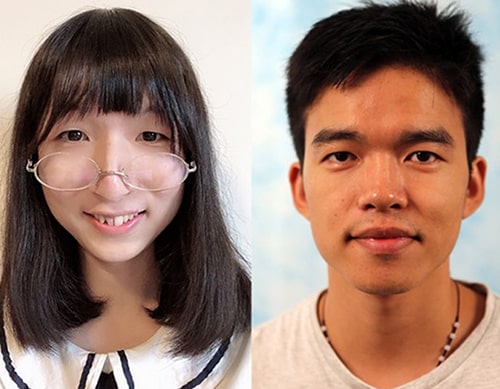 The team of Xinshuo Weng and Ye Yuan, both Ph.D. students in the Robotics Institute, is one of 13 nationwide to win a 2020 Qualcomm Innovation Fellowship (QIF). The QIF program is unusual because it requires pairs of students to submit proposals. Qualcomm says this approach reflects its core values of innovation, execution and partnership. Finalists are selected by the company's top engineers, and students then must present their proposal to a panel of executive judges.
The proposal by Weng and Yuan, "3D Multi-Agent Social Interaction Understanding and Diverse Future Behavior Forecasting," addresses how next-generation autonomous artificial intelligence systems — such as self-driving vehicles, delivery drones and assistive robots — can interact safely with agents such as people, animals and other robots.
They will work to develop detection and tracking algorithms that can learn how these agents are related to one another using video and LiDAR point cloud data. Based on the system's knowledge of how the agents interact, the perception system will be able to predict what the agents will do a few seconds into the future. They plan to validate the system by testing it in crowded environments with a large number of people and robots.
Qualcomm engineers will mentor Weng and Yuan as they develop their system during the yearlong fellowship.
NIH Funds Project Sure to Get Your Attention
A recent grant from the National Institutes of Health (NIH) will fund a multi-region study of how neurons within the brain prepare and maintain an internal state of attention. The project is led by Matt Smith, an associate professor of biomedical engineering and the Neuroscience Institute, in collaboration with Byron Yu, professor of electrical and computer engineering and biomedical engineering.
Recent work by Smith has focused on discovering the neurological basis for internal states, the array of conscious and unconscious factors within the brain that affect behavior and decision-making. In this most recent grant, Smith and his team will focus on spatial attention, the internal state that occurs when the location of an upcoming event is known, allowing individuals to respond with shorter reaction times and greater accuracy.
"We're particularly interested in what's called covert attention, meaning the ability to pay attention to things you're not looking at," says Smith. "For instance, you're driving down the road looking at the car ahead of you to make sure you're not too close, but as you approach an intersection you may concentrate on the traffic light at the edge of your field of view while maintaining your gaze on the car."
Webinar Series on Digital Accessibility
Carnegie Mellon's Digital Accessibility Committee is partnering with Perkins Access to offer a series of webinars on digital accessibility, part of the university's commitment to equity and inclusion. The sessions are open to students, faculty and staff. 
Topics include:
Creating accessible content;
Accessible design;
Accessible coding and development;
PDF training; and
Multimedia accessibility.
CMU Partners with U.S. Army to Grow Data Science, AI Expertise
Carnegie Mellon welcomes students from the U.S. Army amid the cadre of others starting classes this fall, expanding educational pathways for the Army to grow their expertise in data science and artificial intelligence (AI). CMU will educate personnel from across the Army, comprising service and cilivian employees, from technicians to senior leaders.
One pathway, termed the Army AI Professional Scholars Program, will support Army personnel as they earn a master's degree from CMU. In this inaugurial year, the Army is supporting 25 Army personnel (20 officers and five civilians), who applied and were accepted into either the Heinz College's Master of Information Systems Management, Business Intelligence & Data Analytics (MISM-BIDA) program or the School of Computer Science's Master of Computational Data Science (MCDS) program. These individuals represent some of the Army's top talent from diverse backgrounds and will provide the force with professional-level data scientists and engineers.
Virtual Bike to Campus Week is Sept. 21-25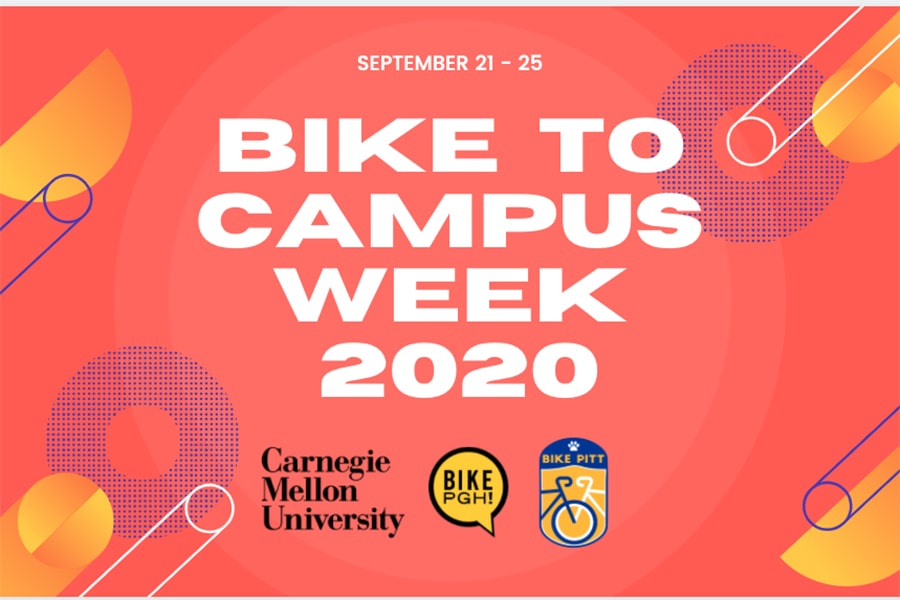 CMU's Bike Advisory Committee, in conjunction with Bike Pittsburgh and the University of Pittsburgh, have organized a series of virtual bicycle information sessions Sept. 21-25.
The Virtual Bike to Campus Week includes sessions on many topics, from how to buy a bike and traffic skills, to routes around campus and accessing Pittsburgh's trails system.   
Find out more and see the full schedule.
Become a More Effective Communicator; Learn About the MAPW Program
The English Department's master's degree in professional writing has been a popular choice for many CMU staff seeking to become more effective communicators. Join the department for a Master in Professional Writing (MAPW) Information Session on Thursday, October 15, to learn about pursuing this degree as a CMU employee.
The MAPW teaches professional students to create and execute verbal and visual information strategies (including for print, online, and social- and multi-media) and develops their skills for careers as writers, communication specialists and information designers. The deadline to apply for fall 2021 is January 6, 2021. RSVP here by Monday, October 12.
Find out more about the MAPW program.
Student Registration Open for Scott Institute's Virtual Energy Hackathon
Registration is now open for the CMU VentureWell Virtual Energy Hackathon Sept. 29-30. Hosted by CMU's Scott Institute for Energy Innovation, the event provides students with the opportunity to win up to $1,000, generate new ideas, and gain exposure to real-world energy challenges presented by The World Bank Group, Duquesne Light Company and Giant Eagle. 
Registration is limited and is on a first-come, first-served basis. Learn more and register by 11:59 p.m. EDT on Wednesday, Sept. 23.
The hackathon is also seeking student mentors and volunteers to help make it a success. As a student mentor, you'll have the opportunity to work one-on-one with teams, share your data science and energy engineering expertise and interact with technical experts from participating organizations.
Who's New at CMU?
Carnegie Mellon welcomes these new staff member this week.
Amanda Dabbs, Digital Content Manager, Marketing & Communications;
Rick Crain, Senior Software Engineer, Infrastructure Services (Comp Services);
Lauren O'Connor-Korb, Sculpture Technician, Art;
Nicole Shughart, Temporary Employment Service;
Amy Gottsege, Part−Time Software Engineer, Robotics Institute; and
Doreen Constantine, Temporary Employment Service.