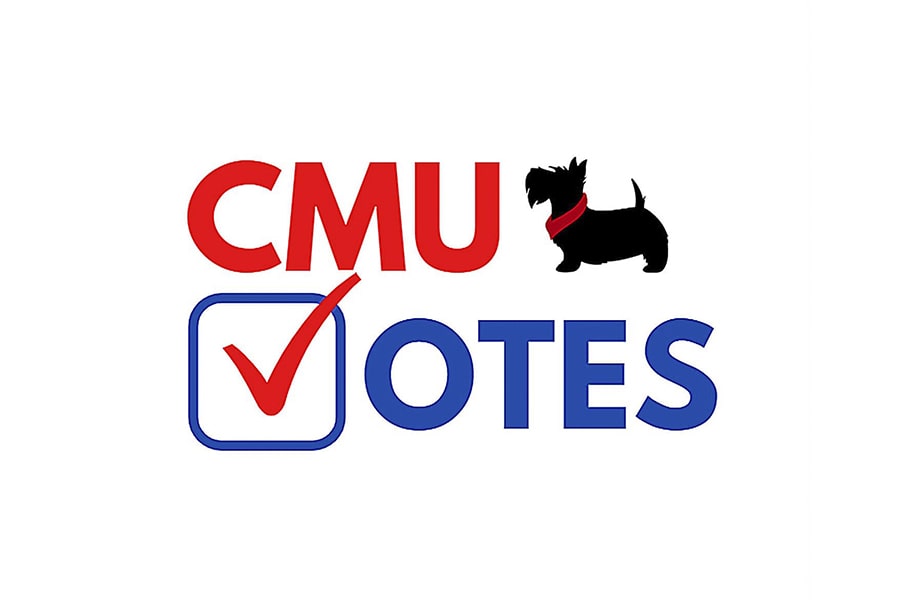 September 30, 2020
News Briefs
New Student Coalition Drives Civic Engagement
A new coalition of student organizations called CMU Votes will host online debate watch parties throughout the 2020 presidential election.
Jacob Feldgoise, chapter co-president for the Roosevelt Institute, one of the founding organizations of CMU Votes and a senior majoring in policy and management, and science, technology and public policy with a minor in Chinese, said he hopes this is a new and fun way for students to engage in the election process.

"Right now, it's not possible to do a lot of traditional civic engagement activities," Feldgoise said. "It's not the most responsible thing to get a bunch of people together to go knock on doors for a candidate during the pandemic. Hopefully these watch parties will bring something unique to the table."

CMU Votes will use Discord to host the watch parties. They will be open to anyone with a Carnegie Mellon affiliation. The events will be moderated and a code of conduct will be enforced. There will be multiple channels focused on individual topic areas — like immigration or education policy — where students can go to discuss specific issues.
Obituary: Honoring the Remarkable Life of Trustee Linda Dickerson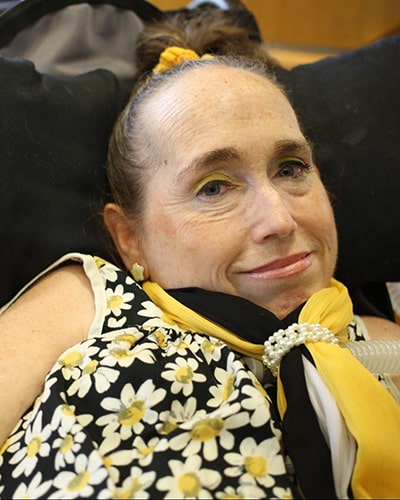 The Carnegie Mellon University community lost one of its most passionate, resilient members this week with the passing of alumna and trustee Linda Dickerson.

As a child, Dickerson was diagnosed with a rare, genetic neuromuscular disease known as Werdnig-Hoffmann, a severe form of spinal muscular atrophy. She used a wheelchair her entire life and never was able to walk, and, for the last several years, was also unable to speak. Despite her profound physical challenges, she was able to live on her terms and graduate in 1981 from Carnegie Mellon with a bachelor's degree in small business management and marketing.
In fact, as the first person to attend CMU in a wheelchair, Dickerson remembered that her fellow classmates would carry her up the stairs so that she could attend classes in buildings that didn't have elevators. Her experience at the university was transformative and inspired a lifetime of influential work. In a recent email to President Farnam Jahanian, Dickerson wrote, "I still am proving that doing the impossible is fun! Know that CMU convinced me that all is possible."

Dickerson became one of Pittsburgh's strongest advocates for people with disabilities. Her persistence and resiliency gave her and others who shared her cause the strength to overcome barriers and challenges they faced. She was central in the lobbying efforts to pass the Americans with Disabilities Act (ADA) into federal law in 1990. She was also an agent of change and progress at CMU, serving as a mentor for three university presidents in her role as a member of the Board of Trustees since 1998. Dickerson, a distinguished alumna and community advocate, died this past weekend. She was 59 years old.
Five SCS Students Named 2021 Seibel Scholars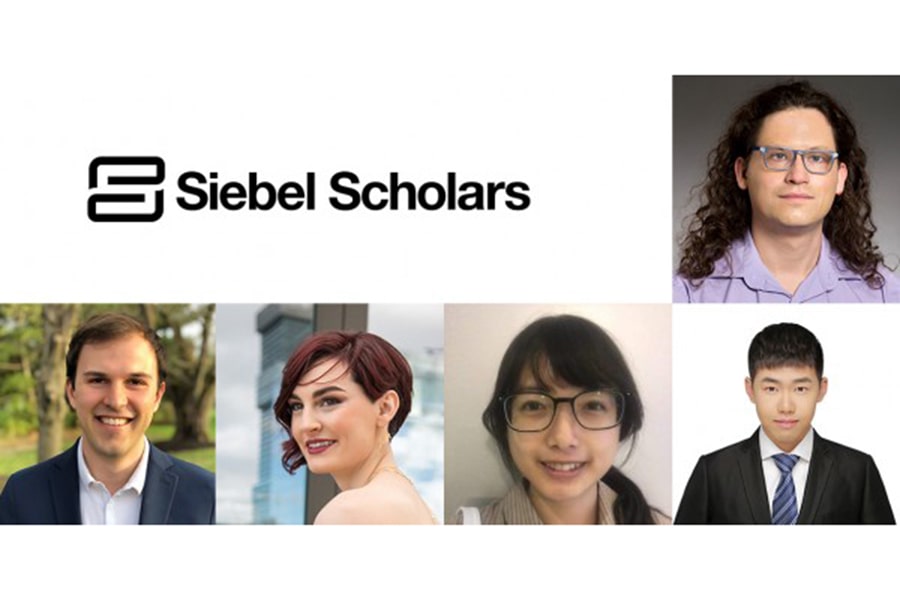 Brandon Bohrer (top), Rogerio Bonatti, Megan Hofmann, Fish Tung and Lijun Yu (l-r) have been named 2021 Siebel Scholars.
The Siebel Scholars Foundation has announced that School of Computer Science (SCS) graduate students Brandon Bohrer, Rogerio Bonatti, Megan Hofmann, Hsiao-Yu Fish Tung and Lijun Yu are among the recipients of the 2021 Siebel Scholars award. Now in its 20th year, the program recognizes almost 100 students annually from the world's leading graduate schools of computer science, as well as business, energy science and bioengineering. It supports students in their final year of study.
Bohrer, a Ph.D. student in the Computer Science Department, is studying formal verification of cyberphysical systems, developing mathematical methods that can guarantee the safety of software that controls physical systems.
Bonatti, a Ph.D student in the Robotics Institute, studies the intersection of machine learning theory and motion planning and his work has been deployed in multiple applications, ranging from autonomous cinematography with aerial vehicles to drone racing.
Hofmann, a Ph.D. student in the Human-Computer Interaction Institute, focuses on the intersections of digital fabrication, health care and disability justice.
Tung, a Ph.D. student in the Machine Learning Department, is interested in building machines that can understand and interact with the world.
Yu, a master's degree student in the Language Technologies Institute, focuses on improving public safety by understanding surveillance videos in 3D.
CMU-Q Starts Semester with Record Enrollment
Carnegie Mellon University in Qatar (CMU-Q) started the fall 2020 semester with its highest enrollment numbers since opening its doors in 2004. There are 124 first-year students enrolled at CMU-Q representing 34 nationalities.
The CMU-Q student body is composed of 442 students representing 52 nations. More than 900 alumni have graduated from the Doha campus.
"The first-year students started university during a pandemic," said Michael Trick, dean of CMU-Q. "They are resilient and our community has come together to ensure that they are prepared, and feel supported in their academics and throughout their student experience."
Carnegie Mellon University in Qatar offers five programs: biological sciences, business administration, computational biology, computer science and information systems.
HR Announces Additional Child Care Options this Fall
Carnegie Mellon will be offering additional child care options this fall that will provide flexibility to many in our CMU community.
Beginning in October, CMU will offer families two new, affordable ($5/hour) options for child care during the fall semester:
A temporary flexible child care option for children ages 24 months to 5 years old at a space in the Penn Avenue Cyert Center, allowing families to choose between two sessions of child care during the work week — a morning and an afternoon session. This is a new child care option and is not part of the Cyert Center program. Scheduling is open now.
The second temporary child care option will be on-campus proctoring for children in online school between the ages of 6 and 12. These full-day sessions will be offered Monday through Friday from 7:30 a.m. to 3 p.m. in a space in Posner Center. Scheduling will be open soon.

In addition to these child care services, CMU will have a family and child care concierge service. This free service will provide parents and families with information, support, guidance and education on all dependent- and care-related topics and will utilize current available resources, such as Care.com, Carelink, EAP, local child care centers and other after school programs. 
Learn more about child care options and the concierge service by visiting the Family Care for COVID-19 website.
Group X Classes Starting Oct. 5
Carnegie Mellon's Athletics, Physical Education and Recreation Department is restarting its live, in-person Group X classes on Oct. 5. Group X classes are free for CMU undergraduate and graduate students, faculty and staff.  All participants must pre-register to participate.
Information on how to pre-register and the class schedule are available online.  An archive of virtual Group X classes also is available.
Register for the Webinar Series on Digital Accessibility
Carnegie Mellon's Digital Accessibility Committee is partnering with Perkins Access to offer a series of webinars on digital accessibility, part of the university's commitment to equity and inclusion. The sessions are open to students, faculty and staff. 
Topics include:
Creating accessible content;
Accessible design;
Accessible coding and development;
PDF training; and
Multimedia accessibility.