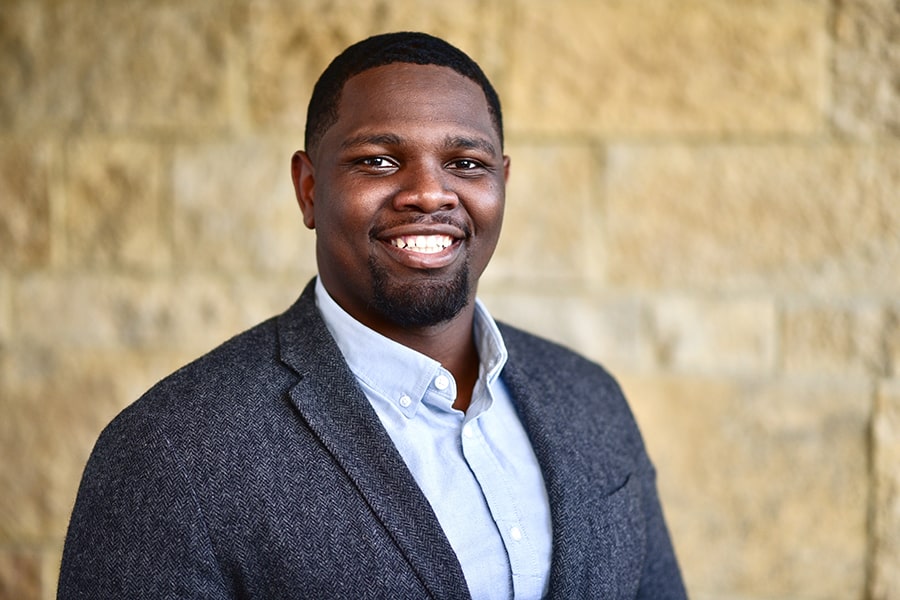 November 20, 2020
Adesoye Is Working To Put "Words Into Action" at the Tepper School
By Bruce Gerson bgerson(through)cmu.edu
A former professional photographer, Olasubomi "Boomi" Adesoye didn't like the picture he saw when he first arrived at the Tepper School of Business. He was one of only four African-Americans in Tepper's MBA Class of 2021. 
"I remember sitting in the auditorium in shock. I looked around the room and counted four people who looked like me, and that didn't seem representative of the real world," he said. "That's when I made a decision there needs to be a change. I needed to understand what was happening and how I can be a part of fixing it. I didn't want another student to sit in that auditorium and feel so small."
Adesoye got busy. He joined the Tepper School's Black Business Association (BBA) — he's the association president this year — and became one of the school's admission ambassadors. He became part of CMU's Diversity and Inclusion Roundtable, a monthly conversation among students, faculty and staff, led by Provost Jim Garrett and Vice President for Student Affairs and Dean of Students Gina Casalegno, that discusses issues of diversity, equity and inclusion at the college and university levels. 
"We talked about a lot of things at Tepper and how it affected people of color and underrepresented communities," he said. "Committees have been created and we're meeting with the alumni board and school faculty to create a plan to accomplish the changes we want to see.
"The main thing is Tepper needs to have more Black students and things are moving forward. Now it's a matter of putting words into action. I'm optimistic."
"I looked around the room and counted four people who looked like me, and that didn't seem representative of the real world."
Some of those actions include the Tepper School strengthening its relationship with Management Leadership for Tomorrow, a national nonprofit that sponsors MBA prep and professional development programs to help underrepresented women and men enroll at top business schools and gain employment at leading companies.
Adesoye said the school also needs to be more proactive recruiting underrepresented students even after they are accepted.
"We have to create opportunities for accepted students to talk, network and interact with each other," he said. "I came for Diversity Weekend and there were about 60 Black students. Out of 60, I was the only one that came to Tepper. We need to do better."
Coming to America
A native of Lagos, Nigeria, Adesoye and his family of six — he has two sisters and a brother — moved to Maryland when he was 8 years old for the education the United States had to offer. They arrived in the U.S. seven days after the 9-11 terrorist attacks.
"That was an interesting experience to go through as an 8-year-old," he said. "You're trying to adjust to a new country and you're trying to adjust to a tragedy that just happened. It forced me to grow up and adapt to situations and the new environment quickly."
As a 14-year-old, Adesoye started his own computer repair business after taking a computer networking class in high school. He repaired laptops and installed hardware and software for family members and his sister's friends at the University of Maryland.
As a sophomore at Maryland, where he majored in accounting and international business, he launched a venture called O.A. Studios, specializing in lifestyle and wedding photography. He learned his way around a camera from his father who appraised and sold real estate.
"That was my baby," he said of his photography business. "I grew that for about six years. I started taking photos at events on the Maryland campus and then as the business grew I went into weddings. Weddings are a very big deal." 
Although "very profitable," Adesoye decided to close the business when he came to CMU to pursue his MBA with concentrations in strategy, finance and entrepreneurship. He was drawn to the Tepper School by its focus on technology, analytics and finance.
Learning Through Others
This year, he is studying remotely from his home in Severn, Maryland. As president of the BBA, he's working to increase membership — the club is open to everyone at the Tepper School — build its network of allies and create more professional connections.
This month the BBA is continuing its work with Community Forge, a small business incubator in Wilkinsburg, a suburb of Pittsburgh, where students offer advice to fledgling entrepreneurs starting a business. They also help startups with their websites and drafting proposals to secure grants.
He was drawn to the Tepper School by its focus on technology, analytics and finance.
"The BBA has opened up the program to our greater MBA community, so anyone interested in volunteering their services can do so. I'm really looking forward to helping our communities," he said. 
Adesoye is planning a career in management consulting after graduation this May. He said he has learned a great deal at the Tepper School from his professors and fellow classmates, sometimes in surprising areas. 
"I have a vivid memory of a full-blown conversation with one of my classmates about UFOs and alien technology," he said. "I was never interested in anything like this before, but the conversation was so engaging, I actually did some research afterward. That shows the wide range of conversations that occur at Tepper. 
"You learn so much through others. At Tepper, you have the opportunity to gain knowledge from others in areas you have never thought about before."