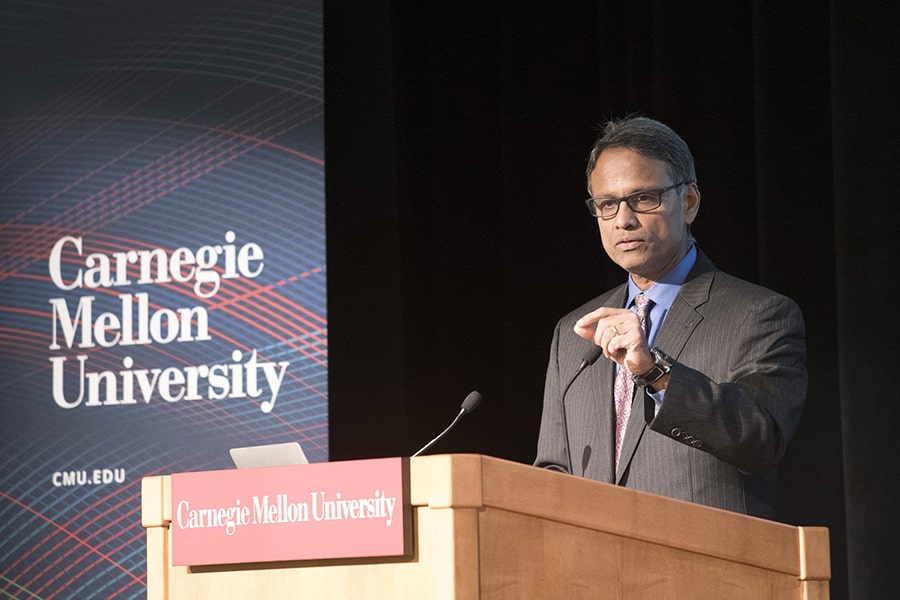 July 22, 2020
News Briefs
Krishnan Reappointed Dean of Heinz College
Ramayya Krishnan has been reappointed to a third term as dean of the Heinz College of Information Systems and Public Policy.
Provost Jim Garrett announced the reappointment in an email to the university community, praising Krishnan for continuing to "push the boundaries of interdisciplinary research and education." He cited Krishnan's achievement in helping to found the School of Information Systems and Management, which with the School of Public Policy and Management "brought together multi-disciplinary faculty in the fields of engineering, social science and information technology to form a college that is entirely distinctive in higher education." 
Garrett said during Krishnan's tenure, Heinz College has become home to a number of funded research centers that focus on data-driven decision-making in key societal domains. Those research centers include: Traffic21, the Metro21: Smart Cities Institute, the Living Analytics Research Centre, the Digital Transformation and Innovation Center by PwC, the Initiative for Digital Entertainment Analytics and the Block Center for Technology and Society.
Open Enrollment for On-Campus Parking Runs Through Friday, July 31
Open Enrollment for Carnegie Mellon on-campus parking permits for 2020-2021 is now underway through Friday, July 31. There will be no increase in parking fees this year, and those applying who currently hold an active permit will receive a 25% credit on their 2020-2021 parking fee. The university is offering the discount since the vast majority of permit holders have been working and studying remotely since March due to the pandemic.
To receive the 25% credit, you must confirm you are a current permit holder in the system by checking the box in the online application form. Current permit holders must affirm eligibility during the online renewal process.
In addition, the Internal Revenue Service has reinstated its policy allowing employees to pay for their parking with pre-tax dollars. As a result, the university is re-instituting the pre-tax parking fringe benefit with the annual renewal, effective September 1. Each individual employee's experience will vary based on parking location and tax withholding, but most permit holders should see next year's out-of-pocket cost for a parking permit decrease by an additional 15% - 20%.
If you are a new applicant, or cancelled your parking and wish to park on campus for 2020-2021, you must add your name to a waiting list as current permit holders will be given first priority regarding their parking location. Individuals on the waiting list are not guaranteed parking. Permits for 2020-2021 will go into effect on the first day of classes, Monday, August 31. Information regarding the distribution of new hangtags will be sent in August.
If you have questions or concerns, please refer to the FAQs online or contact Michelle Porter, director of Parking and Transportation Services at mporter@andrew.cmu.edu.
Division of Operations Gets FIRM New Name
The Division of Operations has been renamed to better reflect the services it delivers in support of the university and its customer service orientation. The new name for the division is FIRM: Facilities, Infrastructure and Risk Management.
FIRM comprises Campus Design and Facility Development, Enterprise Risk Management, Facilities Management and Campus Services, Operations Finance and University Police. Daryl Weinert, vice president for strategic initiatives and chief of staff, oversees FIRM.
Additionally, to better reflect the services that Operations Finance provides to the campus community, that unit has been renamed Business Support Services, or BSS. This group continues to be led by Assistant Vice President Karen Faber.
Need to Visit Campus? Submit Request to Your Designated Point of Contact 
Beginning this week, individuals who have not yet been approved to be on campus and would like to come to campus for a brief visit to retrieve or drop off essential items, should submit their request to their designated college/division point of contact listed online. 
Twenty-five contacts are listed for the seven schools and colleges as well as many divisions and departments.  Find out more.
Student Club Seeds Student Startups
Entrepreneurial-minded students start with the root of an idea. For the idea to flourish, they need a little green to help it grow. The Undergraduate Entrepreneurship Association (UEA), a student-run club at Carnegie Mellon, recently hosted its first I-Fund Startup Competition, with small prizes to help early-stage startups blossom.

"For all the undergraduate entrepreneurs, if you want to start a business, even if it's just an idea and you don't have a prototype, we are here to support you," said Sebastian Yang, I-Fund director and vice president of the UEA. "If you are running it out of your dorm room and need money to buy a domain name or server space, we can help."
The UEA, which operates out of the Swartz Center for Entrepreneurship, will split $1,000 between the top five finishers in the contest, which has a "social impact" theme. Companies submitting proposals are asked to try and tackle a specific social issue. The judges for the competition are members of the UEA, the Graduate Entrepreneurship Club and Scottie Ventures.
Career Center's Summer Seminars a Win-Win for Students, Employers
Carnegie Mellon's Career and Professional Development Center (CPDC) is making connections this summer for students and employers, both of whom are missing the traditional internship experience due to the global pandemic.
Through a new professional development program known as the Summer Seminar series, the CPDC is working to benefit students. Through the webinar presentations, students are gaining valuable information from prospective employers who are eager to help the students achieve professional success.
Traditionally, companies recruiting at CMU will do meet-and-greet events to help recruit students for internships and employees. As part of the CPDC series, companies such as Philips Respironics and the Ford Motor Co., are offering professional development presentations similar to what they deliver to in-house interns. Topics include design thinking, presentation skills, project management, brand management and storytelling with data, among others.
Street Repairs to Begin Near Campus
PennDOT District 11 has announced it will begin street improvements near campus on Beeler Street, Wilkins Avenue and South Dallas Avenue this week, weather permitting.  Work includes milling and paving, concrete patching, base repairs, drainage improvements, manhole and utility box work, and pavement marking installation.
Single-lane alternating traffic will occur daily from 7 a.m. to 7 p.m. through late October on the following roadways:
Beeler Street between Forbes Avenue and Wilkins Avenue;
Wilkins Avenue between Beeler Street and South Dallas Avenue; and
South Dallas Avenue between Wilkins Avenue and Penn Avenue.
Approved to Return to Campus? Take the Online Training
To prepare those approved for a safe return to campus, Daryl Weinert in his role as CMU's COVID-19 Coordinator and others have been working over the last several months to develop minimum requirements, including important mitigation measures such as physical distancing and symptom monitoring, as well as training and other precautionary measures that will be needed as we return.
The Office of Human Resources in partnership with the Offices of the President and Provost has developed an online training covering the guiding principles, minimum requirements for a safe return to campus, special considerations and community member responsibilities. As we return to campus, all community members, including faculty, staff, and students, must follow all of the guidance within this training presentation or available online. Handwashing, facial coverings, social distancing and the other guidance provided are all critical to the safety of our university community. 
Those approved to return to campus are strongly encouraged to review this training to prepare, but anyone can access the training to learn more about how the university is working to ensure that those returning to campus do so safely.
Buggy Team Organizes Memorial Bone Marrow Registry Drive
In honor of Joanne Tsai, a Carnegie Mellon computer science student and buggy driver who recently passed away from leukemia, the Panhellenic sorority members on her buggy team (Apex Buggy) are organizing a virtual bone marrow registry drive in partnership with "Be The Match," an organization that works to find potential bone marrow donors for those in need.
Be The Match saves the lives of those with blood cancers by matching them with bone marrow donors. If you are between the ages of 18 and 44, in good health, and would like to donate, text "CMU" to 61474 or click on the online link https://join.bethematch.org/CMU.
"As a group we hope to help with building the registry and helping patients find their matches," said Amanda Vallon, president of Alpha Chi Omega Kappa Nu. "As in-person campus registry drives are not possible right now, we wanted to move forward with a virtual one. You can easily make your potentially life-saving donation via mail."
Questions about the drive can be sent to Vallon at axoknpresident@gmail.com.
Who's New at CMU?
Carnegie Mellon welcomes the following new staff members.
Juan Puerto, Senior Web Platform Developer, Pittsburgh Supercomputing Center;
Michael Martin, Dispatcher, University Police;
David Rossell, Senior Cyber Security Engineer, SEI Cybersecurity Assurance;

Corrine Harkins, Temporary Employment Service; and

Derek Norton, Web Content Systems Development Manager, Computing Services.
Piper on Bi-Weekly Summer Schedule
The Piper is on a bi-weekly schedule this summer. The Piper will resume its weekly schedule on Aug. 6.