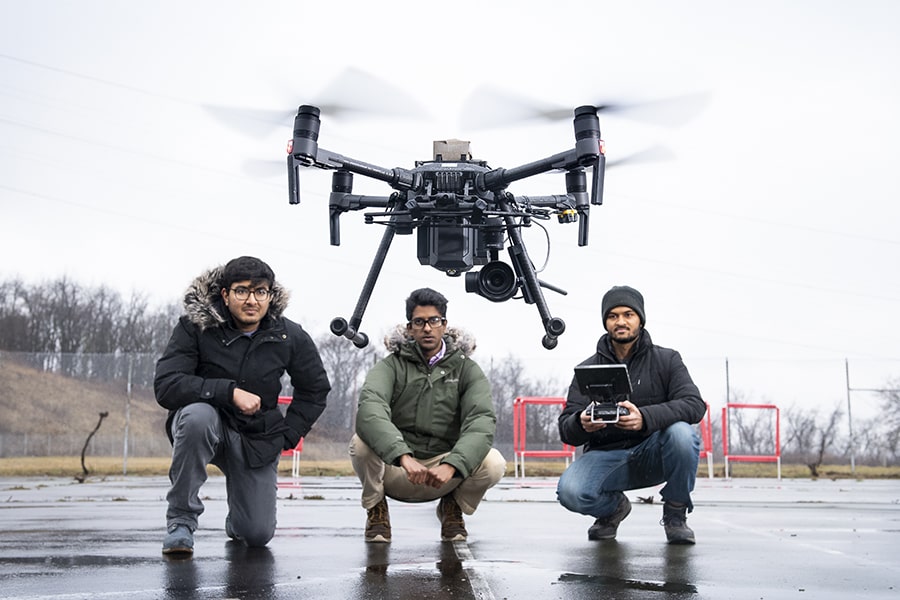 February 19, 2020
News Briefs
Tartans To Fight Fire in Abu Dhabi Robotics Challenge
A group of Carnegie Mellon students and faculty is among 30 teams from around the world that will compete at the biennial Mohamed Bin Zayed International Robotics Challenge (MBZIRC), one of the world's largest and most prestigious robotics competitions, Feb. 23–25.
The competition in the United Arab Emirates will literally be a trial by fire, said Oliver Kroemer, co-leader of CMU's Tartan team, as the organizers have advised that one segment of the competition — a firefighting challenge — will include real flames.
"The competition includes a nice suite of forward-looking applications," said Kroemer, an assistant professor in CMU's Robotics Institute. The firefighting challenge, for instance, will use drones and ground-based robots to detect and extinguish high-rise fires.
Other challenges include a construction scenario in which robot teams place large blocks in a row. In another, addressing the threat of drones flying too close to airports and military installations, teams will use their drones to track and intercept aerial targets.
Second CMULead Cohort Gets Underway
Thirty-two staff members have been chosen by the University Leadership Council to participate in the second cohort of CMULead, a staff development program aimed at building inclusive leadership competencies, expanding networks and encouraging stewardship of the university's mission, vision and strategic goals. 
Launched last year, CMULead consists of four day-long sessions held monthly from March to June and a graduation ceremony in September. This year's program began with a leadership retreat, where Vice President for Operations Rodney McClendon delivered an inspiring address about the important role leaders can play at all levels of the organization. Other topics at the retreat included Building a Leadership Brand with Leanne Meyer, executive director of the Accelerate Leadership Center, and the DiSC Assessment, which taught leaders about individual styles as a way to better connect and collaborate with colleagues in the workplace.  
This year's session topics are Working at a Top-Tier Research University; Strategy, Vision and Impact; Inclusive Leadership; and Building Leadership Competency for the Future.  A graduation ceremony is scheduled for September 9.
This year's participants are:
Christine Bedillion, senior manager, Business Development and Licensing;
Sean Beggs, director, Master of Information Systems Management, Heinz College;
Heather Bragg, Contracts Officer, University Research;
Beth Callaway, director, Sponsored Project Accounting, Receivables;
Allison Campbell, director, Process Improvement and Project Management, Computing Services;
Joy Cavaliero, senior associate University Registrar;
Ashley Chludzinski, director, Corporate and Foundation Relations, Advancement;
Rebecca Cicco, workplace safety coordinator, Enterprise Risk Management;
Monika DeReno, associate director for research, Institute for Software Research;
Gary Delisio, associate director, Undergraduate Education, Information Systems, Dietrich College;
Ed Dunlea, director, Corporate & Foundation Relations for MCS; MCS Dean's Office;
Christine Gilchrist, academic program manager, MCS;
Andrew Girard, Head Tennis Coach, Operations Manager, Athletics;
Gretchen Graff, senior business administrator, University Libraries;
Cindy Griffiths, business manager, Tepper School Operations;
Gabby Gueguen, Student Accounts Office, Enrollment Services;
Chris Hertz, manager, academic programs, Mechanical Engineering;
Matt Hoolsema, research designer and analyst, Institutional Research and Analysis;
Jenn Joy-Wilson, senior manager, sponsored projects, CFA Dean's Office;
Christopher Kamerling, senior manager, Business Applications Development and Support, Business Systems and Services;
Kristin Lavery, assistant director and business manager, Gelfand Center;
Stefanie Oldfield, executive assistant to the dean, MCS Dean's Office;
Elena Papadakos, assistant director, Office of International Education Operations;
Jennifer Pesci-Kelly, senior director, Advancement Communications;
Michelle Porter, director, Parking & Transportation Services;
Ken Rose, assistant director, University Libraries;
M. Shernell Smith, interim director, Center for Student Diversity and Inclusion, associate director, Graduate Student Engagement and Support;
Jennifer Sobol, director, Foundation Relations, Advancement;
Ali Spetz, project administrator, Provost's Office;
Gladys Sripasert, director, Master of Public Policy & Management, Heinz College;
Lara Steiner, senior director, Marketing, Marketing & Communications; and
Kristyn Williams, business manager, Chemical Engineering.
Support CMU's 2020 United Way Campaign Feb. 17 – March 27
Carnegie Mellon's United Way Campaign kicked off on Feb, 17 with an email from President Farnam Jahanian underscoring the importance of supporting our local community through participation. 
"Carnegie Mellon University has a long-standing tradition of partnering with the United Way of Southwestern Pennsylvania to support vital services and programs that help Pittsburgh and the greater region," Jahanian said. "This partnership has historically been one of the most meaningful ways that we make a positive and lasting impact in our community, and we are eager to mobilize the entire campus in supporting this important effort."
Building on our over 30-year partnership with United Way, the goal this year is to increase participation and awareness to ensure our region's most vulnerable residents have the support and resources they need. Every donation contributes to achieving this goal. When we donate to United Way of Southwestern Pennsylvania, we:
Help children succeed in school and life;
Prevent hunger and homelessness for financially struggling families;
Help people with disabilities live with greater independence; and
Help seniors living independently avoid hardships and hunger.
The campaign, chaired by the Office of Human Resources with support from champions from across campus, will continue through March 27. Help make this year a success by donating through Carnegie Mellon's United Way website.
CMU Donates, Reuses More Than 1,000 Items from Doherty Apartments
As CMU prepares to demolish the Doherty Apartments this spring to make way for the new Forbes-Beeler residence hall, it is diverting more than 1,000 items from being dumped in a landfill.
Led by Jan Held and Salonika Garapaty, project managers for Campus Design and Facilities Development, CMU and Mosites Construction have found new homes for nearly 700 items, from furniture, kitchen cabinets and appliances to doors, bike racks and even a piano. More than 300 items are still available for donation.
Items that were not tagged for reuse on campus were donated to ACTION Housing, Construction Junction, Doors Unhinged and the Habitat for Humanity Restore. The upright piano went to the Western Pennsylvania School for the Blind.
Interested in the items still available?  Contact Held at jheld@cmu.edu.  
The Forbes-Beeler residence hall is scheduled to be completed by summer 2022.
Who's New at CMU?
Carnegie Mellon welcomes the following new staff members.
Bill Brink, communications specialist, Institute for Politics and Strategy;
James Burke, security officer, University Police;
Bridget Irwin, Temporary Employment Service;
Rachelmae Pulliam, Temporary Employment Service;
Benjamin Shurtleff, Temporary Employment Service; and
Lara Sullivan, program manager – Change and Communications, HR Operations.