Zoom Into Winter with a New Background from M&C
The Marketing & Communications Division has created five new winter Zoom backgrounds and two new winter desktop backgrounds for your downloading pleasure. Go to the M&C Brand Downloads page and scroll down to "Digital Backgrounds."
Amazon Donates $2M to CMU's Computer Science Academy
Amazon will provide $2 million to support Carnegie Mellon University's Computer Science Academy for the next three years so it can continue to provide a free, online computer science curriculum for middle and high school students.
The donation, announced during Computer Science Education Week, comes from Amazon as part of its Amazon Future Engineer program — a childhood-to-career computer science education program aimed at inspiring, educating and training students from underserved and underrepresented communities to study computer science and coding.
"Computer science skills are becoming more and more critical to the future success of today's students," said Shanika Hope, head of Amazon Future Engineer, U.S. "Amazon Future Engineer is excited to support Carnegie Mellon's Computer Science Academy to expand the innovative and important work they do to ensure more students in need and their hard-working teachers have access to excellent computer science education resources."
CMU's School of Computer Science (SCS) launched CMU CS Academy two years ago to fill an instructional gap in grades K-12 and to assist high-need schools that have limited opportunities in computer science instruction. It also provides training for teachers, especially those who may not have previously taught computer science or programming.
More than 1,200 schools and 22,000 students in the U.S. and 29 other countries are using the curriculum this fall, and over 50,000 students have participated in classrooms using the curriculum to date. CMU CS Academy aims to serve a million students by 2024.
Learn more about the Computer Science Academy.  
CARES and TESF Funding Still Available for Students
Carnegie Mellon recognizes that the COVID-19 pandemic continues to create financial hardships for many of our students and families. Dedicated financial resources from the federal CARES Act Relief Fund and CMU's Tartan Emergency Support Fund are still available for undergraduate and graduate students.
Take a Video Tour of CMU's Child Care and Proctoring Services Programs
Carnegie Mellon is offering child care and proctoring programs to help parents during the pandemic. The services are for children 2-12 years old and are hosted at two locations. See what parents have to say.

Obituary: Alumnus David Lander Played "Squiggy" on "Laverne & Shirley"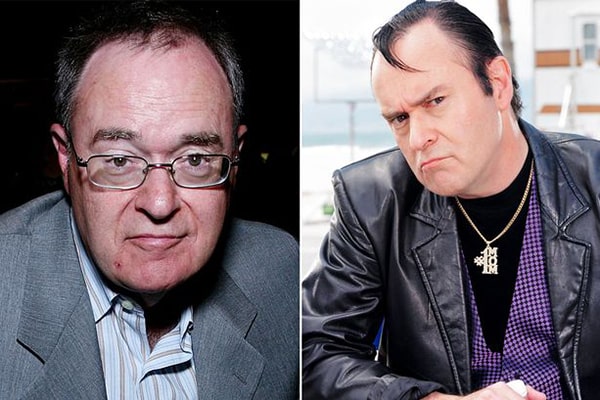 He made the same entrance each time he burst through his downstairs neighbors' door, but it was always a memorable moment for "Squiggy" on the set of the TV sitcom "Laverne & Shirley." The actor who originated the role, David Lander, was best known as the irritating but lovable sidekick to "Lenny," played by fellow CMU alum Michael McKean.
Lander, 73, died Friday, Dec. 4, at Cedars-Sinai Medical Center in Los Angeles. Lander had battled the effects of multiple sclerosis (MS) for many years. In 1999, he disclosed his condition and later spoke about it at conventions and medical gatherings.
On "Laverne & Shirley" from 1976 to 1983, Lander and McKean fulfilled a dream they envisioned when still students are Carnegie Mellon. They developed the Lenny and Squiggy characters at CMU and, once in Los Angeles after graduation, they kept the pair in their repertoire when working with the ensemble group "The Credibility Gap." They became series regulars — and standouts — during the sitcom's run.
"David's family hopes his fans will remember him for all the laughter he brought into the world," said his loved ones via a statement over the weekend.
Lander was drawn to acting as a child growing up in Brooklyn, N.Y., and attended a performing arts high school before being accepted at Carnegie Mellon. Although the role of "Squiggy" was his most famous, Lander also appeared in 120 movies and TV shows. A year after "Laverne & Shirley" wrapped, Lander was diagnosed with MS.
He did not talk about the condition until 1999, when he published his memoir, "Fall Down Laughing: How Squiggy Caught Multiple Sclerosis and Didn't Tell Nobody." Following that, he spoke openly about it and served as an advocate for others with MS.
"MS can't take it all. I will always have my heart and soul, my wit and wisdom," Lander said in a 2007 interview in the American Academy of Neurology magazine, "Brain & Life." He later became an ambassador for the National MS Society.
He leaves behind wife, Kathy, and daughter, Natalie, whom he credited for being his support system. Learn more about Lander.
Alumni Named to Forbes 30 Under 30
Robotics Institute alumnus Sandeep Konam and Anhong Guo, who recently completed his Ph.D. in the Human-Computer Interaction Institute, have been named to Forbes magazine's 2021 "30 Under 30" lists.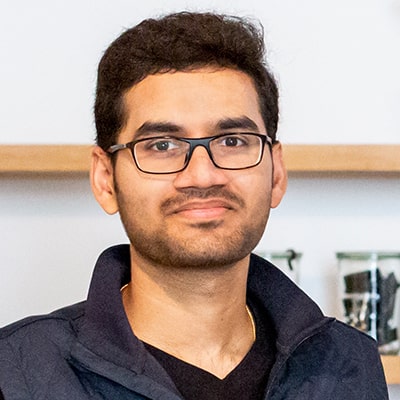 Konam was recognized in the health care field for co-founding Abridge, a Pittsburgh-based startup that helps people keep well informed about their health. Its app uses artificial intelligence to extract key insights from recorded health conversations.
Advised by Manuela Veloso and Stephanie Rosenthal, Konam earned a master's degree in robotics in 2017. While at CMU, he created EXAID, an app for matching cancer patients with clinical trials. EXAID was a McGinnis Venture Competition finalist and won an award at the inaugural Medical Capital Innovation Competition in Cleveland. After graduation, he worked briefly for UPMC Enterprises before starting Abridge in February 2018 with Dr. Shiv Rao. Their goal, Konam said, is to focus on conversations between patients and their doctors as a way to improve health outcomes.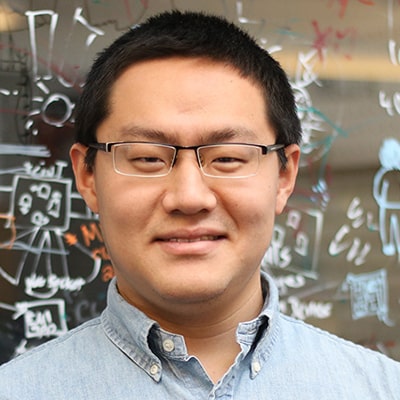 Guo was named to the 2021 Forbes "30 Under 30" in science for his work combining human and artificial intelligence to make visual information more accessible.
Advised by HCII's Jeff Bigham, Guo led such projects as StateLens, a system that used reverse engineering and a hybrid crowd-computer vision pipeline to make existing dynamic touchscreens more accessible to people with visual disabilities. He was first author of a 2019 paper on AI fairness, which examined how widely deployed AI systems may not work properly for people with disabilities and may actively discriminate against them.
His work on human and AI-based camera sensing became part of the Carnegie Mellon spinoff Zensors, which employs computer vision to make smart and reactive spaces. During his studies at HCII, Guo was a Swartz Innovation Fellow and a Snap Inc. Research Fellow. He will join the University of Michigan as an assistant professor of computer science and engineering.
The Forbes 30 Under 30 feature for 2021 highlights a total of 600 entrepreneurs, activists, scientists and entertainers in 20 categories.
Library Hours: Winter 2020 Schedule
To accommodate students seeking quiet space for final exams, Hunt Library will be open from December 10 through December 23. Seats musts be reserved in advance, using this link. The Libraries will continue to offer curbside pickup services and all current virtual services will remain in effect. Books can be returned through the Hunt Library book drop. Subject to a review of the situation after the winter break, the Libraries plans to reopen all locations to the public on January 19, 2021. Visit the University Libraries COVID-19 FAQ for more information about operations during this time.
Who's New at CMU?
Carnegie Mellon welcomes the following new staff member this week.
Rachel Dzombak, Digital Transformation Lead, SEI ETC Leadership.