October 16, 2019
News Briefs
Tartan Community Day Schedule Announced
Students, faculty, staff and alumni will come together Friday, Oct. 25 to connect, reflect, restore and have fun.
The inaugural Tartan Community Day, an idea initiated by the Task Force on the CMU Experience, includes a variety of exciting activities for all members of the university community. The recently announced schedule includes a fireside chat with alumna and Tony Award winner Renée Elise Goldsberry, a community lunch and student talent show, a time to choose your own activity, a discussion with principal investigator David Creswell about the Life@CMU Project, and a performance by guest comedian Michelle Wolf.
"I am very thankful to work at a university that brings the entire community together and am excited for CMU staff to have the opportunity to celebrate with our students by participating in the various activities planned throughout the day," said Michelle Piekutowski, associate vice president and chief human resources officer. "While understanding that business needs still have to be met, I encourage all supervisors to be as flexible as possible with allowing staff members to choose their personal Tartan adventure for the day. I personally hope to try out a free GroupX class." 
Learn more about Tartan Community Day schedule.
Campus Conversations To Discuss Findings, Next Steps to Sexual Assault Survey
Results from the Association of American Universities' (AAU) Campus Climate Survey on Sexual Assault and Misconduct, a study of 33 universities including Carnegie Mellon University, have been published on CMU's Office of Title IX Initiatives' website. The results include the aggregate report of all participating institutions, a CMU specific report, and a comparison summary compiled by CMU's Office of Institutional Research and Analysis. 
Members of the CMU community are invited to attend upcoming campus conversations on the survey results at 4:30 p.m., Tuesday, Oct. 22 in the Cohon University Center's McKenna/Peter/Wright rooms and at 5 p.m., Wednesday, Nov. 13 in the Citrone Room in the Tepper Building, Fifth Floor. These gatherings offer an opportunity to discuss the findings, share perspectives and discuss next steps.  
"The university remains steadfast in its commitment to a focused, collaborative and comprehensive approach to these issues," President Farnam Jahanian stated in a letter to the Pittsburgh campus community. "Although we are making progress in deepening our understanding of students' experiences, building greater awareness and engagement by our community, and dedicating resources to prevent and respond to sexual misconduct, long-term progress will require the sustained efforts of every member of our community," Jahanian said. 
The university has increased resources in support of prevention and response, adding additional staff in the Office of Title IX Initiatives and expanding training, education and awareness campaigns and programming. CMU also has expanded its bystander intervention skill-building program, including the implementation of the Green Dot Initiative as a university-wide resource.
Gina Casalegno, vice president for Student Affairs and dean of students, said this is the third sexual misconduct survey the university has administered since 2015.
"Each survey we administer helps us refine our education, prevention and response efforts to mitigate the effects of sexual violence in our community," Casalegno said.
Danks, Genovese Reappointed as Department Heads
David Danks and Christopher Genovese have been reappointed to head the departments of Philosophy, and Statistics & Data Science, respectively.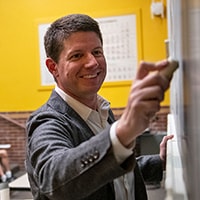 Danks, the L.L. Thurstone Professor of Philosophy and Psychology, has raised the visibility of his department, which emphasizes interdisciplinary research that directly impacts the world in areas as wide-ranging as computer science, math, statistics, psychology, bioethics and human rights. As part of his work on ethical and social impacts of new technologies, Danks has provided research opportunities for undergraduate and graduate students to study AI through new courses like "AI, Society and Humanity," which encourages students to explore AI and automation by integrating a range of disciplinary perspectives. Danks recently was named co-director of the new Center for Informed Democracy and Social Cybersecurity, which will be funded by a $5 million investment from the John S. and James L. Knight Foundation. He also serves as the chief ethicist of the Block Center for Technology and Society. Learn more.
Under Genovese's leadership, the department changed its name from the Department of Statistics to the Department of Statistics & Data Science to reflect the broad reach of statistics at CMU, which encompasses the many facets of modern data science. A fellow of the American Statistical Association and the Institute of Mathematical Statistics, Genovese has been awarded funding from numerous agencies, including the National Science Foundation, the National Institutes of Health, NASA and the Department of Energy. He is a recipient of a CAREER Award from the National Science Foundation and a Shannon Award from the National Institutes of Health. Genovese's research focuses on solving complex and high-dimensional problems in the sciences, and his work has produced new methods and results in neuroscience, evolutionary biology, learning science and cosmology/astrophysics. In 2015, the American Statistical Association named CMU among the largest, fastest-growing undergraduate statistics departments in the country. Learn more. 
ANSYS Hall Opening Celebration Set for Oct. 31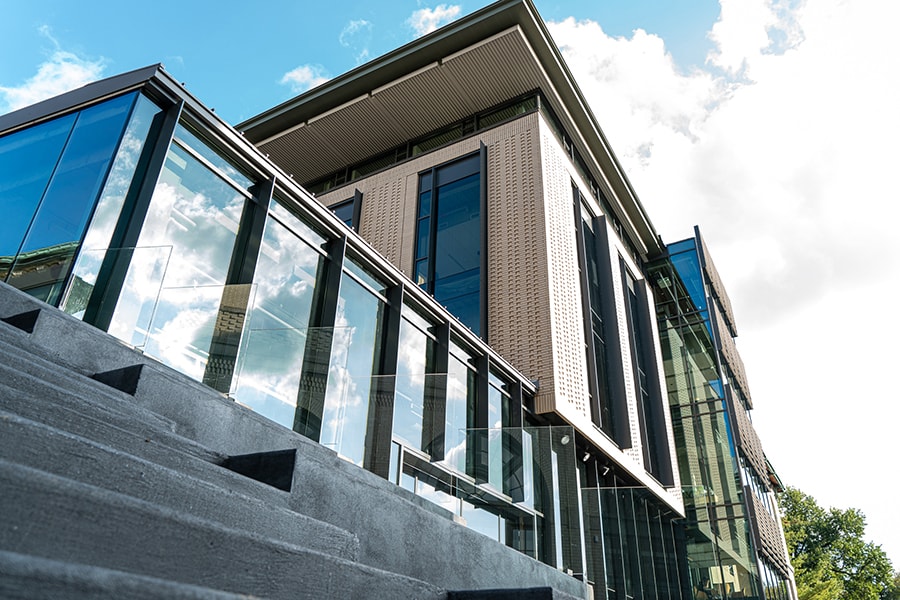 The College of Engineering will host a grand opening celebration for its ANSYS Hall beginning at 10:30 a.m. on Thursday, Oct. 31 in the ANSYS Hall Highbay, C-level.
Remarks and a ribbon-cutting ceremony will be followed by an 11:15 a.m. lunch reception with student exhibits and demonstrations.
The opening of ANSYS Hall marks the completion of another component of the College of Engineering's Maker Ecosystem, where students can fabricate, tinker, build and learn to turn their ideas into physical products.
ANYSYS Hall is a 36,000 square-feet, four-story facility with a basement and mezzanine. It contains a spacious maker facility, where students can access physics-based simulation tools and cutting-edge technologies for making, assembling and testing their designs. A highbay space will support large-scale student projects like Carnegie Mellon Racing. 
A principal goal of the space is to give students, faculty, croporate partners and ANSYS researchers a common space to collaborate and learn from each other.
Center for Student Diversity and Inclusion Celebrates LGBTQ+ Month
October is LGBTQ+ History Month and the Center for Student Diversity and Inclusion (CSDI) is sponsoring several celebratory events. Highlights include:
Oct. 17 - CMUQ+ Graduate Student Dinner
5 – 7 p.m., CSDI
Oct. 22 – School of Art Lecture Series
Jongwoo Jeremy Kim, associate professor, School of Art
6:30 p.m., Kresge Theatre
Oct. 30 - Forum on Hate Crimes – Hate vs. Understanding: Start the Conversation
8:30 a.m. – 5 p.m., Cohon Center
Keynote Speakers:  Judy Shepard, mother of Matthew Shepard
Cynthia Deitle, former FBI agent
The Matthew Shepard Foundation
Find out more and register for this free event.
Contact the Center for Student Diversity with questions at 412-268-2150 or csdi@andrew.cmu.edu.