October 04, 2019
Andy Awards Celebrate Superlative Staff Contributions to CMU
By Bruce Gerson bgerson(through)cmu.edu
Dedicated, passionate, innovative and collaborative. Those endearing staff attributes were in abundance at Carnegie Mellon University's 25th annual Andy Awards ceremony, Oct. 4, when 40 nominees — 28 individuals and 12 teams — were honored and five winners were selected for their exceptional commitment, spirit, creativity and teamwork.
The university-wide staff recognition program, named for Andrew Carnegie and Andrew Mellon, pays tribute to staff for their outstanding performance in five categories — Commitment to Excellence; Commitment to Students; Spirit; Innovative and Creative Contributions; and Teamwork and Collaboration. Winners are selected by a panel of their peers.
In front of a standing-room-only crowd in McConomy Auditorium, President Farnam Jahanian praised the far-reaching, significant contributions staff make every day to the success of the university. Last year's winners presented this year's nominees and recipients.
The envelope, please. And this year's winners are …
Commitment to Students
Queenie Kravitz
Associate Director, Human-Computer interaction Institute Ph.D. Program
Queenie Kravitz is the heart, soul and MVP of the Human-Computer Interaction Institute (HCII) Ph.D. program. Just ask the students, faculty and alumni. 
"When I talk to alumni, they all mention Queenie as the top aspect of our program," wrote Assistant Professor Geoff Kaufman in his nominating letter.  "They usually mention the top quality faculty and research second. She is featured in almost every one of our graduating Ph.D.'s dissertation acknowledgement sections."
Kravitz goes above and beyond her administrative duties as associate director of the program to advise, mentor, nurture and care for students, faculty and staff on a personal level. She takes Ph.D. classes to help her better advise students, creates social events to promote collaboration and togetherness for all members of the department, and co-designs interactive workshops to reduce unconscious bias and foster diversity.
"It's been one of the most gratifying parts of my life at CMU to work with Queenie on designing and implementing programs within the department to encourage 'human-human interaction' and to make the department a warmer and inclusive place," Kaufman said. 
HCII Ph.D. student Julia Cambre called Kravitz a wonder woman and angel with superhuman powers of patience, generosity and fierce dedication.
"Like so many other students, I've relied on Queenie to guide me through countless difficult situations no matter what the topic or circumstances — she always seems to know exactly the right thing to say," Cambre wrote in a supporting letter. "She epitomizes warmth, wisdom and trust and has believed in me even when I didn't believe in myself.
"It goes without saying that I would not be who I am today or where I am today without Queenie, and I'm so deeply grateful to know her and have her in my life," Cambre said.
Tianying Chen called Kravitz "the ray of sunshine in HCII" and said she played a big role in his deciding to attend CMU. He telephoned Kravitz after receiving his acceptance letter.
"I felt so comfortable and reassured through our conversation that I knew if I came to CMU, I would always have someone that has my back, in not only my academic life but also my personal life," Chen wrote in a supporting letter. "Queenie really embodied everything that CMU stands for: inclusivity, genuineness, dedication, empathy and compassion for students."
Commitment to Excellence
Carrie Nelson
Associate Vice President for Finance and Controller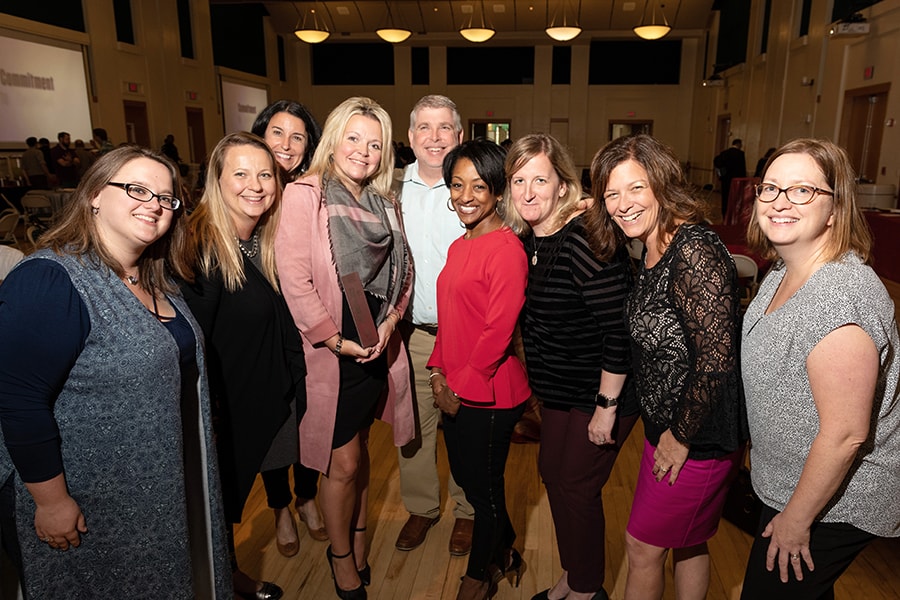 Carrie Nelson (fourth from left) with colleagues (l-r) Sara Stone, Christine Murray, Kathy Proch, Mark Gambone, Angela Blanton, Liz Kaciubij, Sandra Moses and Ashley Ferenczy.

Carrie Nelson's outstanding work ethic and financial knowledge have been instrumental in putting Carnegie Mellon on the global stage.
Since joining the university in 2003, Nelson has been a vital partner to CMU leadership and its schools and colleges. She helped establish the CMU-Qatar campus through negotiations with the Qatar Foundation; she created the International Finance (IF) Office to handle all aspects of CMU's international business; and in collaboration with Heinz College and the College of Engineering assisted in establishing CMU's campuses in Australia and Africa. The IF Office also played a key role in launching academic programs in Singapore, Portugal, Japan, India and China.
Nelson and her team also have taken care of business in Pittsburgh, updating policies and accounting applications, and streamlining processes for efficiency. As controller, she serves on CMU's Board of Trustees and is a member of the President's Task Force on Campus Climate.
Despite Nelson's hectic work schedule, she always takes time for her staff. 
"Carrie thanks her hardworking staff regularly. She visits departments, interacts with staff and host staff meetings to include all individuals to ensure open communication and collaboration," wrote Kathy Proch in a nominating letter.
"She is the true definition of excellence as illustrated by her dedication, commitment and integrity. Her leadership and genuine appreciation of her employees ensures people exceed their capabilities," said Proch, senior director in the Controller's Office. 
In a supporting letter, Vice President and General Counsel Mary Jo Dively said Nelson is a trusted colleague of the highest integrity and a specialist in doing new things. She said she's tough and smart.
"Her work ethic is typical of the best CMU people: when confronted with new challenges or things she doesn't fully know, she digs in and keeps digging until she gets the best, right answer for CMU," Dively said.
Dively applauded Nelson's leadership skills.
"As a supervisor, Carrie is outstanding. She develops the people under her and helps them to grow and shine. In short, Carrie is 'so CMU' in all the best ways," she said.
Associate Vice Provost Georgia Giatras said Nelson's management expertise and commitment to excellence is apparent every day.
"Carrie is truly a professional that encourages, motivates and engages across all dimensions of the university," Giatras wrote in a supporting letter. "Essentially, she is the kind of person you wish everyone could be like in your work environment."
Innovative and Creative Contributions
Stephanie Wallach
Assistant Vice Provost for Undergraduate Education
Director, Undergraduate Research Office (URO)
Director, Fellowships and Scholarships Office (FSO)
Stephanie Wallach's vision and vigor has helped to enhance undergraduate research and the student experience at Carnegie Mellon.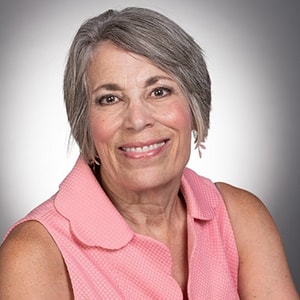 By creating new initiatives and funding programs, Wallach has greatly increased research opportunities for undergraduates. During her tenure, the number of students involved in research has grown consistently. Last May, a record 709 students participated in Meeting of the Minds, CMU's annual undergraduate research showcase organized by her office. 
"Her creative efforts in her role as URO (Undergraduate Research Office) director have provided unique and transformative student opportunities and experiences," wrote her nominator Annette Jacobson, associate dean and teaching professor in the College of Engineering. "Dr. Wallach has a unique university-wide vision and the rare ability to recognize student needs as well as create and execute programs to meet those needs."
The new student programs Wallach developed are the International Summer Undergraduate Research Fellowship, which provides students with opportunities to conduct research abroad; the Summer Undergraduate Research Apprenticeship, which allows students to perform research alongside a faculty member for course credit; and the Small Undergraduate Research Grant-Flex program, which enables students to apply for research funding for course credit outside of the normal application cycle.
"In Stephanie's mind it will never be enough until every student who wants to do research over the summer, either on campus or abroad, can do so," said supporter Karen Stump, teaching professor and director of undergraduate studies and laboratories in the Mellon College of Science. "Every year, Stephanie sets out to visit with every department head on campus to seek feedback on the effectiveness of their efforts, ensure all students are connected with the [Undergraduate Research] office, and provide information on new initiatives and ideas for creative partnerships."
Wallach also established the Speak Up! Seminar Series in which students attend summer workshops to help them enhance their communications skills to explain their research. The series culminates with students giving a three-minute presentation about their work before a panel of judges.  
As director of the Fellowships and Scholarships Office (FSO), Wallach is diligent in identifying and mentoring students for prestigious scholarships and fellowships. Last year, Carnegie Mellon students won Schwarzman, Marshall, Fulbright, Boren, Goldwater, Hertz and Soros scholarships.
Richelle Bernazzoli, assistant director in the URO and FSO, said Wallach has consistently adapted to meet the intellectual and professional needs of students.
"Dr. Wallach has made an indelible mark on the undergraduate experience at Carnegie Mellon," Bernazzoli said.
Spirit
Michael Harding
Associate Director, Corporate Relations, University Advancement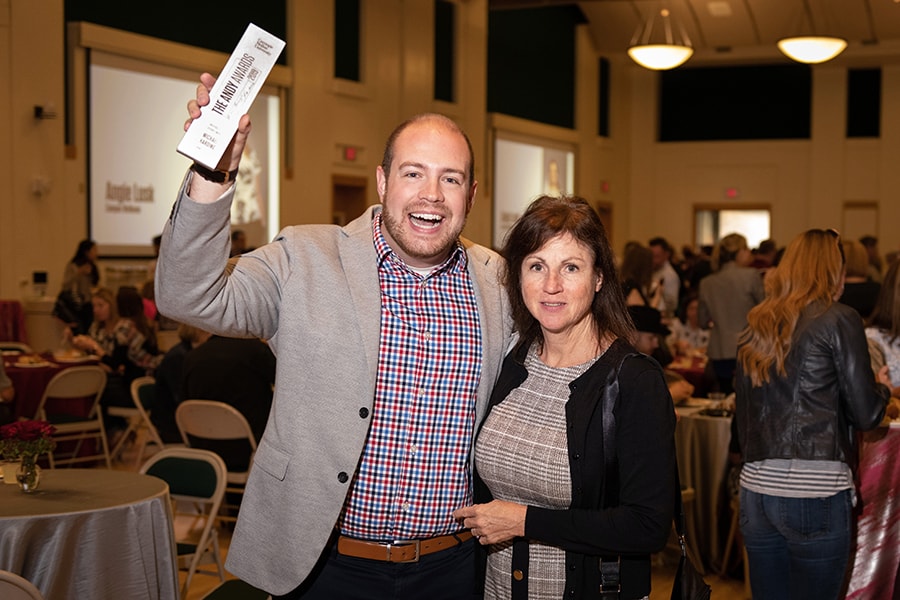 Michael Harding celebrates his Andy Award with his nominator JIll Berger.

In his professional role, Michael Harding enthusiastically builds and fosters connections between Carnegie Mellon and the corporate world, but he may be best known for connecting with his co-workers.
In a nominating letter, Jill Berger, executive director of Advancement Operations, said Harding exudes the qualities of the Spirit Award every day. She praised him for his care, attentiveness and friendliness to corporate visitors and co-workers alike. 
"He ensures that corporate visitors have an outstanding and memorable experience on campus, and one tailored to their interests. His hardworking diligence and his enthusiasm for all that CMU offers have resulted in strengthened connections with industry partners new and old," Berger said. 
Within days of joining the university, Harding became a member of the team that plans and organizes divisional gatherings and brings together staff to grow camaraderie in the workplace.  
"He is especially concerned to welcome new staff members to the division and is the friendly go-to guy for their questions and concerns," Berger said. "His gift is to create personal connections among his colleagues and co-workers, which he does with a sense of fun and a deep belief that everyone counts."
Jen Weidenhof, program coordinator in the Undergraduate Research Office, calls Harding the "Mayor of CMU."
"He's the guy that brings donuts to the office for no reason. He can have a conversation with you and then a few weeks later, come by and follow up with caring questions," Weidenhof said in a supporting letter. "Mike's personality is inviting and his laugh is contagious."
Weidenhof and Berger noted a lunchtime cooking contest Harding started called "Tartan Chef Cook-off," which brings together staff from several departments. 
"Because of this event, my staff and I are now connected to other groups on campus, and we've formed personal and professional relationships," Weidenhof said.
Mark Nolan, associate vice president for institutional partnerships, said Harding's genuine warmth, friendliness and ability to engage with others make him a "terrific colleague."
"He is one of the people who make working at CMU a special experience," Nolan said in a supporting letter. "He clearly loves working for the university, and his enthusiasm and passion for this place and its mission truly set him apart." 
Teamwork and Collaboration
Student Activities Maker Support Team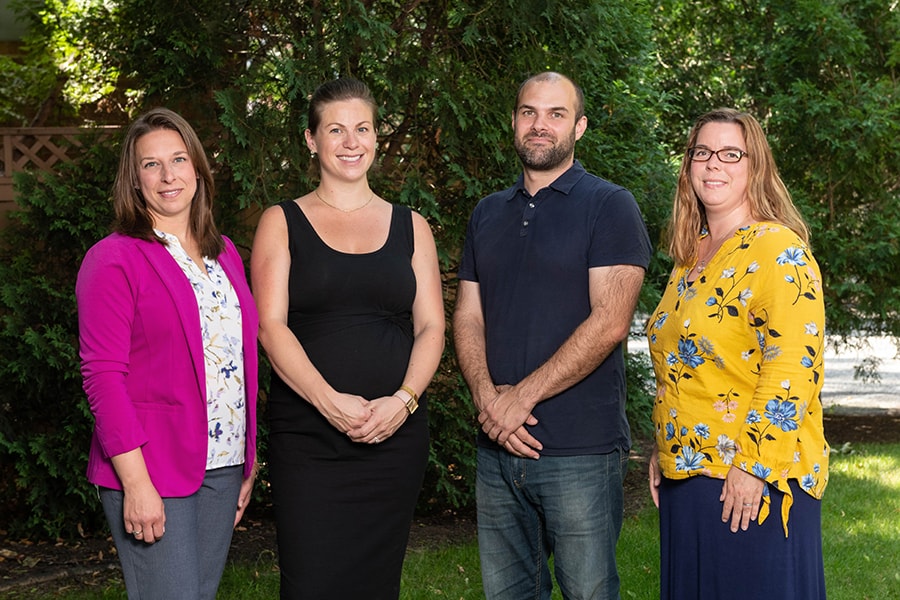 Rebecca Cicco, workplace safety manager, Environmental Health & Safety Department;  Elizabeth Koch, associate director, Student Leadership, Involvement & Civic Engagement (SLICE); Charlie Gaglione, TechSpark managing director, Mechanical Engineering Department; and Kaycee Palko, senior coordinator, Student Leadership, Involvement & Civic Engagement (SLICE).
The Student Activities Maker Support Team is committed to fostering a safe workplace environment for students and student organizations involved in building things, specifically the longstanding traditions of booths and buggies.
Leading up to Spring Carnival, the team conducted safety training for students and worked with external partners to ensure equipment was properly serviced and maintained. They taught students how to safely design and construct booths, and conducted inspections and provided recommendations for process improvements. They attended buggy practice sessions at 4 a.m. and were present during the buggy race days to ensure students and spectators remained safe. They also acted as student advocates, requesting investments to improve spaces and facilities on campus to enhance a safe working environment for building activities.
Melanie Lucht, associate vice president and chief risk officer, commended the team for stepping up their level of engagement this past year.
"As a result of this team's tireless efforts, renovations will be occurring in student activities maker spaces that will provide students the opportunity to conduct maker activities in a centralized space that will ensure the continuity of these traditions for years to come," Lucht wrote in her nominating letter. "The legacy that this team leaves will be one that future students will benefit from and demonstrates the commitment that CMU has made to the student experience."
Shailendra Singh, director of Environmental Health & Safety, said the team's efforts in supporting Spring Carnival activities go above and beyond their regular job responsibilities.
"These traditions and activities would not be possible without the support and utmost dedication of this team," Singh wrote in a supporting letter. "Their extraordinary commitment teaches our students not only the culture of safety, but also prepares them for the next phase of their lives in terms of best safe practices."
Elizabeth Vaughan, associate dean of Student Affairs, said the team — made up of members from Operations, the College of Engineering and Student Affairs — exemplifies teamwork and collaboration.
"Not only did the staff from across these disparate areas need to learn to speak each other's language and how to most effectively leverage their varied expertise, they simultaneously needed to do the same with the student leaders," Vaughan wrote in a supporting letter. "The union of their expertise, persistence, commitment to the team, and shared desire to find a solution for our students offered a compelling vision for university leadership.
Staff Honored for Years of Service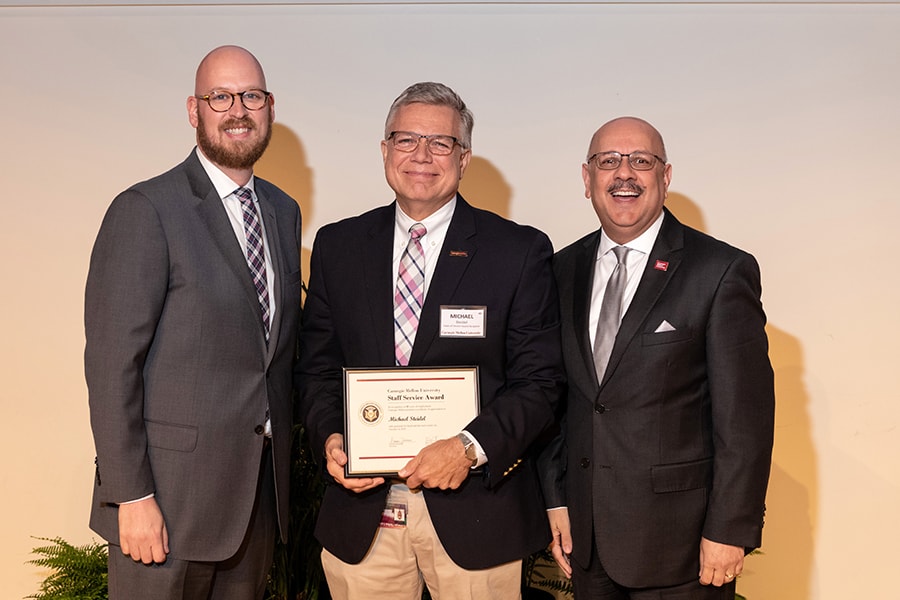 Michael Steidel received a service award for his 45 years at CMU. With Steidel is Staff Council Chair Bryan Koval (left) and President Farnam Jahanian.

In addition to the Andy Award presentations, Staff Council Chair Bryan Koval presented service awards to 73 staff members celebrating their 30, 35, 40, 45 and 50 years at CMU. See the list of this year's service award recipients.