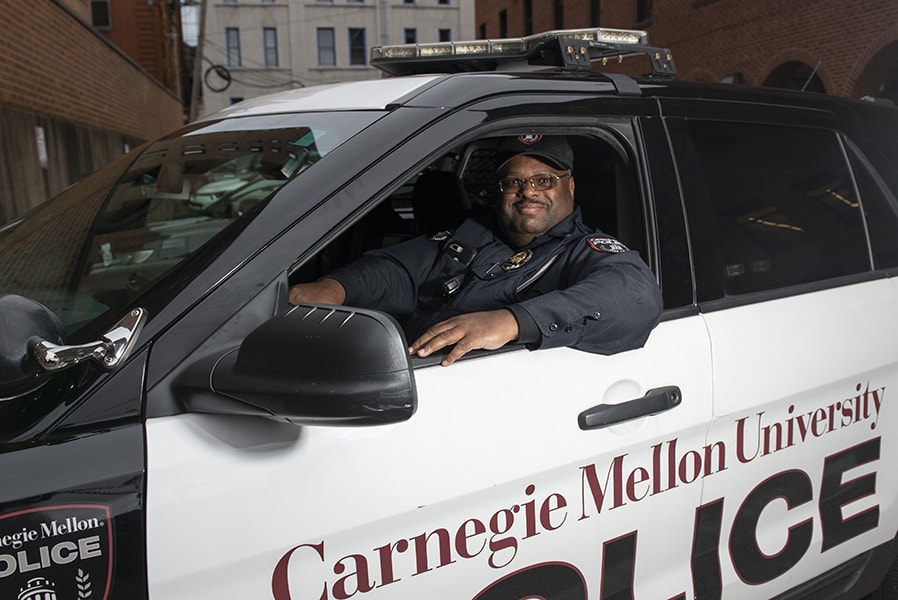 November 12, 2018
Mickens Celebrates Service to Country, CMU
By Bruce Gerson bgerson(through)cmu.edu
This is a big month for Leon D. Mickens III, a decorated U.S. Marine Corps veteran and patrol officer for the Carnegie Mellon University Police Department.
This past Saturday (Nov. 10) was the Marine Corps' 243rd birthday. Sunday, Nov. 11 was Veterans Day, and Nov. 23 will mark his 25th anniversary at CMU.
"I'm proud to be a Marine and proud to be a police officer at CMU," Mickens said. "I've always wanted to help people either locally, or around the world."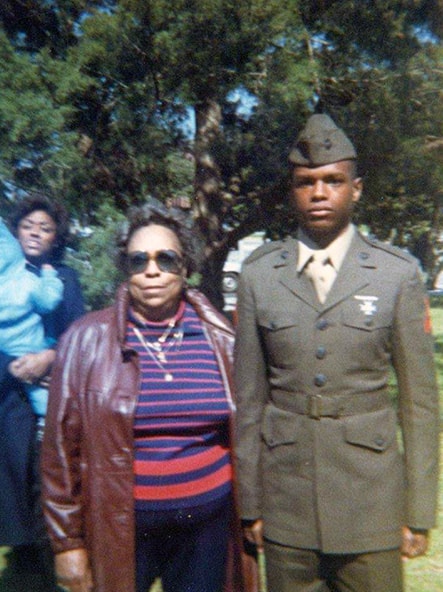 His six-year stint in the Marines took him to many places, from Camp Pendleton in Oceanside, California, to Hawaii, Thailand and Guadalcanal in the Solomon Islands for the 50th anniversary celebration of the end of WWII.
"I got chills just stepping foot on the island of Guadalcanal," he said. "A lot of people lost their lives there in WWII."
In the early 1990s, Mickens was sent to the Middle East for the Persian Gulf War and operations Desert Shield and Desert Storm. He operated heavy equipment to unload supplies from aircraft carriers and cargo ships.
"It was so intense, so different and unknowing," he said of his eight-month deployment. "It was about 125 degrees with no shade, no refrigeration for drinking water and no shower facilities. We ate MREs (Meals Ready to Eat) every day. We slept on cots in an open warehouse. You did the best you could. Honestly, I try to forget about those days."
Despite the harsh conditions, Sergeant Mickens performed very well, earning several accommodations, including the Good Conduct Medal, the National Defense Service Medal, the Southwest Asia Service Medal, the Saudi Arabia Liberation Service Medal and the Kuwait Liberation Service Medal.
After his honorable discharge from the Marines, Mickens got a tip from his mother, former longtime CMU employee Beverly Mickens Jones, about a job as a security guard for the university. He landed the position, and four years later was promoted to police officer.
The job tip from Mom was his second introduction to CMU. As a student at Pittsburgh's Westinghouse High School, he spent three summers in the university's Upward Bound program, an academic enrichment initiative for area teenagers. His program director was Everett Tademy, who is now CMU's assistant vice president for Human Resources and Equal Opportunity Services.
As a CMU police officer, Mickens has served under three chiefs as a bicycle patrol officer, field training officer and shift coordinator. Today, in addition to his police duties, he speaks to campus community groups as part of CMU Police's Crime Prevention and Safety Education program.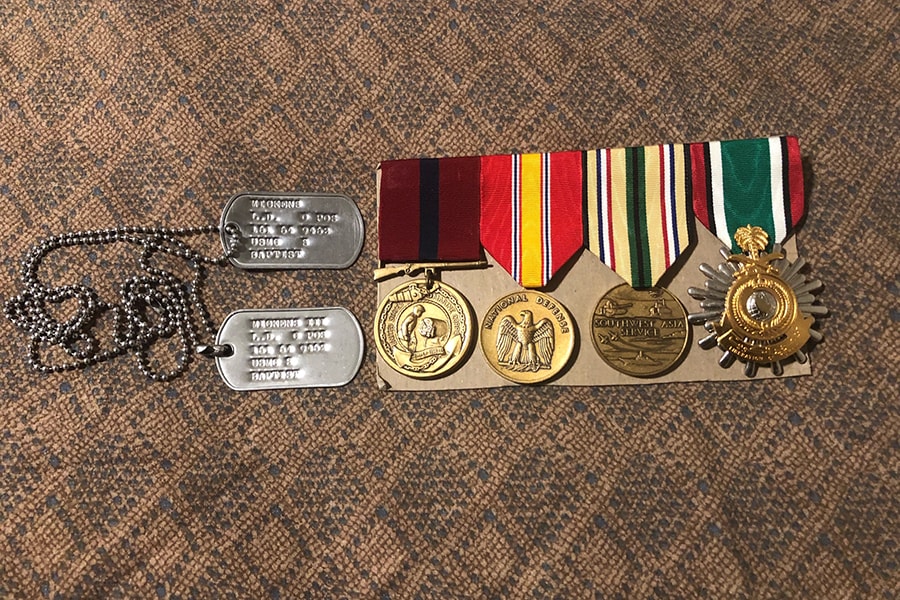 Mickens earned several honors or his military service. To the right of his dog tags are (l-r) the Good Conduct Medal, the National Defense Service Medal, the Southwest Asia Service Medal and the Saudi Arabia Liberation Service Medal. Not pictured is the Kuwait Liberation Service Medal. Above, Mickens poses with his grandmother at his boot camp graduation in 1987.

"I like interacting with people. CMU has grown a great deal since I've been here, but it's still a tight knit community. However, you still have to be careful, and trust your instincts, judgement and experience," he said.
When he's not patrolling at CMU, Mickens enjoys listening to music, watching television comedies and taking care of his two teenage daughters.
"They keep me running," he said.
Have a suggestion for Staff Spotlight? Send it to piperweekly@andrew.cmu.edu.